A Palestinian-German citizen went viral, accumulating millions of views on TikTok, after claiming she was allegedly mistreated at the Ben Gurion Airport as she landed in Israel last week.
19-year-old Cinin Abu Zeid created an account on the short-form video hosting service following the incident and posted videos in English and German in which she claimed she was detained at the airport for 32 hours before being deported back to Germany, and that officials had seized her by force.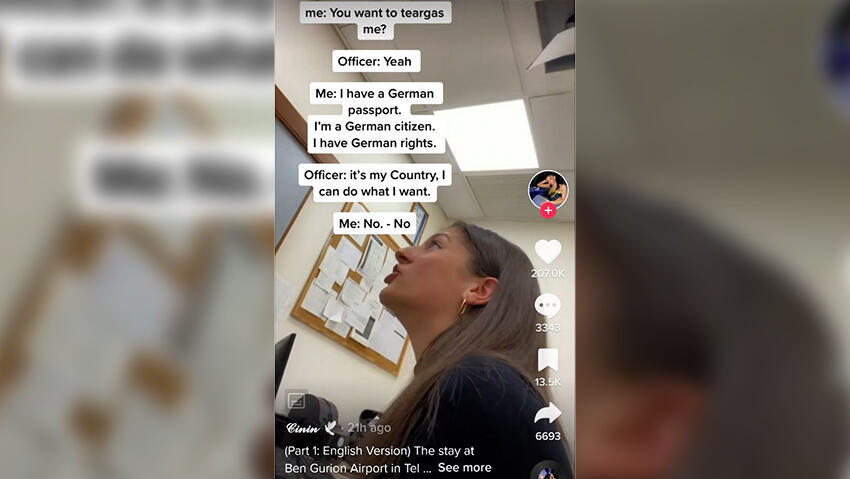 In the video,Abu Zeid is seen in a small part of the alleged argument with the Israeli authorities, and then for long minutes, she films herself describing what had happened, claiming that she was insulted and threatened. The two-part clip in German and English generated 4.8 million, and 2.7 million views respectively.
Abu Zeid, the daughter of Palestinian parents originally from the West Bank, says she was born and raised in Berlin and that she is now a law student in Leipzig.
She arrived in Israel on April 17, refused entry, and was detained for long hours. Then, she was asked to sign a "deportation document," but she refused.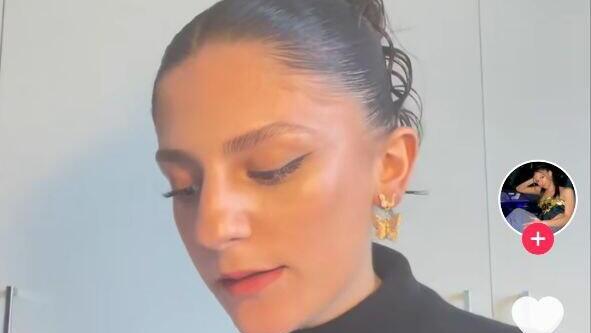 According to her account of events, when she asked why, as a German national she was asked such a thing, was told she "was nothing more than a filthy Palestinian." She then described the official physically pushing her and threatening to use tear gas on her and restrain her with handcuffs and when she asked to use the bathroom, was escorted there and told not to lock the door, adding to her humiliation. She also alleges that her personal belongings were not returned to her and remained missing.
"I learned from this experience at Ben Gurion Airport about the second-class status of Germans with Arab/Turkish roots," Abu Zeid said in her clip. This was a traumatic and frightening experience for me and my family and I have never felt so helpless," she said. She also called on other German citizens to work to force the government in Berlin, to ensure the security of Germans abroad.
Contrary to Abu Zeid's accusations, Israeli authorities argued she was the one who refused to cooperate during questioning by officials and spoke harshly at them.
German Ambassador to Israel Steffen Seibert said the incident as it was described by Abu Zeid is unacceptable. "The embassy had been in touch with Cinin Abu Zeid in the course of the incident and will will raise it and other similar cases to our partners in the Israeli authorities."
The Israeli Administration of Border Crossings, Population, and Immigration said in response: "The female traveler landed in Israel a week ago. During the interrogation conducted with her, she updated the officials that she is a German-Palestinian citizen and an active resident. Since she arrived at Ben Gurion Airport without approval from the Palestinian Authority as required by law, her entry was denied."
The Population and Immigration Authority said the woman had identified as a German Palestinian with residential status in the West Bank, but because she did not have authorization from the Coordinator of Government Activities in the Territories as is required by law, was denied entry.
"To clarify, the passenger spoke aggressively, hurled insults at the border officials and refused to leave the interrogation room," the authority said in a statement. "In conclusion, her entry was refused according to the law and could not justify her conduct," the statement read. They later said they were not aware of abusive behavior on the part of the border officials.