Qatar announced on Tuesday that negotiations for the release of hostages held in the Gaza Strip have "never been closer to a conclusion."
Meanwhile, the Qatari Foreign Ministry stated, "The Qatari mediation is in its final stage and at the closest point to reaching a cease-fire. We do not have a final agreement yet, but will announce the details as soon as we do."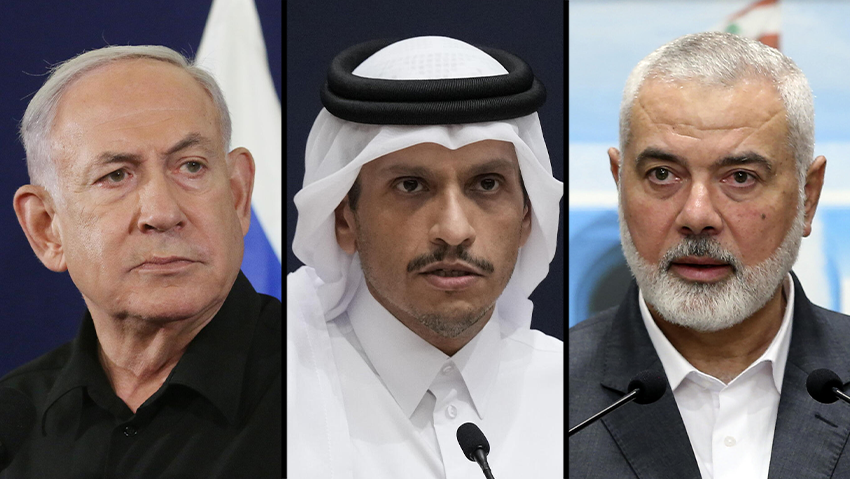 Khalil al-Hayya, the deputy of Hamas leader in Gaza Yahya Sinwar, told the media, "We are still waiting for the response of the occupation regarding the humanitarian truce agreement."
CNN reported that a deal could be announced as soon as Tuesday, citing two Israeli sources. The release of the prisoners needs to be approved by the Israeli government but isn't expected to be an obstacle, one said.
Earlier, Hamas leader Ismail Haniyeh said that officials are "approaching a truce agreement" with Israel and the group delivered its response to Qatari officials.
Shortly thereafter, the Gaza-ruling terrorist group announced the details of the agreement it has approved. The deal includes a five-day truce and stipulates the release of "fifty non-military captives and foreign nationals, in exchange for the occupying authorities releasing 300 child and female prisoners."
Hamas also specified that the pause in fighting would entail "a total suspension of Israeli flights over Gaza, except in the northern areas where Israel will limit flights to six hours daily."
According to Hamas, 300 trucks carrying food, medical aid and fuel will be allowed into "all regions of the Gaza Strip." Hamas also reported that the Israeli hostages will be released incrementally, with ten being released each day.