For eight years now, vlogger Drew Binsky has made a living traveling the world, creating content that aims to lift the curtains on remote communities for his 3.6 million YouTube subscribers.
He's visited places as hard to reach as North Korea and South Sudan. But in his most recent video, Binsky, who is Jewish, doesn't even leave the country. Instead, he takes his camera to Brooklyn to explore the different Hasidic movements, members of what he describes as "the most religious and closed-off community in America."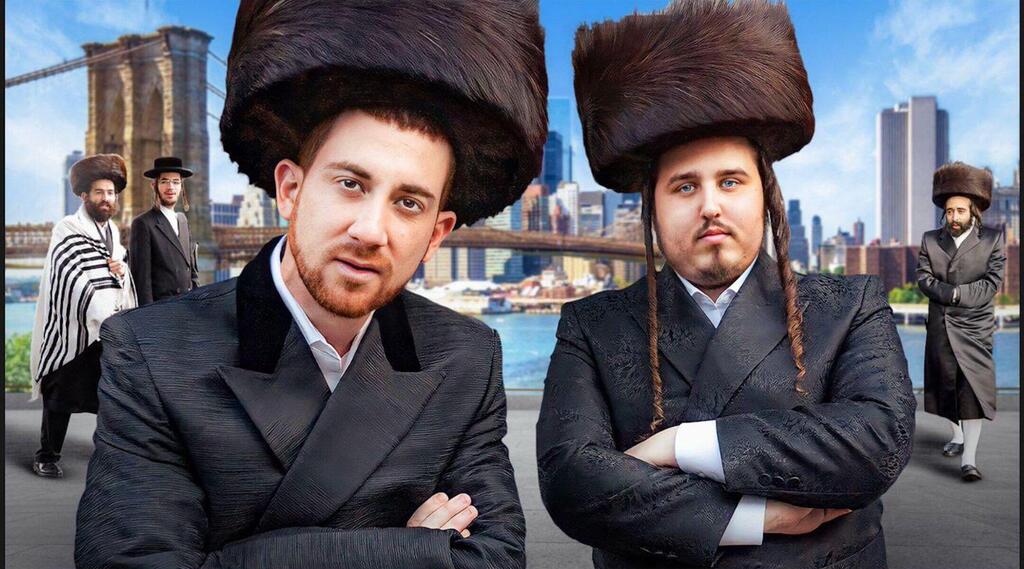 "I'm really interested in different belief systems of every religion," Binsky, whose real last name is Goldberg, told the New York Jewish Week via phone from his home base in Arizona. "Micro-communities and people that take anything to the extreme are fascinating to me."
The 43-minute video, twice as long as a typical Binsky production, has garnered nearly 800,000 views since it was posted on YouTube on Monday. In it, Binsky, who grew up Reform, explains the history of Hasidism in New York and the customs and traditions of the insular community.
The video took six months and a team of five to film and produce, Binsky, 31, said. It begins in Washington Heights, with Binsky on camera talking to Yeshiva University students about how Hasidic Judaism is different from their brand of Modern Orthodoxy — and featuring some seriously delicious-looking shawarma from an Amsterdam Avenue eatery called Golan Heights — before heading to the Hasidic enclaves of South Williamsburg and Borough Park.
In Brooklyn, Binsky is accompanied by ex-Hasidic community member and transgender activist Abby Stein. Together they eat matzah ball soup, sesame chicken and stuffed cabbage at Gottlieb's Deli, visit Eichlers Judaica shop and drop by both a newsstand and synagogue to learn more about worship and local customs. At the close of the video, Binsky celebrates Shabbat with the family of Shloime Zionce, a Hasidic Jew and fellow travel vlogger, who lends him a bekishe (a traditional black overcoat) and shtreimel (a fur hat) to help him look the part of a Hasidic man.
"As a Jew and someone who has celebrated Shabbat in many countries around the world, I must say that this one was the most special," Binsky says in the video.
The idea for a video about Hasidic Brooklyn stemmed from the years-long online friendship between Binsky and Stein. After connecting on social media, the pair began to plan an excursion to Williamsburg to learn more about Stein's life and childhood: Stein had grown up in the community, became a rabbi, married a woman and had a son before leaving the community when she came out as transgender in 2012.
"I think it's helpful to see Williamsburg and the Hasidic community to really get a better sense of things and the work I'm doing to support LGBTQ people," Stein, 31, told the New York Jewish Week. "As we were doing that, I think that's when Drew basically realized, there's a larger story about the community as a whole." That, in turn, led the pair to explore Borough Park and its environs as well. Stein explains that Borough Park is slightly more open to outsiders than Williamsburg, and so Binsky may have better luck with interviews.
Famous for having visited every country in the world, it's rare for Binsky to make videos about life in the United States — he estimated only 1% of his 1,000-plus videos are about American communities. "It's nothing against the U.S. As an American, I'm more fascinated with other places because this is my own country. But if I can find these insular pockets, that's really interesting," Binsky said. "The most extreme Jews are Hasidic but it wasn't until I actually went to South Williamsburg and to Lee Avenue, deep into the community, that I really got to learn about it."
Haredi Orthodox communities have been bristling under the attention they've received of late, starting with criticism for the way many members flouted COVID-19 rules early in the pandemic and lately after a series of New York Times investigations said Hasidic yeshivas were failing to provide adequate education in secular subjects.
Orthodox activists say such coverage fosters stereotypes that have led to an uptick in street attacks on visibly Orthodox Jews. In January, Agudath Israel of America pushed back with a billboard and website campaign, called KnowUs.org, meant to "dispel stereotypes" about the community. Most of its content defends the yeshiva system.
Stein understands why Americans are fascinated with Hasidim. "Americans and American TV have been obsessed with cults and fundamentalist communities for a long time," she said. "In some ways, [the fascination] is an opportunity — to lean in, to raise awareness, to help people who have left or people who want to leave, and also to affect potential positive change within the community for people who are happy being there."
In the video, in which Binsky talks to both members and ex-members of the community of all ages (though aside from Stein, Binsky briefly talks to only one other woman). He's rebuffed by some passersby but is embraced by others who are eager to share their stories.
"They really didn't want to talk to me, they didn't want to be interviewed," Binsky said, adding it was one of the more challenging videos he's made in a first-world country. "To not be welcomed by my own community is really frustrating."
Still, he said, "I thought I told a well-balanced story. Non-Jewish and secular Jewish viewers have told me it's the best video I've ever made."
The only backlash he's received, Binsky said, has been from a handful of Hasidic community members who criticized his friendship with Stein and his decision to center her narrative in the video. In some emails he's received, Binsky said she was referred to as "Abe" and misgendered by her ex-community.
"I knew that shooting with Abby would be controversial, but I did it because I wanted to have that story about the community," Binsky said. "But I also want to be like, look, she's a real person, and you guys have to deal with it.
The top comments on the YouTube video are indeed positive. "This was absolutely beautiful," wrote one user. "As a semi hasidic Jew myself I was touched by your coverage. I was moved to tears watching Shlomo bless his children on Friday night."
"I have loved every single one of your travel videos — but this may honestly be your best work yet," another viewer wrote. "To get this level of insight is incredible and brings a human element to the mystery!"
While the pair acknowledged that the video could be seen as exploiting a community that Americans are already obsessed with, neither Stein nor Binsky felt it was done in bad taste. "I would say when you're working with people in the community, it's not that it's OK for us to tell our stories, it's important for us to be able to," Stein said.
In the past, Binsky has made videos about Jews in Ethiopia, Turkmenistan and Yemen, and in 2019 he visited Zebulon Simontov, who was famous for being the last remaining Jew in Afghanistan. He is currently planning a trip and to create a video about the Igbo Jews in Nigeria.
"I have a very global audience, so I try to educate people about the world and make high-quality content that can be viewed by any age and any nationality," Binsky said. "My shtick is to have a lot of courage and go to places and just share the real story from my perspective."
"Am I 'exploiting' them? Yes, to some degree," he added. "But I still feel like I have to do that as part of my mission to tell the story. Otherwise, the story won't get told."