Incidents of white supremacist propaganda distribution and events reached an all-time high in the United States in 2022, the Anti-Defamation League (ADL) said in a recently published report.
According to the hate monitor's data, 6,751 such incidents were recorded over that time period, a 38% increase over the previous year.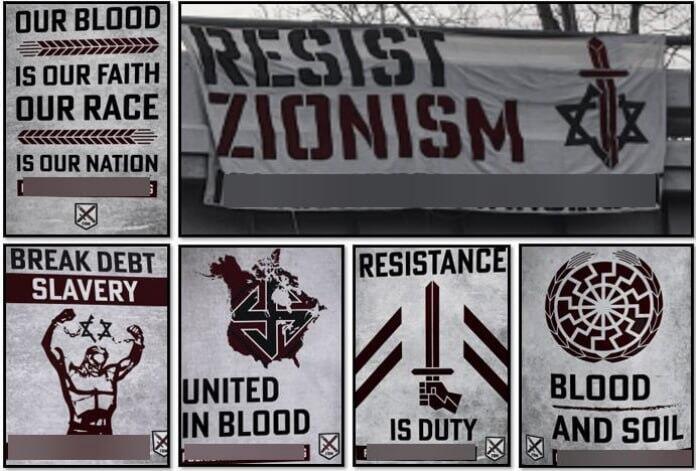 The propaganda activity tracked included the mass distribution of antisemitic, racist, and anti-LGBTQ+ fliers; the dissemination of stickers, banners, graffiti, and posters; hateful laser projections on buildings and stadiums; and in-person white supremacist gatherings.
The reported incidents of explicitly antisemitic propaganda more than doubled, rising from 352 incidents in 2021 to 852 in 2022. Propaganda was reported in every state except Hawaii, with the highest levels of activity in Texas, Massachusetts, Virginia, Michigan, Pennsylvania, California, Utah, Florida, Connecticut, and Georgia.
Three white supremacist groups – Patriot Front, Goyim Defense League (GDL), and White Lives Matter (WLM) - were responsible for 93% of the activity. Texas-based Patriot Front was responsible for the vast majority – 80% – of propaganda distributions in 2022. The GDL was responsible for at least 492 propaganda incidents in 2022, representing roughly seven percent of the total propaganda nationwide and 58% of the year's antisemitic propaganda incidents.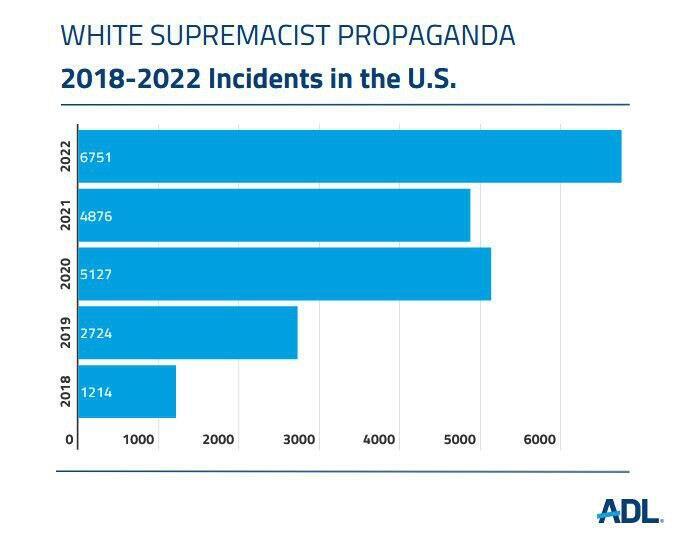 White supremacist groups increasingly used banners, often draped over highway overpasses, to publicize their hate. ADL recorded at least 252 banner drops, a 38% increase from the 183 counted in 2021. ADL documented 167 white supremacist events, a 55% increase from the 108 recorded in 2021. Events took place in 33 states, with the most activity in Massachusetts, California, Ohio, and Florida.
While the majority of propaganda incidents occurred on college or university campuses, at least 11 incidents were reported on K-12 campuses. On-campus propaganda was recorded in 39 states, with the highest levels of activity in Texas, Arizona, California, Florida, Idaho, Ohio, Illinois, and Michigan.
As in previous years, extremists used fliers, posters, stickers, banners and graffiti to share their antisemitic views. In Florida, GDL and WLM used laser projectors to cast antisemitic messages on buildings on at least seven occasions.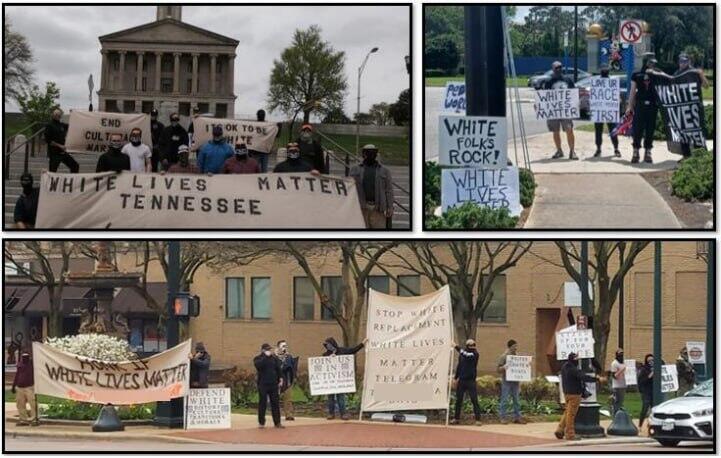 "The propaganda increase is a cowardly attempt to intimidate marginalized communities and those who don't align with their twisted worldview and draw in new recruits", said ADL CEO Jonathan Greenblatt.
"In response to this threat, we must recommit ourselves to the fight against hate and say, 'Enough is enough.' We cannot sit idly by as these extremists pollute our communities with their hateful trash".