The Directorate of Defense Research and Development (DDR&D) within the Defense Ministry is nearing the operational deployment of the first so-called "dronebulance," an unmanned aerial vehicle (UAV) capable of swiftly and securely transporting heavy loads or wounded soldiers from the battlefield.
The dronebulance, a project developed by the Defense Ministry for the IDF, underwent a comprehensive test flight in southern Israel this past May. It successfully executed multiple scenarios and landings, reinforcing the developers' confidence in the platform. The upcoming phase, set to start early next year, will involve trial flights carrying the intended payloads, from dozens of pounds of ammunition, water and fuel intended for combat forces, and eventually, human passengers.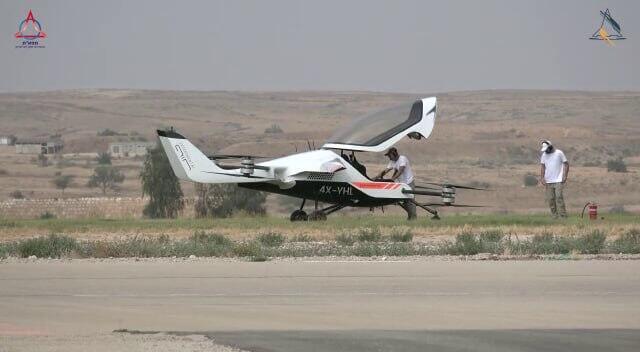 The large dronebulance successfully demonstrated its ability to fly two people for a range of several miles, substantiating its potential to fly up to 30 miles (an hour's flight) and carry a weight of up to 550 lbs in the air. The development of the airborne vehicle initially began in the private sector by the Israeli company AIR.V, and is commercially known as the "Air Van." However, it has now been commissioned for use by the IDF and may revolutionize logistics in the modern battlefield.
"We've essentially changed course. Instead of fully developing a military vehicle, we are taking an asset from the private sector and continuing its development for military use," Idan, the head of the DDR&D UAV department, told Ynet. "This way, we maximize the use of assets coming from start-ups, and we equip them with military capabilities to military standards."
"At this stage, we are in the process of developing an integration plan for this equipment in collaboration with IDF officials. Subsequently, a systematic trial protocol will be established. I anticipate that within one to two years, we will make substantial strides, and possess the practical ability to employ these tools for military use, capable of bearing even heavier payloads and operating over greater distances."
Over the last decade, the national security establishment has attempted to develop other, slightly smaller drones for transporting injured personnel from the battlefield, but these projects largely failed due to safety concerns. The current platform, which is larger than the previously attempted drones, may become the first such system to become operational in the IDF.
The dronebulance will fly autonomously with a pre-programmed waypoint, similar to standard military drones that today no longer require human remote control. "Until now, similar projects have not succeeded because their batteries did not have the required capacity, mainly because they were relatively small devices with a ceiling that was limiting," added Idan.
"This time, we're essentially talking about a small aircraft, akin to a Cessna, capable of reaching the same altitude as this type of plane. This platform features a retractable canopy similar to a sports car, a quiet electric engine with simple charging, a tablet screen in the passenger compartment, and four rotors that provide the capability for vertical takeoff and landing from any location. Then, it transitions mid-air to a configuration for fast and horizontal flight, akin to an airplane," explains Idan, noting that the aircraft is reminiscent of the Boeing V-22.
"Last year, the world invested NIS 30 billion in airborne electric vehicles, and there's no reason why we shouldn't capitalize on this trend. This Israeli system has already reached an advanced stage of maturity. It's no longer a science fiction concept; the initial capabilities have been demonstrated to us, and now we're enhancing them for the needs of the IDF, while also developing a maritime version," Idan added.
Currently, the cost of each of these aircraft in their basic version is estimated at $150,000 per unit but the price is expected to decrease once its development is completed.