Reports from Jewish communities throughout Ukraine reveal a difficult picture of Yom Kippur prayers under fire. "We experienced a crazy night of attacks," says Rabbi Avraham Wolff, the chief rabbi of Odessa. "It was one of the hardest nights that we have gone through since the war broke out."
Wollf, who also serves as the rabbi of the southern region of Ukraine, says that local reports indicate that the attack included 12 cruise missiles, two hypersonic missiles and 19 drones. "But the whole synagogue was filled. There was simply no room to enter. Hundreds of the city's Jews flocked to prayers early despite the difficult situation. Among the worshipers were Jewish refugees from other cities who came to live in the city recently," he said.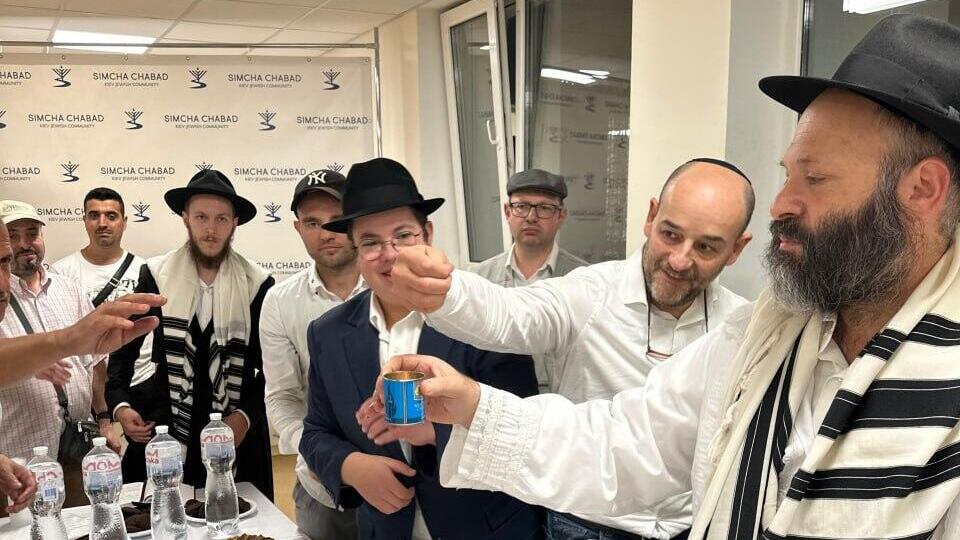 It was not quiet in the capital city of Kyiv either. "There was an alarm at night and we were afraid of what we might have to do," said Rabbi Mordechai Lavanhartz, a Chabad emissary in the city. "But thank God it ended without anything unusual. It was amazing in the synagogue. A lot of Jews came. We were very surprised."
In Zhytomyr, the city's rabbi and Chabad emissary Rabbi Shlomo Wilhelm led the prayers for Yom Kippur with the city's Jews, while at the same time a team on his behalf led the prayers at an orphanage for Ukrainian children that was moved to Ashkelon after the outbreak of the war.
In the city of Zaporizhzhya, the rabbi of the city and Chabad emissary, Rabbi Nachum Arntroy, said that his institution had a record number of worshipers. "The stream of followers was non-stop both night and day," he said.
"The attack on our city during Yom Kippur will in no way affect our activities aimed at supporting the Jewish community of Odessa. We continue to do everything possible to meet all the needs of those in need and provide them with assistance in all spheres of life," added Igor Shatkhin, chairman of the Federation of Jewish Communities of Southern Ukraine