The bus driver, who was among the injured, alerted authorities who launched a manhunt and blocked traffic from entering the highway, the military said.
IDF said it has captured two Palestinians suspected of carrying out the attack, while the third alleged assailant fled the scene. The forces were searching the area for his whereabouts.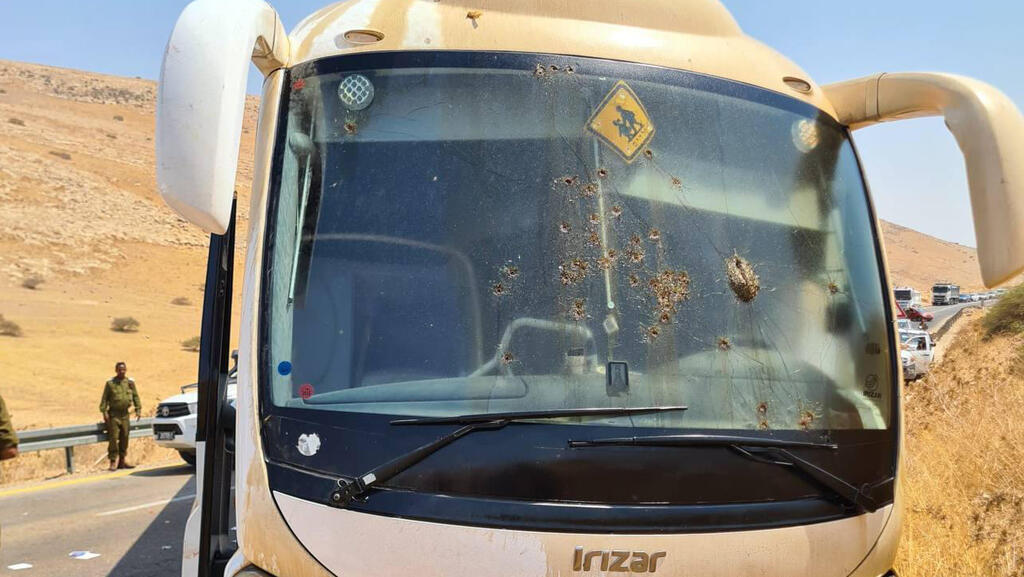 Magen David Adom (MDA) medics and paramedics provided medical treatment to the two wounded by gunfire, reportedly in moderate condition and fully conscious. Another three people on the bus were lightly hurt by glass shrapnel. The wounded were evacuated to Rambam Medical Center's intensive care unit, in Haifa and Ha'Emek Hospital in Afula by helicopter.
"We saw two gunshot victims outside of the bus who were being treated by Israeli military medics and other people who were at the scene," said Senior MDA EMT Matti Carmi. "One is a 60-year-old male, and the other is a younger man. They were fully conscious and communicating with us."
Residents of their area were told to shelter in place and schoolchildren were made to remain in educational facilities until security forces give the all-clear. Following the incident, which took place on Route 508 near the settlement of Hamra, Highway 57 and Alon Highway were closed to traffic.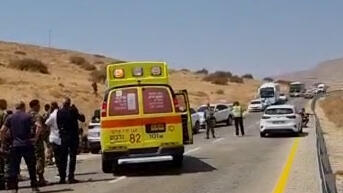 According to reports, the attackers who carried out the shooting from their car as the bus was passing by also launched firebombs at the bus.
Shortly after, Israeli authorities arrested two Palestinians believed to have carried out the attack. The terrorists' vehicle caught fire during their escape, according to media reports, injuring the Palestinians. Several firearms were found at the scene.
The bus driver, who was among the injured, alerted authorities who began their manhunt and blocked traffic from entering the highway.
Local regional council officials said the attackers attempted to set the bus on fire and caused flames to engulf their own vehicle.
The Hamas terror organization in a statement called the attack a heroic action.
The attack took place in an area that had not seen similar violence in recent years.
Defense Minister Benny Gantz said the security forces acted quickly and professionally and succeeded in apprehending two of the assailants.
"We will continue and increase our targeted actions against the West Bank terror," Gantz said as he expressed his wishes for a speedy recovery for the injured.
Prime Minister Yair Lapid said Israel will continue to act against anyone who tries to harm the civilians and soldiers of the State of Israel.
"I stand behind the rescue and security forces that acted quickly and with determination in treating the injured and catching the suspected terrorists," he said.
Israel police announced it was increasing its alert all over the country, following the attack and will deploy further troops to vulnerable areas and crowded venues.