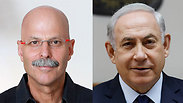 Blum (L) and Netanyahu
Photos: Reuters, Dana Koppel
New coordinator supports, while PM delays Shamgar report on captives
Newly appointed chief POW, MIA release negotiator Blum has repeatedly pushed to accept Shamgar Commission's recommendations, that issue of POWs, MIAs be moved from PMO to Def. Min.; that Israel only exchange handful of prisoners; and that only remains be exchanged for Israeli remains; it is still to be seen, though, if PM Netanyahu will finally accept Blum's stance.
In July, 2008, then-defense minister Ehud Barak created the Shamgar Commission, tasking it with determining the principles for negotiations over captive IDF soldiers, kidnapped Israeli citizens and missing persons.

Four years later, the commission, headed by former Supreme Court chief justice Meir Shamgar, submitted its recommendations to the government. But the report has since been collecting dust in Prime Minister Benjamin Netanyahu's office.

Now, after the appointment of Yaron Blum as coordinator for POWs and MIAs, the issue has been put back on the national agenda.

A year ago, Blum, a former Shin Bet official, called to adopt the conclusions of the commission's report. The commission's recommendations included transferring responsibility over the issue of POWs and MIAs from the Prime Minister's Office to the Defense Ministry, as well as to release only a handful of prisoners in return for a captive soldier. Furthermore, the commission recommended that only human remains, and not living, convicted terrorists, be exchanged for the remains of Israeli citizens.

"I think this would help governments in the future to make healthier decisions, and to help Hamas understand that Israel won't be a sucker any longer," Blum said at the time.

Meanwhile on Sunday, the family of fallen soldier Hadar Goldin released a statement saying they received an explicit promise that a government under Netanyahu's leadership would not adopt the report "as long as there are soldiers and civilians in enemy hands."




The commission's recommendations were submitted in early 2012 following the deal to release IDF soldier Gilad Shalit from Hamas captivity. Shalit was exchanged in return for 1,027 Palestinian prisoners and detainees.

Blum's continued defense of the Shalit deal, which included the release of 1,027 convicted terrorists for a single Israeli soldier, seems to be diametrically opposed to his support of the Shamgar report, which calls for a tougher stance when negotiating the release of Israeli captives, dead or alive.

"The price we paid wasn't too high," insisted Blum in an interview two years ago. "We paid a heavy price, (but terror—ed) cells operate from within the prisons and nothing stops them. Those same 'VIPs' have been exiled, which for them is worse than prison. The number of those who return to terrorism is relatively small."

Blum stated that "out of the thousand prisoners who were released in the Shalit deal, 405 had blood on their hands (committed the acts of terror themselves), very hard criminals whose release was a very big deal. (Despite this,) the price for the soldier's release was just and appropriate."

While the Shamgar report itself remains confidential, the main recommendations were reported in the media. Prime Minister Netanyahu is blocking the release of the full report to the public, and he has also been ignoring repeated demands by several ministers to hold a Security Cabinet discussion on the report and adopt its recommendations.

Following a Cabinet meeting in June, 2016, during which the ministers approved the reconciliation agreement with Turkey, Public Security Minister Gilad Erdan demanded to hold a discussion on the Shamgar Commission's recommendation in the wake of protests against the agreement by families of POWs and MIAs.

The families of fallen IDF soldiers Hadar Goldin and Oron Shaul—whose remains are being held by Hamas—and Israeli citizen Avera Mengistu—who is believed to be held hostage in Gaza—protested the reconciliation with Turkey, because the return of their sons was not included in the agreement despite Ankara's ties with Hamas and the regular aid it sends to the Gaza Strip.

A month later, the Cabinet held a discussion about sentencing terrorists to death, but the second part of the discussion, which was supposed to deal with the Shamgar Commission recommendations, was postponed indefinitely.

The issue was raised again in August, when Blum's predecessor Lior Lotan resigned. Defense Minister Avigdor Lieberman said at the time that Israel "must not repeat the mistakes made with the Shalit deal."

The defense minister went on to say that "202 of the released prisoners in the Shalit deal have been arrested again since then for their involvement in terrorism, 111 of whom are still in Israeli prison, while seven Israelis were murdered because of direct or indirect involvement of prisoners released in that deal."

Therefore, before appointing a replacement for Lotan, Lieberman said it was important to adopt the conclusions of the 2012 Shamgar Commission in full and in that "set clear lines to the State of Israel and envoys on its behalf, but mostly stand firm against our enemies and make it clear to them we have no intention of compromising on Israel's security."

Government officials explained Netanyahu's aversion of the Shamgar Commission recommendations, saying the prime minister doesn't like "being put under restrictions."

"The recommendations of the Shamgar Commission are hard to stomach in light of past conduct," a Cabinet official elaborated. "The government is required to put itself under significant restrictions: Bodies for bodies, an equal exchange, etc. It's important to understand that if the Shamgar report's conclusions were adopted, the efforts to return the soldiers' bodies and the civilians from Gaza would not have even reached an initial discussion."

Housing and Construction Minister Yoav Galant explained in the past his objection to adopting the Shamgar report, saying, "My personal view is that every soldier must be returned to the State of Israel, and a system in which you create limitations for yourself does not bind the other side. Even if the Shamgar Commission recommends and the government adopts, it could seal the fate of someone who fell captive to never be released because the other side won't agree to it."

The Goldin and Shaul families oppose the recommendations of the Shamgar report, warning its adoption would mean putting an end to the IDF's image as "the army of the people." Instead, the families call on the Israeli government to put more pressure on Hamas in Gaza and not release of hundreds of terrorists.

Blum was among the small team of Shin Bet negotiators that l managed to secure the release of Gilad Shalit, has in the past expressed his support of setting strict guidelines as to what Israel may and may not offer in an MIA or POW release negotiations. "It would be easier of these recommendations would be adopted," said Blum, in August, 2016, in reference to a bill promoted by Defense Minister Lieberman and MKs Yair Lapid and Ofer Shelah.

"Since we all know we're compassionate Jews, I'm convinced that if no 'anchors' are set, and if the other other side will know there are no limitations, the next time they Godforbid kidnap a soldier we will again, unfortunately release a great deal of prisoners for them, because that's the way we are. The Israeli government needs to accept these conclusions. I think that it would help future governments to make healthier decisions."

While Blum himself is a staunch supporter of the Shmagar's conclusions ("I unequivocally support adopting the Shamgar Commission's recommendations as soon as possible," he was quoted as saying), it remains to be seen whether his appointment as head MIA and POW coordinator will cause Netanyahu to reconsider adopting them.

Netanyahu referred to Blum's appointment during the weekly government meeting on Sunday. "I have decided to appoint Yaron Blum as coordinator for POWs and MIAs; he will coordinate our efforts to bring the boys back home. He views this as a national mission. Personally, he was a member of the small team that dealt with the issue of Gilad Shalit and I think that he is the appropriate person for this important mission.

"Before the appointment, I called the families, each one of them, and I told them that I know, I remember them as parents and also as brothers, and I remember the boys. We understand our moral and humanitarian debt to do everything possible to bring them back. I have no doubt that Yaron will contribute to the effort and make a very important contribution to this sacred mission."

Regardless, though, the first thing on Blum's agenda will need to be a "cooling off" period with the media, which will grant him a degree of ambiguity that is crucial when representing the government. This means an end to his frequent appearances as a news show commentator.

Despite being against the Shamgar Commission's recommendations that Blum supports, Zehava Shaul—the mother of Staff Sgt. Oron Shaul, believed to have died in Operation Protecitve Edge, whose remains are being held by Hamas—said she wishes Blum good luck in bringing her son home.

"I think Yaron is a very strong person, as he showed during the return of Gilad Shalit, where he did a good job. I hope he'll do a good job in the case of Oron and Hadar (Lt. Goldin, also believed to have died in Protective Edge—ed). Yaron called me and he sounds like an amazing person. He won me over with his words."

Shaul stated that she believes Blum should now focus on securing the release of her son, and not push for the adoption of the Shamgar report's conclusions. "This is the view he has voiced in the past. After being given the mandate to start running (in his new position), his goal is the same as mine—to bring Oron home. If he continues (to push) the Shamgar's issue, he won't accomplish anything. Shamgar should be (addressed) after Oron comes home. I want Oron in my house, no matter when, how and how much they pay for him. I believe that I won't have to give suggestions to Blum, since he knows the job."

Yishai Porat, Alexandra Lukash and Attila Somfalvi contributed to this article.