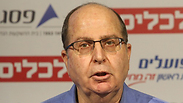 Moshe Ya'alon
Photo: Tzvika Tishler
Ya'alon: A political murder could happen at any moment
In an interview with Ynet, the former defense minister laments the 'divisive and inciting' leadership in Israel, criticizing Netanyahu for attacking 'everything that constitutes the checks and balances in a democracy' including the media and the Supreme Court.
Former defense minister Moshe Ya'alon warned Wednesday that "a political murder could happen at any moment," laying the blame on Israel's leadership, which he called "divisive and inciting."

"There's incitement. You can see it on social media," Ya'alon told Ynet in an interview held on the Memorial Day for slain Prime Minister Yitzhak Rabin. "It's absolutely clear a political murder could happen at any moment in light of the ongoing incitement. One of our problems is that we still can't heal the wound from Rabin's murder."

Rabin, Ya'alon said, "took responsibility" for things that had gone wrong under his leadership. "His most important act as a leader, in my opinion, is taking responsibility for the failed attempt to rescue (captured IDF soldier—ed) Nachshon Wachsman," he added.

He lamented the fact that leaders today are focused on politics rather than leadership, accusing Netanyahu of mounting "an attack on everything that is supposed to constitute the checks and balances in a democracy."

Netanyahu and "his messengers," Ya'alon said, were attacking the media. "A minister (Miri Regev) said 'the government should control the media,' while one Likud MK did one better and said 'the Likud needs to control the media,'" he elaborated.

"It's clear to me there is a trend here, to attack anything that is being seen as the 'elites' who disrupt governance," Ya'alon added.

One example of that, he said, is the Supreme Court. "You could have a serious discussion about judicial activism and the appointment of judges—I'm ready to have that discussion. But the executive authority is shirking responsibility and passing it on to the Supreme Court, and then it attacks it, trying to have it both ways," Ya'alon asserted.

"Look what they're doing to the police commissioner, and before that to the Shin Bet director and to IDF officers all the time," he bemoaned. "If the prime minister wanted to prevent this, he would have. But it serves him. He has one goal, and that is his political survival, and to hell with the country."

Not for the first time, Ya'alon called on Netanyahu to resign. "I didn't think Netanyahu would choose greed over security interests until it all blew up right in front of me in the submarine affair," he said. "In February 2016, I blocked the deal as the defense minister, because I had suspicions. Since then, I've learned everything I didn't know before: That David Shimron was involved, that David Sharan was arrested, Avriel Bar-Yosef's involvement. I couldn't defend Netanyahu anymore. Choosing greed over state security? No way."

While allowing that he is not well versed in the two ongoing criminal investigations against Netanyahu, Ya'alon declared that at least in the submarine affair "there isn't just smoke, there's fire. Anyone with a pair of eyes should understand there's a serious problem here, which threatens the foundations of democracy in the State of Israel."

Ya'alon also criticized the public spat between his successor in the Defense Ministry, Avigdor Lieberman, and Education Minister Naftali Bennett after the latter slammed what he saw as an apology from the IDF Spokesman for the death of terrorists in the tunnel explosion.

"It was necessary to clarify matters in the briefing—not in the statement—so the other side doesn't think we were going to do something that would force it to retaliate," Ya'alon explained.

"Playing politics with security matters, particularly at the expense of the IDF, is absolutely reprehensible," he stressed. "And it has become a kind of a trend: to gather votes or bolster oneself politically with all kinds of slogans at the IDF's expense."

Ya'alon also provided examples of such slogans. "There was one (Lieberman) who declared Hamas must be eliminated, and one (Bennett) who spoke about a preventative attack against the tunnels. Why aren't they doing this? It was obvious those were just empty slogans," he said.

He criticized the government's announcement in the wake of the Hamas-Fatah reconciliation that Israel would not enter peace negotiations with the Palestinians if Hamas is a party to those talks. "Did we really need to interfere in this reconciliation, which is going to fail? We should watch from the sidelines, protect our interests and not become involved, so we won't be blamed later," Ya'alon said.

Ya'alon stressed he saw no chance for a true reconciliation between Hamas and Fatah. "At the end of the day, I don't see this reconciliation agreement leading to Hamas's disarmament, with Hamas willingly giving up its weapons. So it's obvious it's going to fail," he said.