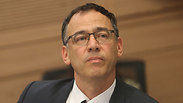 State Prosecutor Nitzan
Photo: Alex Kolomoisky
State Prosecutor Shai Nitzan on Thursday evening addressed the ongoing criminal cases against Prime Minister Benjamin Netanyahu, rejecting allegations of deliberate delays in the investigations as "baseless" and "false."

"My hope is that the police will submit their recommendations in the coming weeks," he said at the Globes Israel Business Conference at the International Convention Center in Jerusalem.

According to Nitzan, "the investigation will end once all the state's needs have been exhausted.

"I read a piece by some journalist who said we had enough information. Apparently he has wonderful sources. I want to tell him, and in general, that if you imagine that the investigation of the prime minister is easy, then it is just that: your imagination," he said.

Nitzan added that "the State Prosecutor's Office and the judicial authority in Israel are completely independent. The State Prosecutor's Office examines every case without fear and with strict impartiality, as evidenced by the indictments and convictions of public officials and elected officials from all walks of life and the political spectrum in recent years.

"Extensive corruption is something we are not proud of, and we would prefer a society in which government corruption did not spread. But as long as, unfortunately, there is corruption in the government, including by senior officials in the central government and in local government, the fact that the police are investigating without fear, and the State Prosecutor's Office is serving indictments without trepidation, indicates the independence of the prosecution system."

Nitzan also addressed the recruitment of state witnesses, among them Netanyahu's former chief of staff Ari Harow, who is set to testify against him in the illicit gifts affair (also known as "Case 1,000"), which is looking into billionaire Arnon Milchan's gifts to Netanyahu and his wife, Sara.

"A state witness agreement is signed with a felon whose crimes are lesser in severity than those allegedly perpetrated by suspect against whom he is set to testify," he noted.

"In the past, many agreements were signed in which the state's witness was promised total immunity. In recent years, we have tried to avoid agreements such as these, and to conclude agreements in which the state witness will also be convicted and sentenced. This is an essential step in the struggle against crime, and therefore this step has been taken both in the area of violent crime and in the fight against corruption."

"The signing of such agreements also sends an unequivocal message: Let everyone who is about to commit a crime know that you can never rely on any of your partners, assistants or close relatives to never betray you. In the moment of truth, every person who committed crimes with you, or who was aware of your actions—and there are always people like that—can become a state witness against you, because in his eyes, his personal well-being and saving his skin takes precedence over your personal good."

Finally, Nitzan commented on recent corruption cases within local municipalities which created waves that have even reached the highest ranks within the Knesset.

"Some of the investigations have already resulted in the convictions of mayors and council heads, and in most cases, they were sentenced with actual prison time.

"Some of the investigations have resulted in indictments being filed and investigations are still being conducted against important municipality officials, including the large-scale investigation currently under way, in which the mayor of Rishon LeZion was interrogated along with other senior officials in the government.

"We do not intend to let our foot off the gas pedal. I hope that the message will pass both to candidates who will submit their candidacy for the upcoming local government elections and to the general public: 'May the corrupt beware.'"

Attorney General Avichai Mandelblit, who also spoke at the conference, echoed Nitzan's assertions of impartiality and resolve and reiterated his notion that "Israel is not a corrupt country. Israel is a country fighting corruption."

"In my view, the State of Israel not only must meet world standards in the fight against corruption, but also aspire to stand in the forefront of countries that have exemplary norms of rule of law and transparency," he said.

"The defense mechanisms of the State of Israel are alive and well. There are independent and powerful law enforcement agencies here, and they are efficient.

"No one is immune to the law. There is no one above the law."