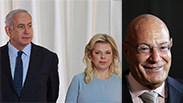 PM Netanyahu and his wife (L) and Milchan
Photo: AFP
Harow testifies to Milchan, PM Netanyahu's reciprocal relationship
New testimony regarding Case 1000 by former PM chief of staff Ari Harow reveals that businessman Arnon Milchan requested assistance with a US visa in return for lavishing Netanyahu with cigars; PM may have received hundreds of thousands of shekels in gifts.
Former chief of staff to Prime Minister Benjamin Netanyahu Ari Harow revealed how businessman Arnon Milchan requested the prime minster's assistance in renewing his cancelled United States visa and in response, Netanyahu asked Milchan if he brought him cigars, Channel 10 News reported Tuesday.

This testimony strengthens suspicions that Netanyahu did indeed received favors in exchange for assisting with various issues—in this instance, assistance with Milchan's visa. If the allegations prove to be true, Netanyahu would be guilty of a felony.

The question of whether Netanyahu has, in fact, received special favors is at the center of an ongoing investigation, and Harow's testimony can assist the Attorney General and State Attorney's Office in reaching a decision regarding Netanyahu's case in the near future.

Police suspect that Netanyahu and his wife had been receiving cigars and champagne from Milchan for years, as well as from another businessman, James Packer, amounting to hundreds of thousands of shekels.

The police also intend to submit their recommendation to indict the prime minister on this affair, nicknamed Case 1000, concerning allegations that he had received illicit gifts in exchange for favors.

Netanyahu, who had already been questioned seven times over the case, had also been questioned regarding Case 2000 (the allegation that Netanyahu tried to strike a deal with Yedioth Ahronoth owner and publisher Arnon "Noni" Mozes and limit the exposure of the Israel Hayom newspaper in exchange for positive coverage in the former—ed).

Netanyahu insists that the gifts he received from Milchan and Packer were merely "between friends."

In the past, the Prime Minister denied all charges and said, "There is no connection between the truth and this flood of lies. (I) responded to all the questions and repeat with certainty that there will be nothing, because there is nothing."

Arnon Mozes is the publisher and owner of Yedioth Ahronoth Group, which includes Ynet.