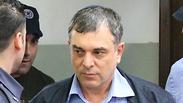 Filber in court
Photo: Motti Kimchi
Filber provides first testimony as state's witness
Suspended Communications Ministry director-general arrives to Lahav 433 offices to provide testimony for first time since signing state's witness agreement; Filber's son: 'I'd rather stay quiet and let him run things'; interrogation of others involved in case, including Bezeq majority shareholder Elovitch, continues.
Suspended Communications Ministry Director-General Shlomo Filber, in custody until at least Thursday as part of the Bezeq corruption investigation, was brought to the offices of the police's Lahav 433 anti-corruption unit Wednesday morning to provide testimony for the first time since signing a state's witness agreement.

Interrogation of Bezeq majority shareholder Shaul Elovitch and former media adviser to Prime Minister Benjamin Netanyahu Nir Hefetz, as well as other suspects involved in the investigation, dubbed Case 4000, is also ongoing.

Filber's son, Ariel, told Ynet Wednesday, "I'm letting him run things himself, as he knows how to do that. I'm not familiar with the details enough to give good answers. This situation is complex enough, and I don't want to encumber him with further thoughts and dilemmas. I'd rather stay quiet and let him run things."

The Tel Aviv Magistrates' Court discussed Wednesday afternoon police's request to remand Bezeq CEO Stella Handler and the company's Strategy and Business Development Manager Amikam Shorer.

Handler, already expected to face indictment on the Securities Authority investigation, was arrested this past Sunday on suspicion of providing bribes, Securities Law offenses, fraudulently obtaining benefits, obstruction of justice, fraud and breach of trust in a corporation.

Shorer was a senior Bezeq executive and administrator during the period in which the alleged offenses were committed.

Walla! News Editor-In-Chief Aviram Elad gave testimony at the Israel Securities Authority, where head of news for Walla Michal Klein and former editor-in-chief Yinon Magal—arriving for the second time to provide his account—testified Tuesday.

Acting Communications Ministry Director-General Maimon Shmila and Likud spokesman Shai Hayek also testified at Lahav 433 Tuesday.

Earlier this week, Elovitch, Hefetz and Filber were arrested. Or and Iris Elovitch, the son and wife of Bezeq's owner, and Handler were also detained.

Suspects are alleged to have either given or received bribes, in a quid pro quo relationship involving actions that benefited Bezeq and Walla! News—a news site owned by the telecommunications giant—in return for flattering coverage of Prime Minister Netanyahu and his family.

The prime minister himself is expected to be questioned in the affair in the near future, in fact, as is his wife Sara, who is set to give testimony due to her relationship with Iris Elovitch.

Elovitch, his wife and son will remain in custody until at least Thursday. Police asked to remand Hefetz, also a suspect in Case 1270—concerning the alleged appointment of an attorney general in return for closing Mrs. Netanyahu's cases—by several days more, but the Tel Aviv Magistrates' Court rejected the request and he will be brought before a judge again tomorrow.

Police and Securities Authority officials communicated Tuesday that evidence found during the course of the investigation points to suspicions that several of those embroiled in the case "acted to blatantly obstruct justice and make more difficult the task of collecting evidence."