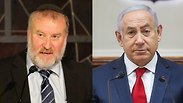 Mandelblit and Netanyahu
Photo: Amit Shabbi/ Mark Israel Salem
Netanyahu slams AG: TV interview at such timing raises serious questions
Amid reports Attorney General Mandelblit plans to indict Prime Minister Netanyahu in two cases, Netanyahu launches attack on Mandelblit, saying quotes from him reported by Channel 12 are 'unprecedented in the history of Israeli justice and raise serious questions.'
Prime Minister Benjamin Netanyahu harshly criticized Attorney General Avichai Mandelblit on Saturday night over an interview Mandelblit gave Channel 12, in which he commented on the investigations against the prime minister.

"The choice to cooperate with such a program, at such timing, is unprecedented in the history of Israeli justice and raises serious questions," Netanyahu said. "I have grave things to say about what we saw, and I'll say them when I return from the state trip to Chad."

"It turns out that for an entire year, the police didn't investigate offenses, but was instead looking for charges against me. It's called a 'set up,'" the prime minister said. "Such a program, which aired on the eve of a decision the attorney general is supposed to make regarding my affairs, is more disturbing than the embarrassing interview (police chief Roni) Alsheikh gave to Uvda ahead of the release of the police recommendations" in the cases against the prime minister.

Netanyahu is suspected of wrongdoing in three separate cases: Case 1000 concerns allegations that the prime minister and his family received illicit gifts from wealthy donors, most notably billionaire film producer Arnon Milchan. Case 2000 concerns allegations that Netanyahu held talks with Yedioth Ahronoth publisher and owner Arnon Mozes about favorable coverage in return for legislation that would weaken Yedioth's rival, free daily Israel Hayom. Case 4000 concerns an alleged quid pro quo relationship between Netanyahu and investor Shaul Elovitch, who was the majority shareholder of Bezeq telecommunications and owner of the Walla! News site; Elovitch allegedly ensured Netanyahu and his family received favorable coverage on Walla! News in return for regulatory benefits for Bezeq, which sought to merge with satellite company Yes.

Mandelblit has reportedly finished the deliberations on two of the cases and is expected to soon announce his decision to indict Netanyahu for bribery in Case 4000 pending a hearing. According to Channel 12, the attorney general intends to indict Netanyahu in Case 1000 as well, for fraud and breach of trust. A decision has not yet been made on Case 2000 due to disagreements within Mandelblit's team.

According to a report on Channel 12 on Saturday night, Mandelblit said to his close associates that "these cases are important to me. They're important to the (justice) system and they're important to the State of Israel. There's no attorney general or state prosecutor, we will all work together until we reach a decision. I rely on you, I trust you."

The attorney general also said that "my entire professional life has led me to this moment, and my entire professional career will be measured by this decision."

During a meeting on Case 1000, Mandelblit reportedly called State Prosecutor Shai Nitzan and said to him that "there is no escaping an investigation." To the other participants in the meeting, he reportedly said: "He's not cautious. The prime minister needs to be more caution. Shame."

Mandelblit also rejected the criticism against his regular work meetings with Netanyahu during the many months the police investigations were ongoing, telling his close associates that "it's clear to me that the prime minister wants me to understand he is an excellent prime minister, and that we can't (manage) without him; mostly on matters of security in the Cabinet. To me, that's transparent, and it doesn't work on me. It would be a colossal disaster if I allowed this to influence me."

"I've worked with Netanyahu for years and there were no problems," Mandelblit said. "Unfortunately, we got to where we did. But the bottom line is that a problematic pattern of behavior of Netanyahu's was discovered here, he makes ties with wealthy people and instead of steering clear of their affairs, he works to promote them."

In recent months Mandelblit has felt, according to the report, that the attacks from Netanyahu and his allies—which have so far been directed against the police and the prosecution—will be directed at him ahead of his decision on whether or not the indict the prime minister. "The talking points are coming directly from the top," the attorney general said to his associates. "The prime minister is dragging the entire country down. It's sad, and it will hurt us all."

This week, Mandelblit is expected to meet with Netanyahu's legal team to discuss their request to postpone the release of his decision until after the elections. .

If the attorney general announces his decision in February, the hearing is expected to be held only after the April 9 elections. Netanyahu's legal team is expected to ask for many months to study the material and prepare for the hearing, so the final decision on whether the prime minister will stand trial will be made months after the elections.

In response to reports Mandelblit plans to indict Netanyahu for bribery in Case 4000, the prime minister's legal team said that "On the eve of a meeting between the prime minister's attorneys and the attorney general, there is no place for leaks meant to sabotage the meeting and hurt Prime Minister Netanyahu's right to be heard in a professional and fair manner.

"It is ridiculous that what is considered bribery here is not money, but a handful of non-hostile stories in a sea of hostile stories against the prime minister on an internet site. Based on this criteria, the 43 ministers and MKs who voted in favor of closing Israel Hayom in return for favorable coverage from (Arnon) Mozes, should know they are expected to be accused of bribery. And the same will happen to any politician who received favorable coverage. It is an absurdity, which undermines the foundations of democracy."

Over the weekend, Netanyahu's Likud Party launched a new campaign against journalists Ben Caspit, Amnon Abramovich, Guy Peleg and Raviv Drucker, all of whom have helped expose the suspicions of corruption against the prime minister. Their photos appeared on billboards and on social media under the tagline "They will not decide."

While the campaign was initially launched anonymously, Likud officials had to admit on Saturday night that the party was behind the campaign after Meretz leader MK Tamar Zandberg filed a complaint to the State Comptroller and asked him to discover who was behind it.

The State Comptroller's Office confirmed Saturday night that it will look into who funded the ad campaign against the journalists, and why it was not done in accordance with election propaganda laws. "According to the election propaganda laws, there must be transparency about propaganda during election time, including on billboards," the State Comptroller's Office said.

Netanyahu also posted a video to social media on Saturday night, accusing the left wing of pressuring the attorney general to file an indictment against him. The video makes the accusation that "For three years now, the left and the media are persecuting the attorney general to force him to file an indictment at any cost." It shows protesters outside Mandelblit's home and outside the synagogue he prays in. The video concludes with the question: "Will they succeed?"

Attorney Eldad Yaniv, who appears in the video, said he plans to file a complaint against the video for incitement.