Online encyclopedia Wikipedia took down a Hebrew-language entry dedicated to the fall of an Israeli soldier Tuesday morning.
The page, entitled Nefilat Barel Shmueli (fall of Barel Shmueli), was first created on December 18, 2021, and detailed the story of Israeli Border Police office Barel Hadaria Shmueli who was critically wounded when a Hamas militant in plainclothes shot him in the head with a pistol from point-blank range during a riot around the border using a gap in the wall and died in the hospital several days later.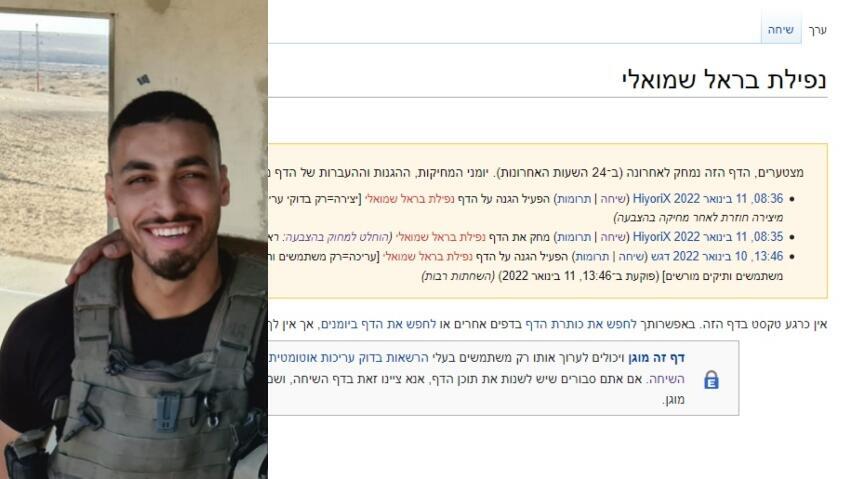 Shmueli's family harshly criticized the Israeli military and government, claiming that excessively stringent and convoluted rules of engagement tied the hands of the officer and his friends as they faced imminent danger from approaching rioters.
The incident, which was caught on camera, ignited a vociferous online protest from Israel Defense Force (IDF) servicemembers under the banner "Release Our Hands" (Untie Us), despite not being allowed to publicly comment on such issues or criticize the military during their service.
A user writing under the alias Gilgamesh earmarked the page for deletion, saying that he did not "see the encyclopedic significance in this entry" since Wikipedia is "not a memorial site."
Some users claimed the entry was "harming Wikipedia's neutrality" while others said that the circumstances surrounding Shmueli's death and subsequent furor merited an entry.
A poll was set up for Wikipedia editors to vote and decide the fate of the page. Wikipedia's deletion policy states that only registered users with 30 days of experience and 100 edits have the right to vote. Deleting an entry requires a majority of at least 55%.
Ultimately, the page was taken down after a majority of 47 editors, or 57% of all votes cast, voted in favor of deleting the entry while 35 voted against.
The officer's sister, Hila Rahimi took to Facebook to vent her frustration at the decision.
"Today I was flabbergasted to learn there is a vote on whether to keep Barel's entry on Wikipedia. Do you understand? An Israeli hero, a warrior who risked his life, time and time again, who was willing to die for the state. Is there a more national symbol than that? Is anything more proper than conveying Barel's values of comradery, courage, sacrifice to every boy and girl?" she wrote.
"Barel was taken from us. Deleted from us. I do not know who makes these decisions, but the ones who voted in favor of erasing his memory, the only thing left for us, they should know that they spat in our faces."
Wikimedia Israel, which operates the Hebrew-language edition of the online encyclopedia, said it "does not deal with or interfere with Wikipedia entries" and that its editor community determines the criteria for entries independently.