Adam Sandler
's new movie, You Are So Not Invited to My Bat Mitzvah was released last week to successful audience reviews. Sandler, who is both the film's lead actor and producer, cast his whole family, including his wife Jackie and their daughters Sadie and Sunny. The family comes across so lovely on screen, that we decided to see how much they resembled the real-life version.
Sandler was born in September 1966 in Brooklyn to a Jewish family. His father, Stanley, was an electrical engineer, and his mother, Judith Levine, taught nursing.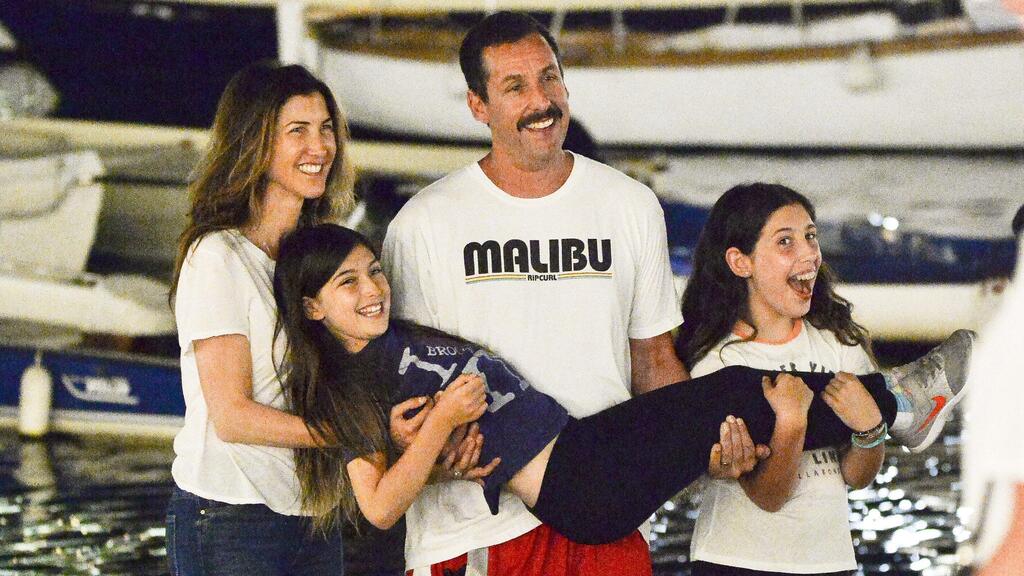 In the late 1980s, Sandler had a supporting role in The Cosby Show. He then began performing in stand-up comedy clubs, where comedian Dennis Miller discovered him and praised his performance to the producers of Saturday Night Live. His big break came in 1994 when he wrote and starred in the lead role of the movie Happy Gilmore.
Today, Sandler is considered one of the highest-earning actors in Hollywood, with an estimated net worth of $440 million and his own production company called Happy Madison.
Sandler is considered to be very loyal, caring, and considerate of other others. A clear example of this is the role when he cast Israeli actor Ido Mosseri in one of his films, and the two have since remained close friends. In 2008, Mosseri had a role in the film You Don't Mess with the Zohan, and since then, Sandler has been very supportive of him.
Jennifer Aniston is another well-known and acclaimed actress who appeared in numerous films with Sandler. She recently revealed that Sandler and his wife make it a point to send her flowers every Mother's Day since she has been unable to bring her own children into the world.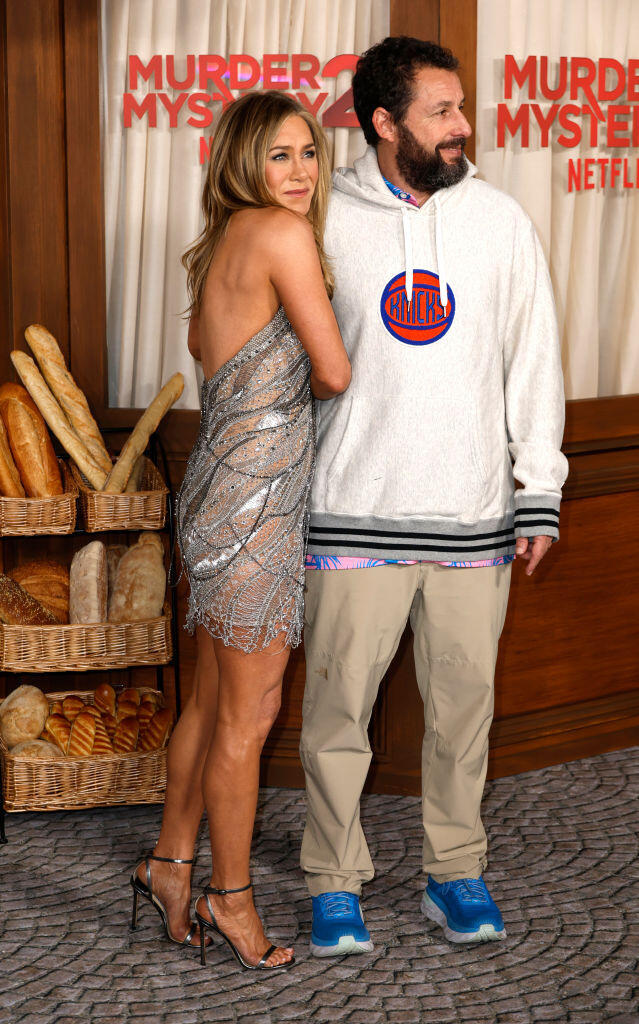 Jacqueline Samantha Titone, now Jackie Sandler, and the actor first met in 1999 when they crossed paths on the set of Big Daddy. Jackie played a waitress who worked at a sports bar, and Sandler played the role of Sonny Koufax, a lazy law school graduate who decided to adopt a child. A year after they started dating, Jackie began her conversion to Judaism which Sandler viewed as a huge gesture, and in 2022, he popped the question. "I played basketball the afternoon before I proposed, trying to calm down, and then driving home, I was saying the stuff out loud and trying to make sure I hit all of the right things. She called her grandmother right after, and her mother and I heard the applause over the phone."
In 2003, the couple wed in a traditional Jewish wedding ceremony, surrounded by family and close friends, including Jennifer Aniston, Jack Nicholson, and Rob Schneider. In May 2006, they welcomed their first daughter, Sadie. Two years later, in November 2008, she was joined by Sunny, their second daughter.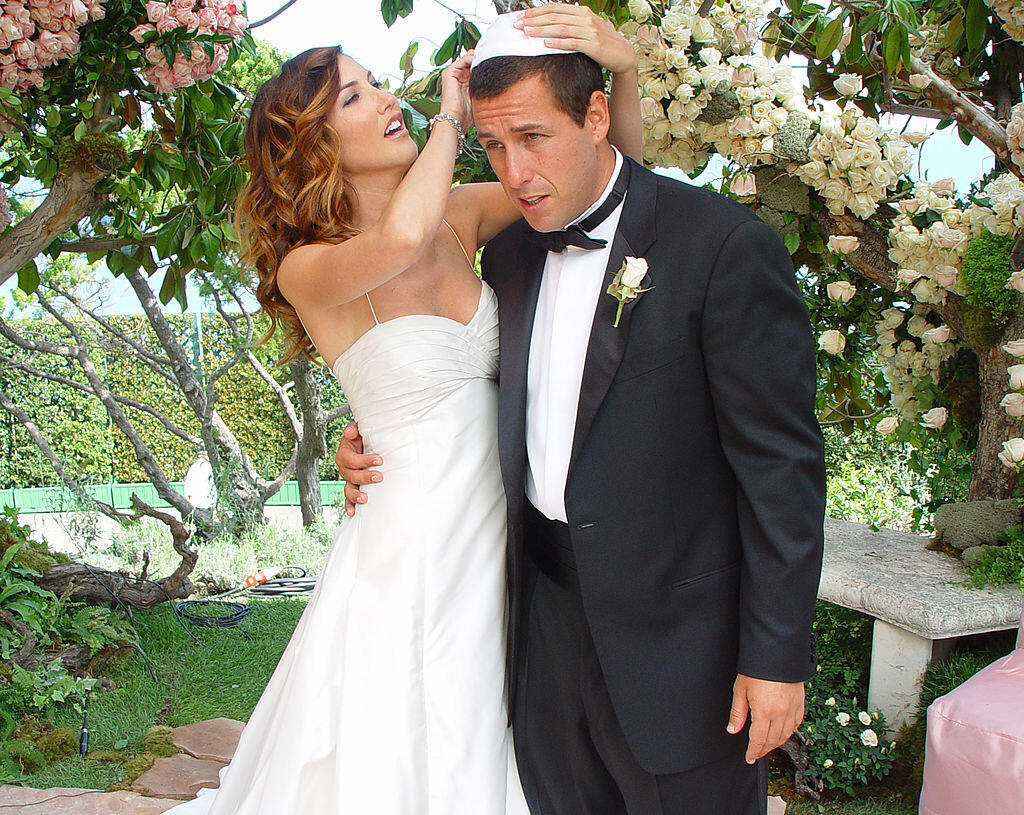 Over the years, Sandler made sure to involve his daughters in his films, such as Hubie Halloween and Murder Mystery. The two recently received more serious roles in the actor's new movie. "They make is seem like I make them play in my film," the actor said in a 2020 interview, but they keep asking for parts."
Just before filming of his latest project began, the sandlers celebrated Sunny's Bat Mitzvah, for real. "I went to that service, and we got to do the real-life bat mitzvah and then left to make the movie, director Sammi Cohen said. "It was a really fun life movie moment."
In November 2022, Sandler received the Performer Tribute award at the Gotham Awards and joked that his daughters wrote his acceptance speech since he was busy. "Thank you, Mommy, for putting up with Daddy and his crazy mood swings all these years," Sandler read and added, "Now, that truly is a feat deserved of a lifetime achievement award."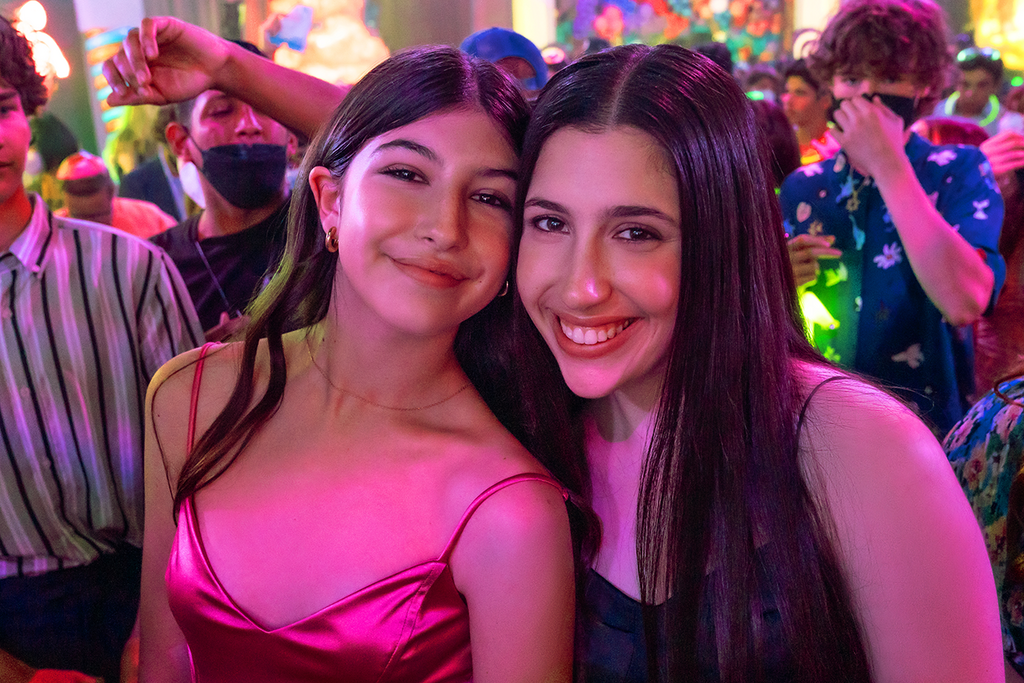 In June, the couple celebrated their 20th wedding anniversary and expressed their love on social media. "Happy 20th my sweet Jackie! Your 'I do' was the best gift of my life," wrote Sandler. My heart has been yours since the first second I saw you and I love and appreciate your devoted soul more and more each day."
So, what's the secret to their happy marriage? In an interview with AARP magazine, Sandler said, "Jackie and I like spending time with each other. We try to make each other laugh, try to listen, try to include each other, try to support each other. We try our best — that's all. And we don't ever think of not being together. We always talk about our future together."
The plot centers around soon-to-be bat mitzvah girl Stacy (Sunny Sandler), who is planning a grandiose bat mitzvah party to increase her social standing at school, and of course, to impress her crush. Things go terribly wrong however, when Stacy witnesses her best friend Lydia kissing her crush (played by Dylan Hoffman) at a party. The result? Stacy cuts off her friendship with Lydia and spins into a middle school meltdown whilst preparing for her bat mitzvah.
Sandler's vision was to create a project that he can work with family on, while also shining a light, in classic Adam Sandler fashion, on the Jewish community in America. Sandler's jokes overall present a positive picture of Jewish life in America while also poking fun at the extravagance of bar and bat mitzvahs today – after all, Stacy's main wish for her bat mitzvah is that Dua Lipa will come perform on a yacht for her.
First published: 12:57, 09.03.23