In the not-so-distant past, Mia Saul bid farewell to academia, when her striking 5'10" stature caught the attention of Sima, the mother of modeling agent Elinor Shahar.
For two years now, Mia has graced their roster, but it took a further year to secure her parents' blessing for entry into the enigmatic realm of fashion. Since then, she has embarked on a whirlwind journey of experience and acclaim, weaving together an illustrious portfolio adorned with captivating photoshoots and campaigns for revered brands like Gotex, Castro and MAC.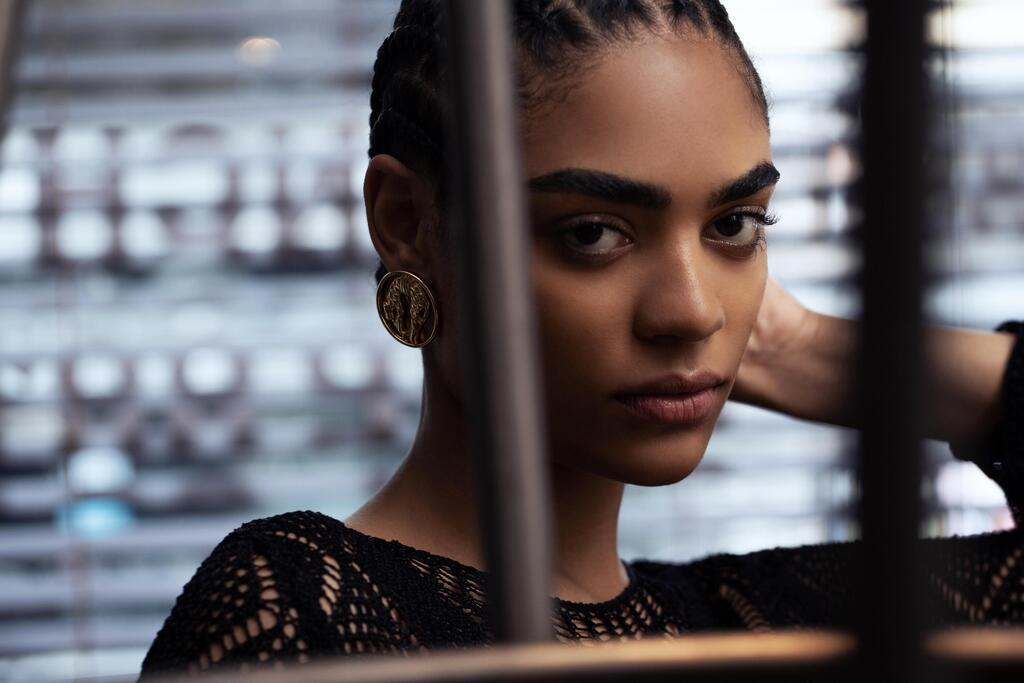 And as the runway becomes her stage, she strides with poise and elegance, showcasing the creations of designers such as Idan Laros, Adidas, Ray-Ban, Uriah Azran and an array of other luminaries.
If her surname sounds familiar, there's a reason for that. Mia Saul, is the prodigious half-sibling of impassioned Israeli musician, Shahar Saul, who charted his own course within the realm of fashion long before she began making her strides.
Modeling was never part of Mia Saul's wildest dreams; she chose to embark on this path entirely on her own terms. Acting, however, has always been her true passion, a field she has diligently pursued since her early years, even delving into theater studies at Thelma Yellin national school for the arts.
With her distinct physical attributes and captivating presence, she possesses an extraordinary allure that grants her unexpected opportunities within modeling.
"In every interview, they would ask me if I'm a model, but it's not something that preoccupied me," Saul, 19, shares in her debut interview. "I'm not the stereotypical typecast of a model."
"I would always prefer to wander in nature and spend time in a tent by a river, rather than stay in a hotel and cultivate my Instagram account. Modeling was never my dream, but today I understand that it serves as a helpful avenue for me as an actress."
Saul, the daughter of a Congolese father and an Israeli mother, is seeking an escape route from the path local authorities have set for her, and her journey is expected to be long and difficult.
"In my opinion, the only part I can play in this country is that of a refugee," she confesses. "I'm tall, black, always stood out above everyone else. My mixed heritage is confusing."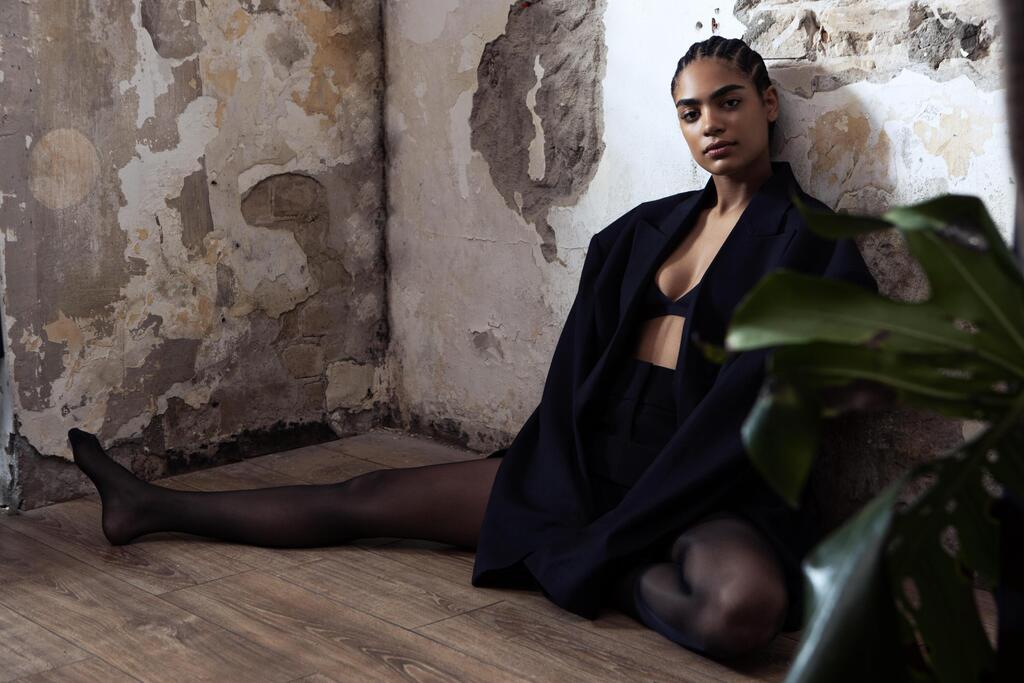 "I'm not light-skinned enough to play a light-skinned role, and not dark-skinned enough to play a dark-skinned role. And I'm also not Sephardic, so there isn't really a plethora of roles for me to play," she says.
"It's enough for there to be a mention of the Holocaust or for them to look for an 'Israeli-native' appearance, and I won't get the role. Most families on television are Ashkenazi, so I couldn't fit into a family," she adds.
"I hope that one day black women in this country won't only have to play refugees, and it will also seem legitimate for men to fall in love with women who are taller than them," she smiles.
"That said, I remain optimistic. I keep going to every audition I'm invited to, even if I know it's unnecessary. At least they'll see me, get to know me, maybe they'll realize I'm a fit for another role I haven't yet heard of," she adds.
Since she was a child, the issue of identity has preoccupied her thoughts. Born in Tel Aviv and raised in the Ramat Chen neighborhood in Ramat Gan alongside her parents and younger brother, she reflects: "I was consistently the sole black student throughout elementary, middle and high school."
Her older brother, Shahar, seven years her senior, is her half-brother from her father's previous marriage.
Saul recalls a childhood memory when she was 6 years old and embarked on a sort of homeland trip to Congo with her family, tracing the story of her father's life. They made their way to the village in a pickup truck, with her parents leading the way and her following behind.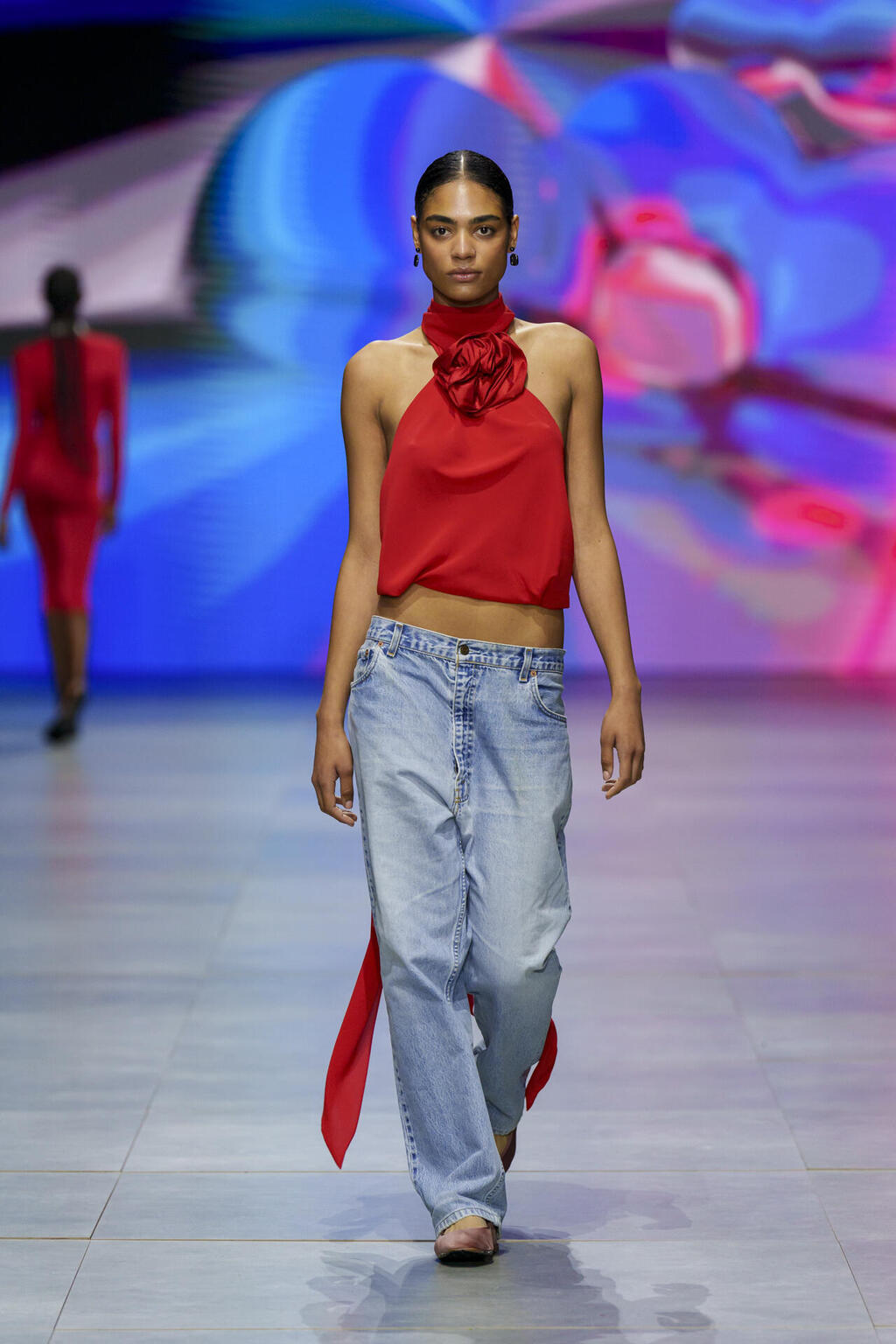 "All the village children ran after the truck and pointed at me, calling me a word I didn't understand," she says. "They shouted 'white.' It was a slightly bewildering moment for me: here in my homeland, I'm 'the black girl,' but there, I was 'the white girl.' Wherever I look, I'm viewed differently."
In the field of modeling, she remarks, her uniqueness proves to be a significant advantage. Amid a saturated market of conventionally beautiful "girl-next-door" types and Instagram influencers with filtered appearances, her exotic look helps her truly stand out.
However, she finds that the international market holds more promise for her than the local Israeli scene, providing her with greater opportunities for her career. To succeed both here and abroad, she must first overcome her lingering hesitations and self-confidence issues.
"Anonymity holds great value in my eyes. When I stroll down the street with Shahar, I can't help but notice how advertising becomes overwhelming. It's challenging for me to be the center of attention. It's an aspect I need to work on," she says.
Maybe you're in the wrong line of work.
"I've never been interested in publicity for the sake of publicity. I remember even doubting myself that this is what I want to do. I derive great enjoyment from both modeling and acting, and when I wake up on a photoshoot day, I am filled with positive energy.
"Perhaps it's challenging for me because my entire life has been scrutinized due to my height and skin color. I feel like people are constantly watching me, with older women staring at me without tact. Some people might enjoy that attention, but I struggle with it. However, I do feel that it's getting better."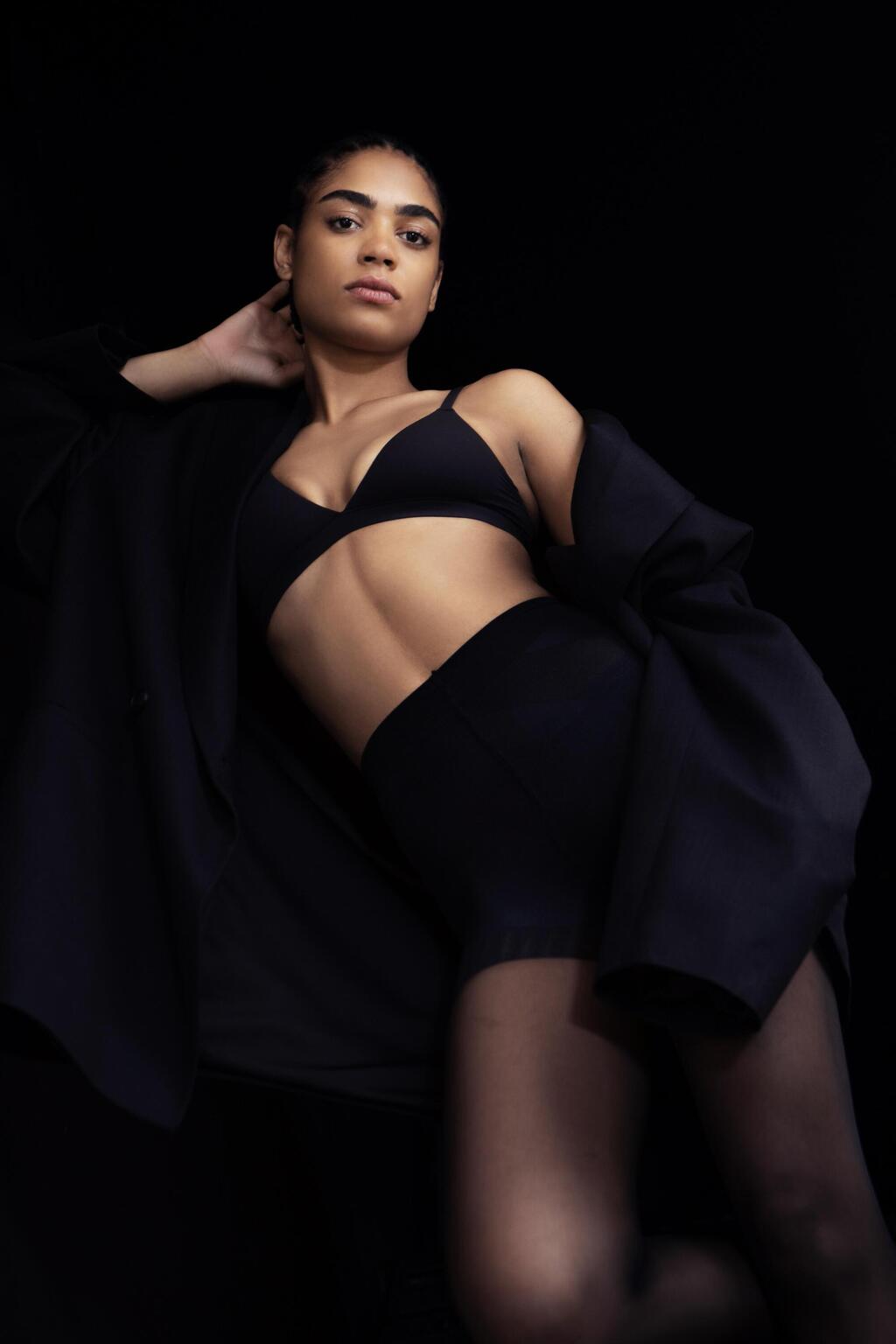 To what extent do you seek your brother's counsel?
"We have a very open and supportive relationship. We didn't grow up in the same house, but we did grow up in the same neighborhood. We love eating together, sitting and talking, going out to restaurants, and shopping for clothes together. It's nice that he's in the industry because I have someone to share it with."
One additional hurdle she grapples with is social media. While models abroad can achieve success without a significant social media presence, in Israel it has become the standard.
While other models have transformed Instagram into a marketing powerhouse, enticing brands to collaborate with them for heightened exposure, Saul has a mere 2,700 followers, a minuscule amount compared to the tens of thousands that other models boast.
"Today, campaign opportunities depend on your exposure on Instagram," she says. "Instagram is an important tool, but I find less interest in it. It's true that models with popular Instagram accounts receive more work.
"It's even evident in the army, where they changed the designation from 'active model' to 'social media influencer.' The more recognition, publicity, and followers you have, the more work you'll get. Personally, I prefer TikTok, where I already have 14,000 followers, and I upload humorous videos there."
What won't you do?
"I'm not a lingerie model. Even shooting a swimwear campaign for Gotex took a long time for the agency to convince me, and I'm glad I did it and pushed my boundaries.
"I'm very comfortable with my body, it's just the idea of posing in a lingerie set in front of a group of people that makes me less comfortable. I enjoy shooting in clothes more than in underwear and bras."
To what extent are you interested in fashion?
"Not really my scene. I'm really bad with designer names, and being a model was never my dream. I love the work, but it's not like I've been sitting and watching fashion shows all my life.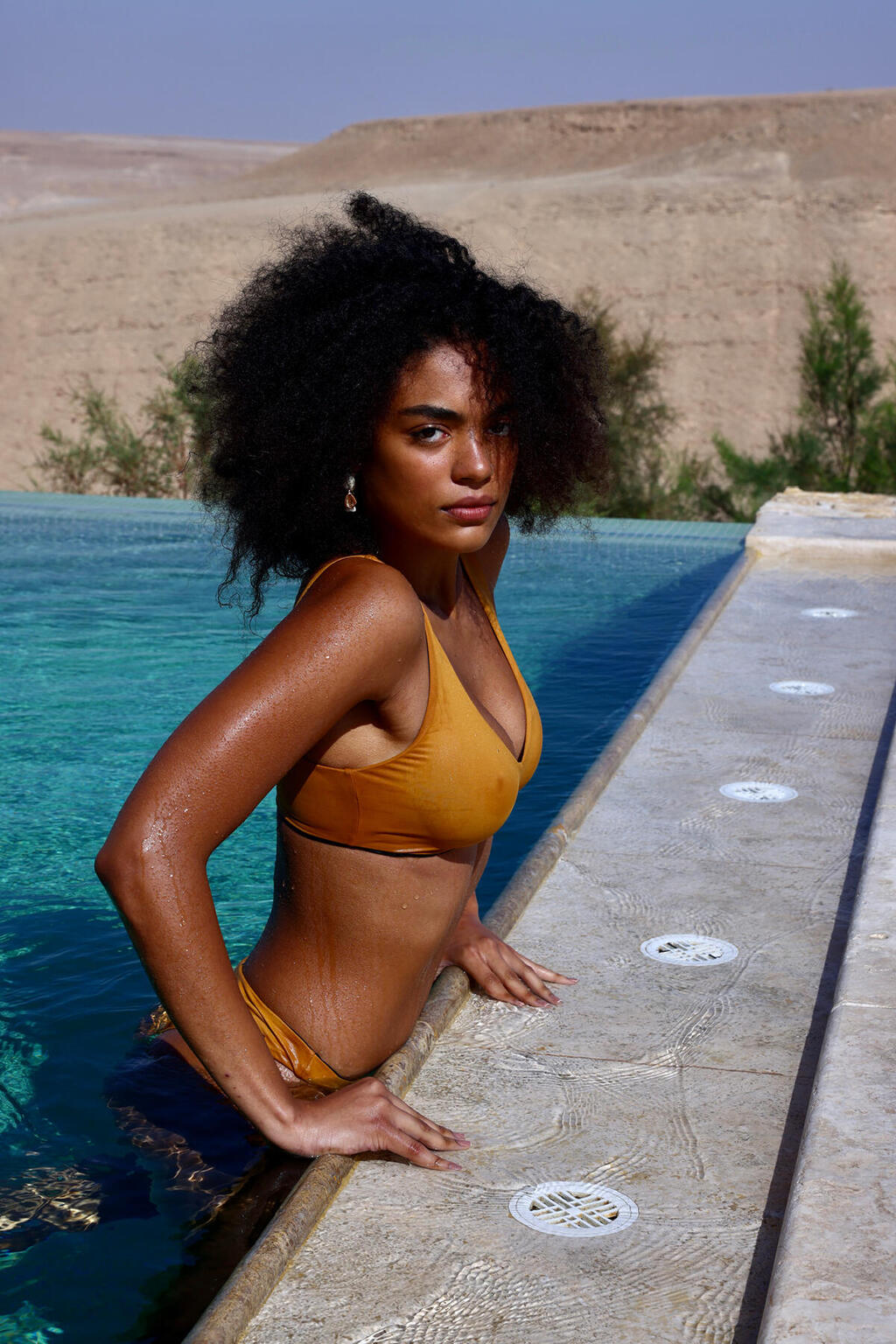 "I also don't have a need for clothes, and you won't find me spending time in malls. My shopping is mostly second-hand. It's more beautiful, more unique, and also more eco-friendly."
How about dating?
"I've been enjoying the single life for the past nine months."
I'm sure you've got your suitors.
"To be honest, not really. Men don't come up to me much, maybe they think I'm not approachable. It leaves room only for the brave ones. Maybe they don't read me correctly and think I'm aloof, but the truth is, I'm a bit shy.
"On the other hand, if someone makes eye contact with me, I smile and respond. The next guy I go out with will have to be a courageous one."