Gadot expressed strong criticism of the demand for humanitarian aid and a cease-fire with Hamas while 224 Israelis are being held captive in the Gaza Strip.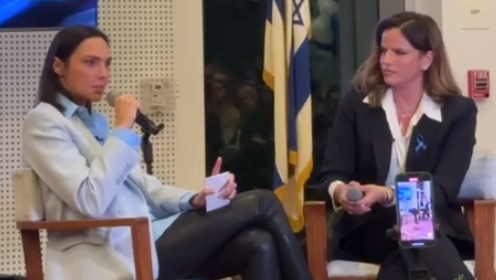 "I'm asking myself what happened to humanity? How could that be? Why do we need to convince people that that is not okay when others are asking for a cease-fire – and I'm all for peace, don't get me wrong – but the hostages are still there, not a word about the hostages. What are you talking about?" she said.
Gadot participated in the conference attended by Israel's Consul General in Los Angeles Israel Bachar who spoke in praise of female IDF soldiers who participated in the fighting, and Israeli actress Noa Tishby.
This comes after hundreds of actors, comedians, and industry leaders in Hollywood
signed an open letter
to U.S. President Joe Biden, thanking him for his help in releasing the four Israeli captives but calling on him to help release all those still held by Hamas terrorists in Gaza: "We urge everybody not to rest until all of the captives are released."