A flock of 2,000 white storks was seen making its way in northern Israel, just north of the Sea of Galilee this weekend.
The birds had stopped to rest overnight before proceeding on their way.
"We spotted them flying above us in the thousands. Everyone, both children and adults, were enthralled," Shimi Binyamin, head administrator of the "Sde Golan" school of the Society for the Protection of Nature in Israel, said
Having spent the winter in Africa, storks are eager to fly north towards Asia's and Europe's nesting sites for the spring. As Israel is situated on the way from Africa to Europe, Israelis can observe more than half of their 500,000-strong population flying through our skies.
Dr. Yoav Perlman, manager of the Israeli Ornithological Center, said: "After their African journey, the storks are very hungry and stop in various locations in order to feed. They pass over Israel's eastern front and the Syrian-Africa fault line. As it is, there aren't enough safe nesting grounds for them so they catch whatever they can, sometimes in contaminated water.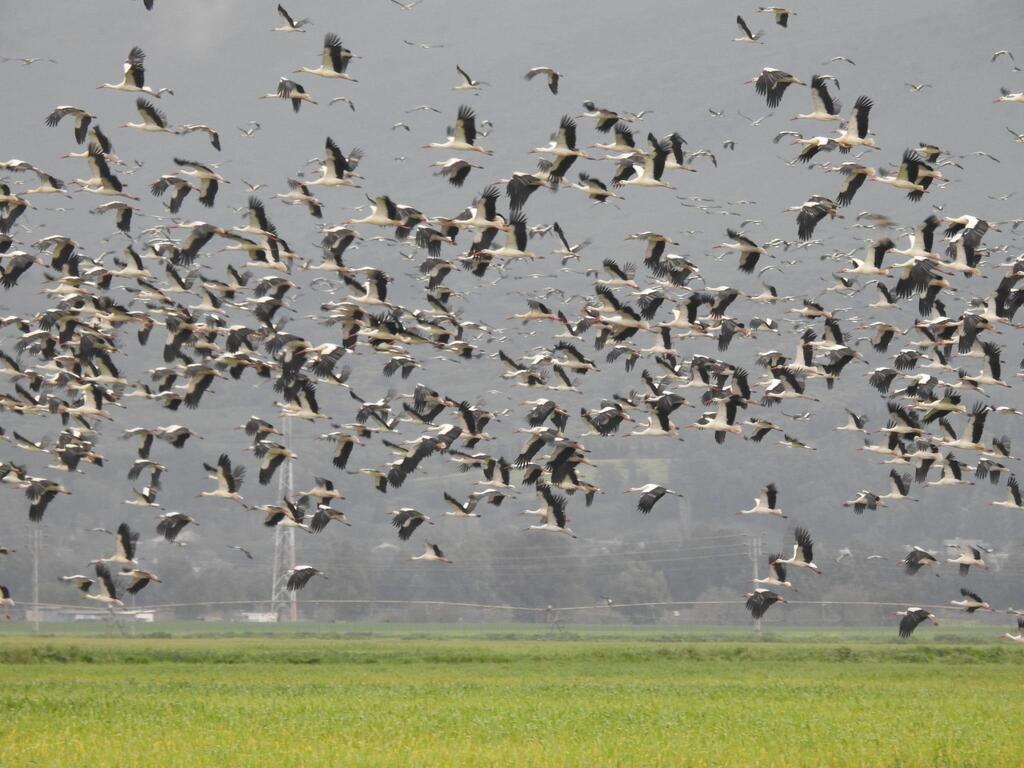 "It's our responsibility to supply them with safe and resource-rich sites for them to rest and feed, as well as maintaining safe skies for them to pass through so that they don't collide into wind turbines and electric poles. Hopefully, they'll make it to Europe without being shot by hunters in neighboring states."
According to the website of the Society for the Protection of Nature in Israel, the white stork is usually a quiet bird, although they do make a series of beak taps with their necks nestled backward whenever they're busy nesting.
They tend to flock to open, damp spaces such as irrigated fields and river banks and build their nests on top of buildings, churches, electric poles or treetops.
While there are many stork species, those passing through Israel are classified as endangered.