The Israeli online landscape flared up — nay, erupted — this week when Liri Ambar Devi, a sex instructor and eroticism researcher, shared a Facebook post with a photo of herself in which she is seen sat down with her legs spread wide open and a group of men around her, gazing down her vulva.
While to many this bizarre spectacle might have looked scandalous, the post's main goal was to promote the unique workshop she teaches on female sexuality.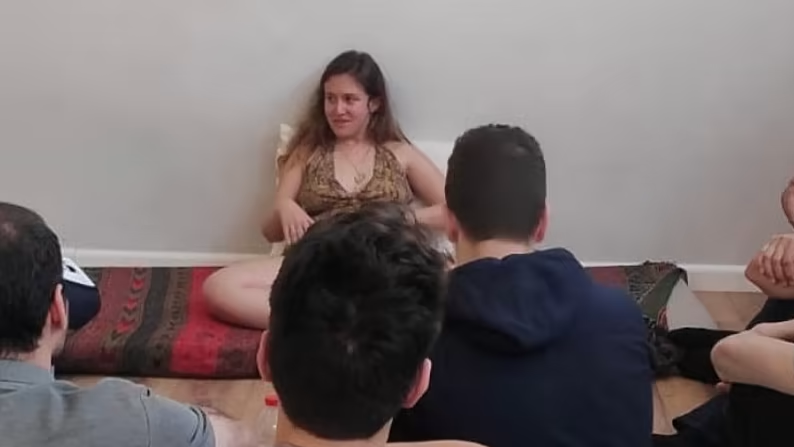 "This is me, showing my vagina to 30 men.
Why would I do such a thing?
I had doubts about whether I should share this post at all, because I was afraid of the comments that would come my way. Not that it's anything new, I receive threatening comments and messages on a daily basis.
Still - this is more revealing. In every aspect.
And that's exactly one of the reasons why I'm doing this."
Liri explained that the idea came to her and her friend when they tried to come up with a way to educate men on women's pleasure. She said that there is a large demand among men wishing to explore this field as most of their knowledge on the matter comes from watching porn.
"We realized that we want to teach men to become better lovers. To be delightful and invested and loving lovers," she wrote.
"We wanted to have a demonstration.
Of what? A model of a vagina? Mannequins?
No. Ourselves? Yes... it felt right."
Liri continued to describe the brainstorming process, and shares all the concerns and dilemmas that went through their heads. They were worried such a workshop would make them look less professional, or cheap. Nonetheless, they decided to go for it, and she describes the dynamic in the workshops as "magical."
"When they enter, we seat them down silently.
And we simply allow them to look.
And then, the magic happens."
The sex instructor goes on to share some of the feedback she received from men in her workshop: "My heart opened and I miss my girlfriend's vagina all of the sudden", "What???? The clitoris was there the whole time???", "listen, this is how's this supposed to be tough in schools", "I have never set my eyes on a vagina like that, I didn't dare", "this has changed my life."
While many of the comments were less welcoming of the idea, some pointed to her excellent marketing tactic and applauded her courage.
She concluded her post by inviting her followers to her seventh workshop on January 28. The course, entitled "The Women Whisperer" is intended for men aged 21 and up who wish to learn about the secrets of the female body and pleasure.