Last weekend, U.S. media got their hands on Ron DeSantis' "battle plan" for the first GOP presidential primary debate, in which it was discovered the Florida governor has opted against attacking Trump, the clear frontrunner for the nomination, instead focusing his slings and arrows at Vivek Ramaswamy.
Who, you ask? Fair question. The 38-year-old Ohio native is a complete newcomer to American politics, having never before been elected to any public office. He is, however, a former pharmaceutical executive and an entrepreneur who was born in Cincinnati to Indian parents who immigrated stateside. Two years shy of his 40th birthday, he has decided to run for US president as a Republican.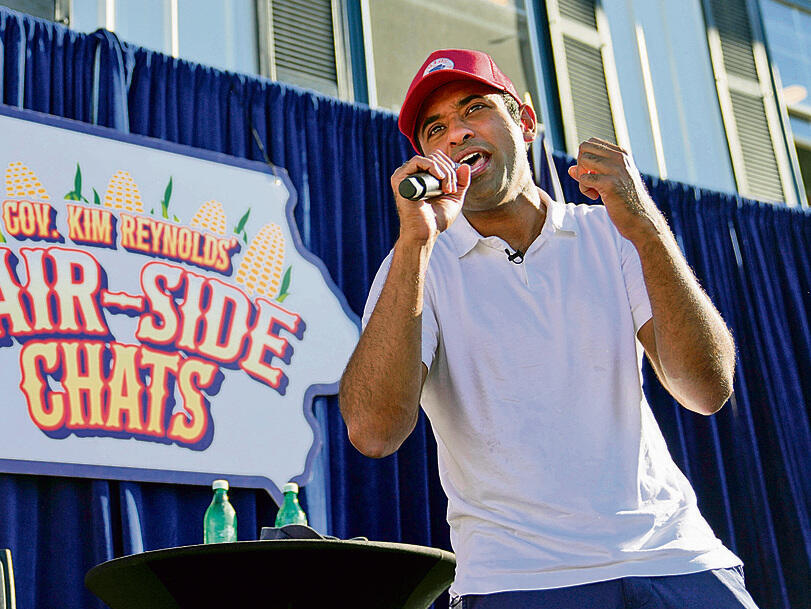 A recent Fox News poll shows Trump leading the pack with a whopping 53%, DeSantis is at just 16% and Ramaswamy at 11%. An surmountable gap? Possibly, but that hasn't dissuaded the Indian newcomer one bit, especially after being hyped up by none other than Elon Musk, who watched Ramaswamy's interview with right-wing provocateur Tucker Carlson, during which he told Carlson he believes the US should significantly reduce foreign aid to Israel.
When Ramaswamy announced his presidential run last year, it was met with a hefty amount of ridicule. While it's true that Trump also came out of nowhere to clinch the nomination, he was already a well-known media personality in the United States since the 1980's. Ramaswamy, in contrast, was completely unheard of.
At only 29 years of age, he started a biotech company called Roivant Sciences, which today is estimated to be worth around $630 million.
His work ethic has been quite evident, as he has been traveling extensively throughout the country since announcing his candidacy, appearing on over 70 podcasts and interviewing with pretty much anyone who will give him the platform he needs to spread his message. He even rapped though several Eminem songs in Iowa. Now that's commitment!
Ramaswamy understands the game, and he knows that in order to gain traction among Republicans, he has no choice but to "sing" their greatest hits, such as "Climate change is not manmade"; "I will close the FBI and IRS"; "I will cease all support to Ukraine and keep it out of NATO" and, of course, he has not forgotten to take a bite into a hot-button cultural topic, saying there are only two genders, angering the more liberal-leaning transgender community.
Listening to him speak, it is evident Ramaswamy is significantly more fluent and eloquent than both Trump and DeSantis (probably combined), but that is unlikely to bother the 45th president, as he has already announced he will not appear at the debate, opting for what will likely be a fairly cozy interview with Tucker Carlson instead.
Crushing DeSantis at the debate, which is a very likely outcome, would hardly prove sufficient to overcome Trump and his 53%, but at the very least, it would position Ramaswamy as a rising Republican star for future elections.