"People see it, and they just can't believe it's salt. Only when they actually taste it do they believe me," says Lia Bruce, an Israeli artist and industrial designer specializing in making products out of salt.
Bruce talks about salt as a unique material, the challenging process of working with a substance unwelcomed by most industries, its ecological and design advantages that might soon replace concrete, and its production process.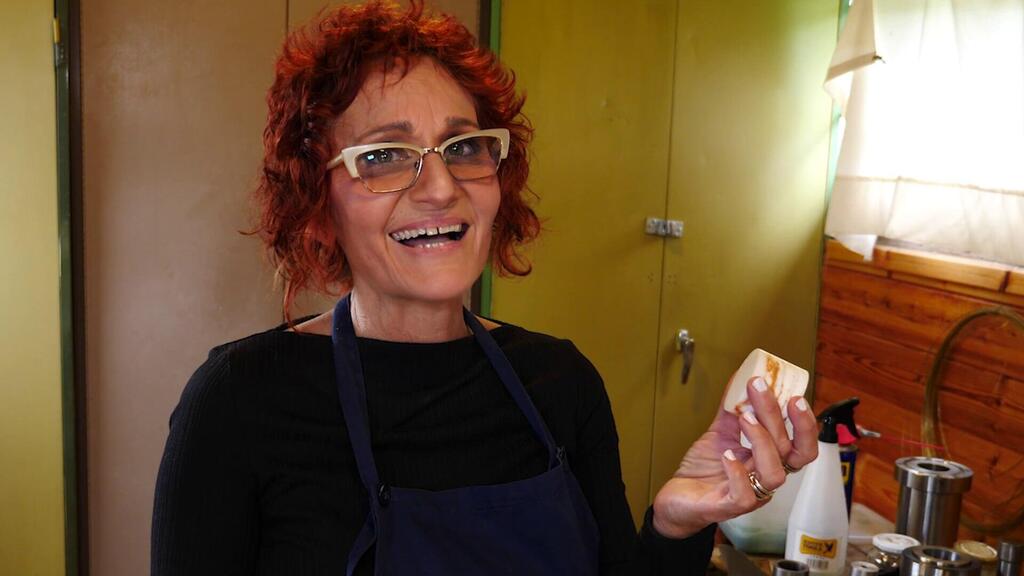 "Something in its texture, nature and incredible fragility really attracts me," she explains.
Bruce's interest in salt began during her childhood when she would find a small salt packet in every purse her grandmother used to give her, believing that salt brings good luck. "It always annoyed me when it spilled inside my bag," she recounts. Later on, she aspired to become a painter and eventually studied architecture.
In 2017, Bruce decided to enroll in the Bezalel Academy of Arts and Design in Jerusalem to study industrial design with an emphasis on utilizing bio-degradable materials. There, she rediscovered salt and its unique characteristics.
She wanted to try creating art with salt, but everyone she consulted with advised her against it. In her final project, however, Bruce made decorative salt tiles in collaboration with the Hebrew University's Institute of Chemistry, where she discovered that salt is ten times stronger than concrete.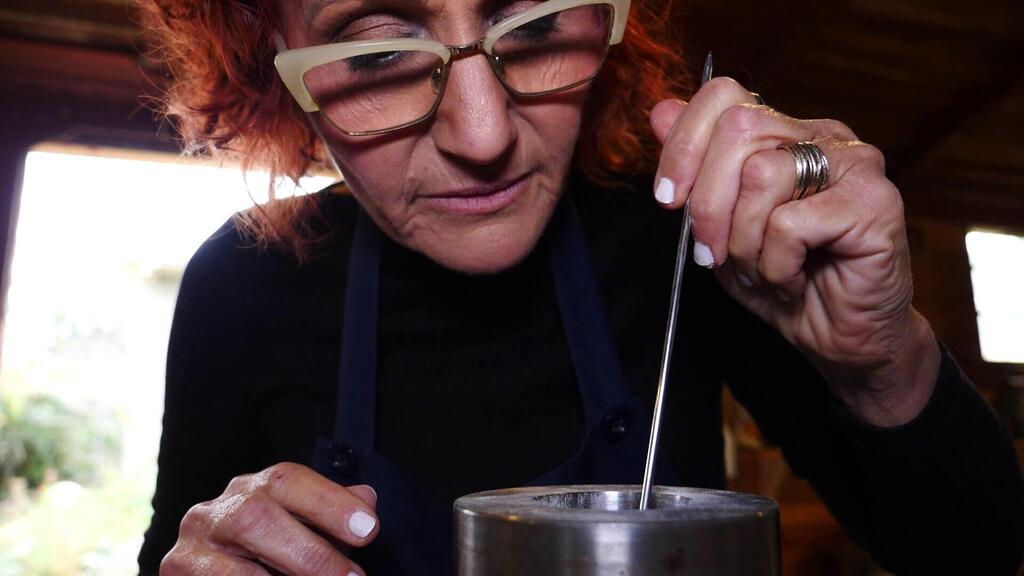 Bruce's natural inclination toward salt aligned with the research of Professor Daniel Mandler who also is studying the material.
Bruce's idea was to take a material that no one had really worked with before and see what she could achieve with it.
"I wanted to take salt as we know it, table salt, and actually create three-dimensional products from it that are ten times stronger and more durable than concrete," Bruce explains.
"People associate salt only with food, but only 4% of all table salt in the world is actually used in cooking and the food industry as a whole. Some 20,000,000 tons of salt are produced in the Dead Sea alone each year. That's a mountain of salt! People can't grasp it because they don't see it with their own eyes," she adds.
The first thing Bruce decided to create was a salt shaker made from salt. "There's something very basic about it, and it was clear to me that I wanted to create something very minimalist, clean and modern, while keeping it natural," Bruce explains.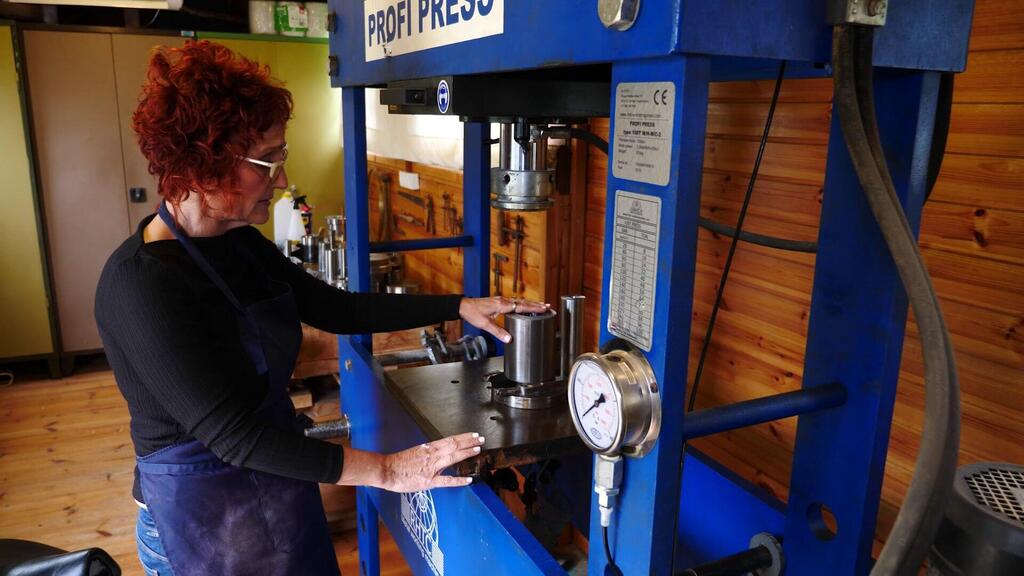 She then continued by creating Judaica items, including candlesticks, Hanukkah menorahs, and hamsas, and now wants to create salt tiles to enable ecological construction that reduces the use of concrete.
According to Bruce, her goal is to gradually replace all plastics and concrete, which are polluting materials. "Just as there are mud houses in Africa and snow houses in Scandinavia, in principle, there's no reason not to create houses from salt that are durable and strong," she says.
"The reason it hasn't been done yet is due to a lack of people who have vision and faith. For something to happen, you need someone to believe and invest in your idea," says Bruce.
Salt has a bad reputation because of processed foods that are high in sodium. "But in reality, we can't live without salt. We know that salt was the currency of the ancient world, and the Romans paid their soldiers with a bag of salt. It was a precious and valuable material. Until the 16th century, wars were fought over salt," Bruce says.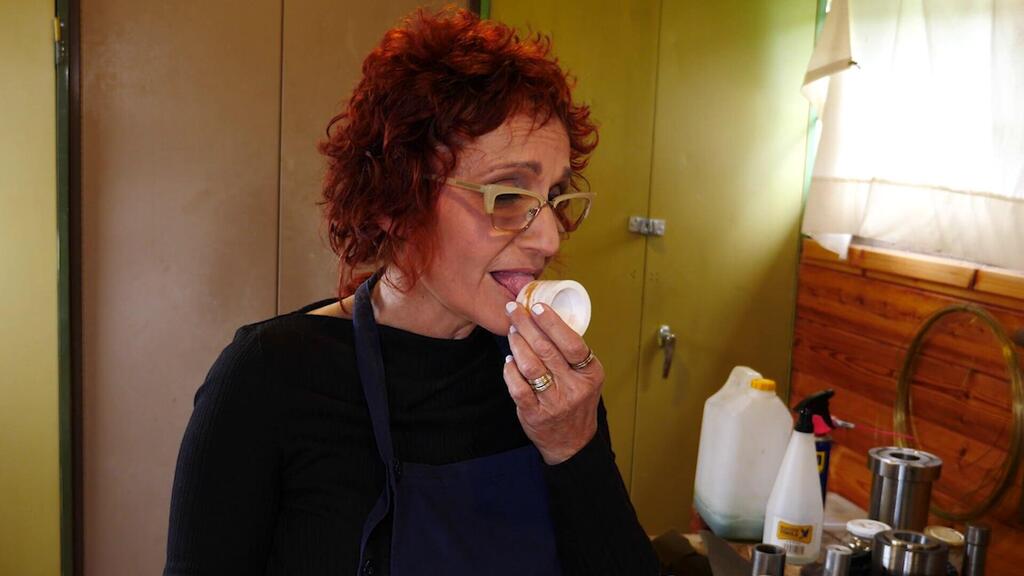 "In Judaism, it symbolizes the covenant between the people of Israel and God. In Arab tradition, the word for covenant is similar to the word for salt, and in Hindu tradition, a couple getting married receives a bag of salt for good fortune," she explains.
Bruce's studio is located in the backyard of her house in central Israel's Hefer Valley Regional Council, inside an old cattle wagon that she renovated and painted together with her husband.
Today, the wagon, called "The Salt Shaker," serves as a workshop where Bruce works with a machine that compresses and shapes the salts into Judaica products and everyday items such as vases, cups, candlesticks, pendants, and more.
In the production process, Bruce takes the plain salt, grinds some of it into a kind of powder, and leaves some of it in a granulated state. As the salt is compressed, she adds natural pigments and uses a mold to cast the final shape. Afterward, Bruce rinses and cleans the product and sets it aside to dry.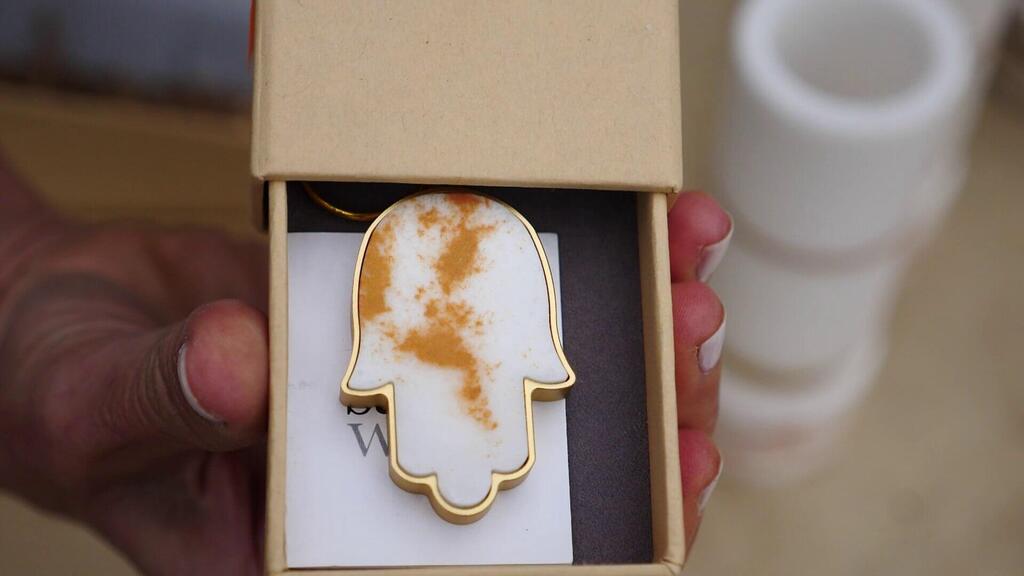 Bruce's final products in striking white and delicate touches of color are difficult to ignore. She explains that salt is a transparent molecule, providing many ways to shape and alter it.
"Light passes through the salt, and it's incredibly impressive, especially in candlesticks. There are so many things you can do and it's all about where you want to take it. I believe the potential is extensive," she notes.
Bruce emphasizes that the entire production process is done by hand with high-pressure compression, which limits the quantity and size of her products.
To achieve durable and strong products, she spends very long periods of time perfecting her exact formula. Now that she feels more comfortable with her technique, she plans to continue creating with salt as long as she can.