Fifteen-year-old Fatima sat on a couch and was exuberant as one of her favorite singers walked inside the room, singing her the Happy Birthday song, in both English and Uzbek language.
He was the first in a line of local celebs and artist who came to cheer up Fatima and her family. There were also two actresses dressed as Anna and Elsa from "Frozen," the entertainment team of the Princess Hotel Eilat, there were pop quizzes, balloons, and two birthday cakes. Everything seemed so normal. Except it wasn't.
Fatima is heartbreakingly aware that this is last birthday she'll ever get to celebrate. She is suffering from cancer, and it is terminal. The small palliative care facility, or hospice, in the Uzbek city of Tashkent is her last stop. Whatever grin or small bit of laughter she managed to express was a small victory. Even her mother, who couldn't stop crying over her daughter a day before, managed to laugh and dance. A victory indeed.
The mother then went up on stage and said: "My beautiful daughter. I carried you for nine months. I'm sorry we couldn't do more for you. Your brothers, father and I love you so much."
She cried again, and so did everyone else.
Meanwhile, a four-year-old child named Cervarbek was laying in a bed not far away. He has been through in the past four years what most adults suffer in a lifetime. He was only two weeks old when he had his first surgery. The first of many that followed. He has a gastrointestinal stromal tumor - a type of cancer that begins in the digestive system.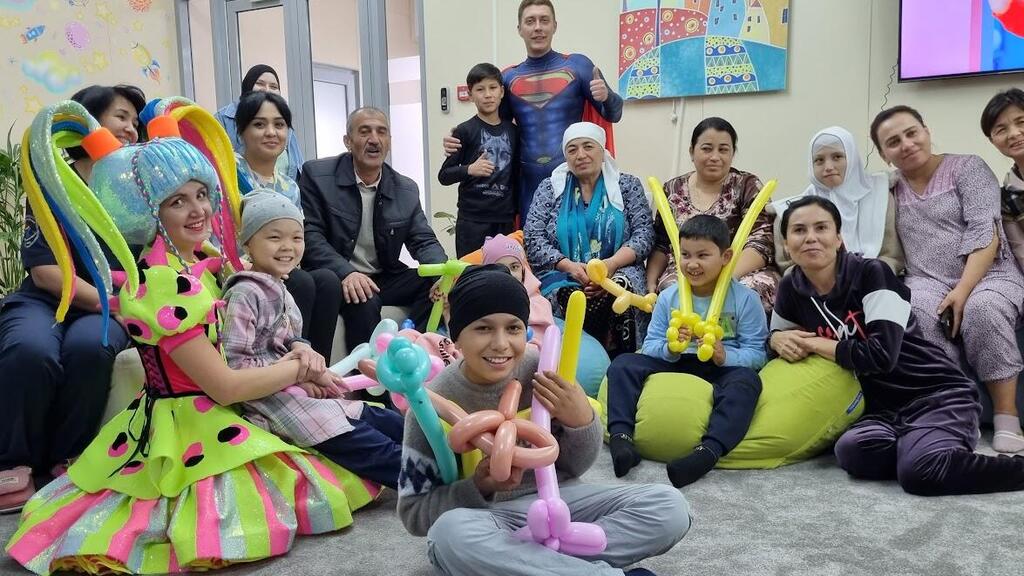 His mother Maftunawas standing by his bed, seven months pregnant. His father was there too. They made the trip from their home in the city of Samarkand, about 400 km (250 miles away). "The doctor there realized it's terminal and referred us here," Maftuna says.
His birthday is December 10, but they celebrated it ahead of time, since the doctors are doubtful he would live that long. "He likes cars, so we brought him a toy car and an electric train. The cancer is spreading, but he feels okay since they're constantly treating him."
This hospice is the brainchild of Dafna Forman, the former head of thePediatric Hemato-Oncology Department of the Sheba Medical Center near Tel Aviv. After her husband was offered a position in the Israeli Embassy in Uzbekistan, Ddafna followed him.
"We came here in July of 2020, at the height of the COVID outbreak, with three kids," she says. "I didn't know anything about this country. I worked administration at the embassy and I was miserable. I went from being constantly busy and productive to staring at the walls waiting for the day to end. I cried a lot.
"One day I got a WhatsApp message from Israel's Ambassador to Uzbekistan Zehavit Ben-Hillel that an entrepreneur named Aziza Omarova wanted to open a children's hospice care facility. She wanted to know if I'm available for coffee to talk about it. I was so happy I literally screamed.
"We met the next day. Just us women, including Munira Hubajachan, a mother to a child with cancer. We spoke English and Russian, and used our eyes to help convey the ideas. We got through to each other. At the end, they told me I was just what they were looking for. I started planning and naming everything that should be in every room. It's the first hospice to be built in Central Asia."
Funding was the next step. It was almost entirely build on donations. Then, there was the location, equipment and, of course, recruiting the right staff. Dafna and her friends handled it all by themselves, in a country that could teach Israel a thing or two about bureaucracy.
Eventually, the project received the blessing of none other than President of the Republic of Uzbekistan Shavkat Mirziyoyev.
After that, Dr. Ronny Tzabar, a world renowned expert in palliative care, also got involved. Dr. Tzabar came to Uzbekistan and gave a three-hour lecture to the local staff on his worldview. He even took out a needle and pricked himself to make a point. They were astonished to see that.
When he came back a second time with his staff in November, I joined them on the trip. I asked him if being around death all the time was not depressing. "Spend three days there and see for yourself," he replied.
We arrived at a huge complex in the outskirts of Tashkent. One of the buildings was allocated for the hospice. The entrance showed all the major donors of the project, including KFC and Carlsberg Group. There were 20 beds, but only six were unavailable when we arrived. Plenty of oncologists in Uzbekistan still don't know this place exists.
We began the tour with Fatima's room. She was laying there, looking exhausted. On her lap was a cat that did not seem to notice our presence at all. "His name is Kiska. He adopted me when I arrived here," Fatima says.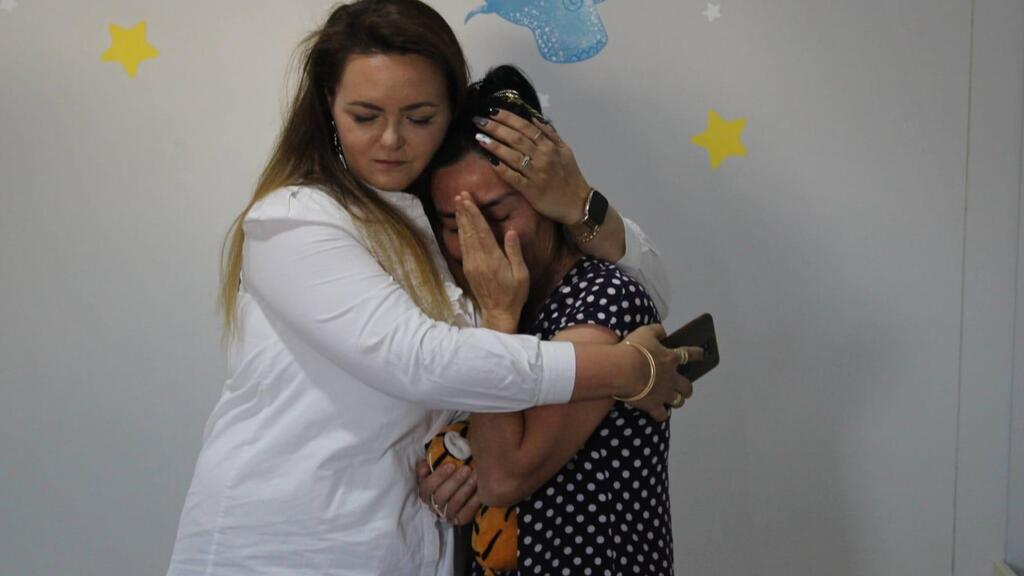 "I'm Ronny", he says. "There are many children who have the same kind of pain you do. Can you still fell that pain?"
Dr. Tzabar: "When you get a shot, does it help?"
Dr. Tzabar: "Does it stop the pain entirely?"
Dr. Tzabar: "Whenever you want something for the pain, you can ask. You control your own pain, Yes?"
He asks her what is her favorite dish, and she says Plov, the national dish made from meat, rice and vegetables.
"Do you like ice cream?" he asks.
"Yes, but no chocolate. Only vanilla," she says.
Dr. Tzabar then turns to the staff and says: "Ice cream is actually very good for her. There's plenty of protein, it goes down easy and there's no smell."
Fatima points to the left size of her face and asks if there's a way to reduce the swelling. Her mother breaks down, knowing that it's the tumor and there's nothing to be done about that. Since she's still a young girl, they haven't officially notified her she has cancer. The parents don't want to burden her, but there's a feeling deep down she already knows.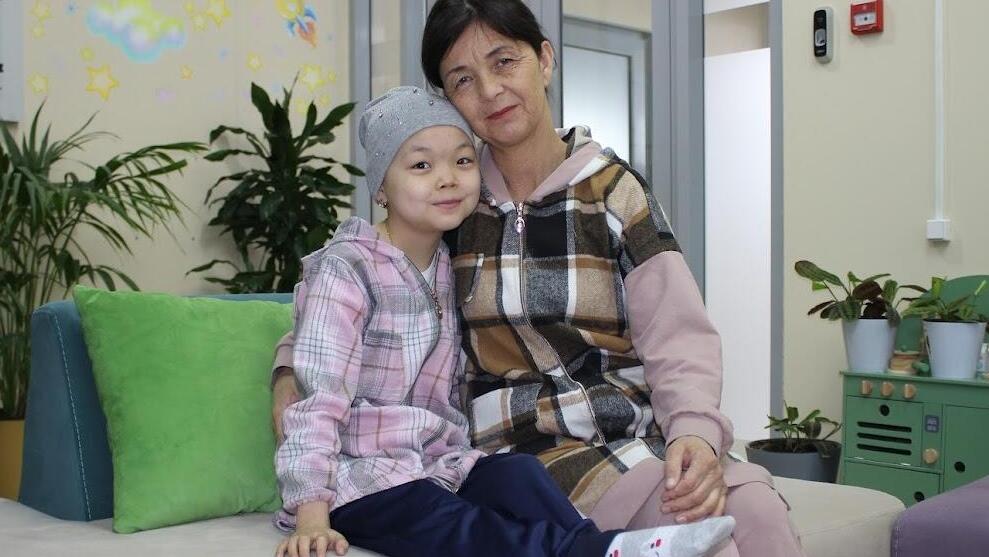 "I'll wait for you to come and see me again," Fatima says.
"We'll come back and do everything to make you feel better," he replies.
The staff moves on but I stay in her room. "I love painting but I can't anymore because of the shoulder pain," Fatima says. She shows me me all her artwork, including a self portrait. Her talent is incredible.
"This is really wonderful," I say, causing her to blush.
"Who do you miss the most?" I ask.
"My classmates. They live too far, but the whole staff are friends of mine."
In the meantime, at the entrance to the hospice, in a green beanbag chair, was seating a girl named Aynura, with a smile and cute eyes. She's 10 and has a malignant tumor of the bone. It hasn't metastasized, so at the moment it's not terminal, and there has been an improvement in her condition.
She also has an Instagram account, where she uploads clips of her dancing, lip syncing and doing magic tricks.
Back in the city, hundreds have gathered in an auditorium to hear Dr. Tzabar speak, in a conference arranged by Dafna. He touches on the most sensitive issues, including how to know when someone is going to die. He does it with a touch of humor and gets asked plenty of questions, which is a bit unusual in Uzbekistan.
On Tuesday, in the middle of a morning staff meeting, a staffer pokes his head in and whispers to Dr. Rustam Nurbiyev: "Cervarbek is in a lot pain."
The child was lying down with an oxygen mask, wailing in pain. Dr. Tzabar examines him and says: "We'll give him five milligrams of morphine and another dose if it's not enough. Tell his parents we'll do everything to stop his pain."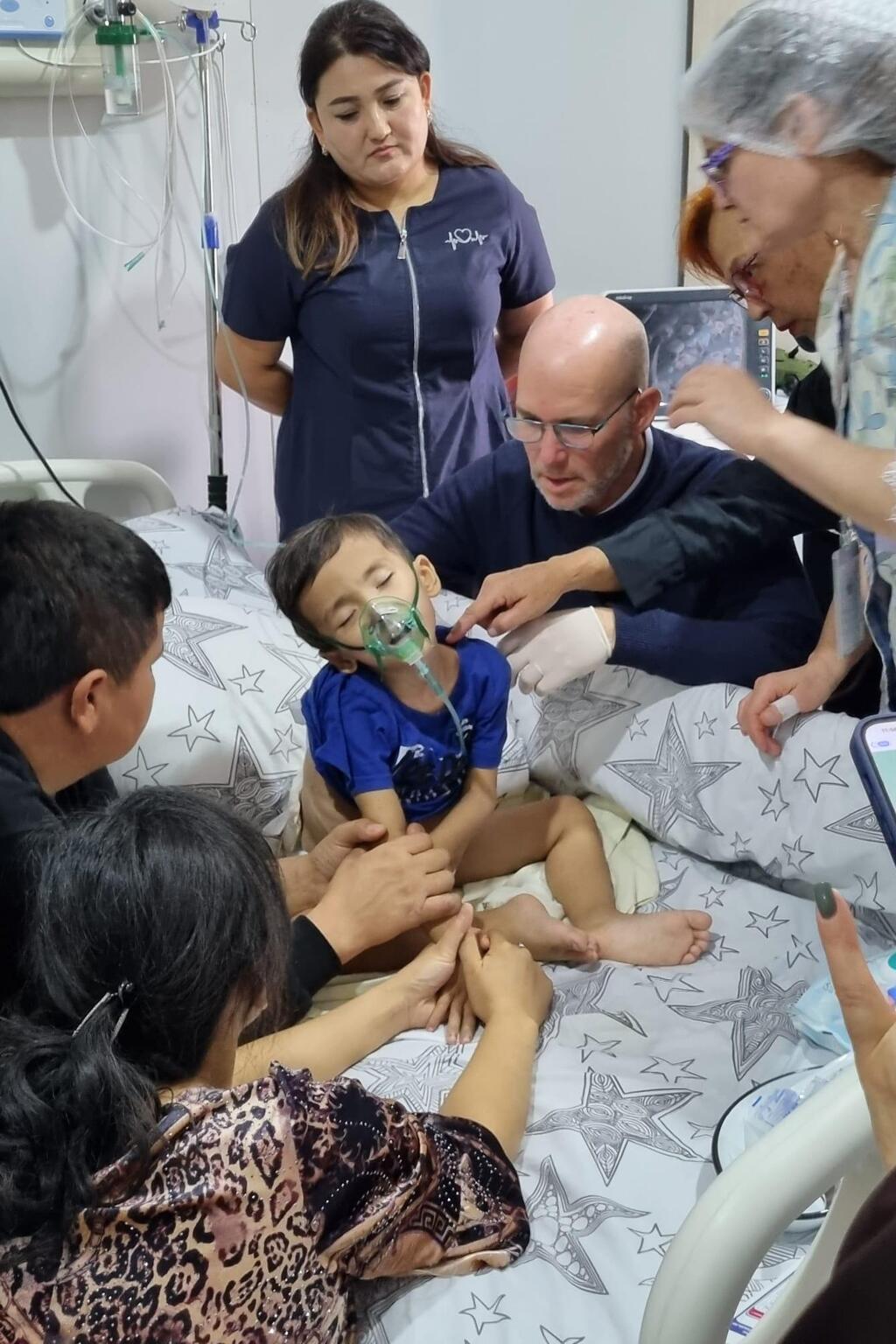 He inserts the needle into Cervarbek's back while his parents hold his hands.
Ten minutes later, he was still in pain. After another shot of morphine, he falls asleep. Dafna breaks down crying. "It's not from sadness," she says. "These moments of relief is why I started this place."
Dr. Tzabar sits down with the parents. They know his condition, but just want his pain to stop. Ronny makes it clear the more morphine he gets, the more the child will sleep, and there's a possibility he'll sleep for the rest of his life.
"You don't have to decide now," Dr. Tzabar says. "I can't promise he'll be pain free while he's awake. The disease has progressed too far. We'll do whatever you want."
Later, he recounts that conversation with the parents to the nursing staff. "I see you controlled your emotions when you spoke to them," remarks one of the nurses.
"I was close to crying," he replies. "And it's okay if you do. It shows you care."
On the night of November 15, Cervarbek woke up and spoke to his parents. He was a bit groggy from the morphine, but still managed to say a few words. It was his last conversation.
He closed his eyes, never to open them again.