Stav Strashko, 30, is no stranger to challenging gender norms, having become the first openly transgender model to walk at Tel Aviv Fashion Week. She has gone on to model for major fashion brands and starred in films, making an impact in both the fashion and entertainment industries.
Stav Strashko, how did it all start?
"At around the age of 15, I was in a process of running away from everything. I didn't feel like I belonged in the environment I grew up in. I grew up in Ramat Gan, but I spent all my adolescent years in Tel Aviv. I lived in the east of Ramat Gan, and it still felt like light years away from Tel Aviv. It's a completely different environment, where I didn't feel like I belonged, and I started to rebel. I would spend days and nights in Tel Aviv. Each time I pierced a different place on my body.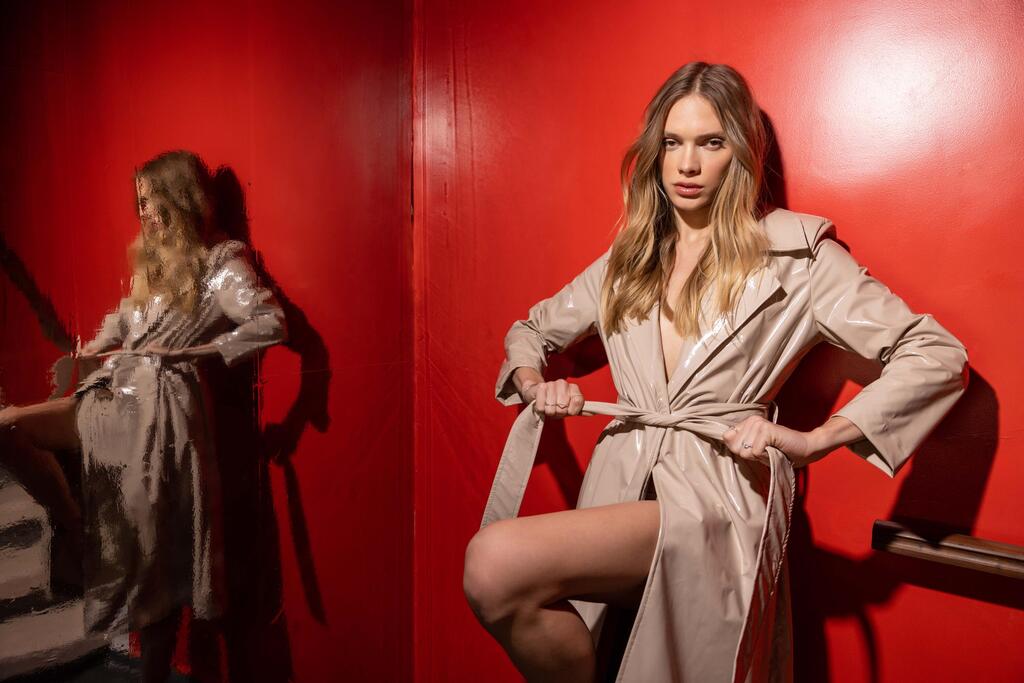 One day, a guy named Elad Baron approached me, at that time he was a Yves Saint Laurent makeup artist and a recognized stylist. Today he is a visual artist who is very much involved in fashion and art. He approached me and gave me his business card. I came to him and was photographed for my first fashion production at the age of 15. He composed several different looks for me and we went out on the street to take pictures. We took photos in all kinds of interesting corners in Tel Aviv.
After that, I was invited to participate in a fashion production with Ron Kedmi, who was the first fashion photographer in Israel to photograph me. That's how it all started. I quickly turned from an insecure girl, who is searching herself, to someone who is starting to discover that she might be beautiful and interesting in a certain way; which before, in elementary and high school, wasn't the case. It happened within a few months, very quickly. Right from the start I joined Eleanor Shahar, who is my agent to this day."
At first you presented yourself differently
"Today I refer to myself in the past tense as a girl, because deep inside I was always a girl. On the outside I was a boy, because no one explained to me that such things existed and were possible. It always existed in me. During the time I was wandering in Tel Aviv, this was the first time I researched and discovered that there were options.
So, at first, I wore the identity that was closest to the female figure I imagined. I couldn't afford more than that because I didn't want to draw fire towards me. So, I was a gothic kid, because I was afraid of the reaction of my parents and the environment. I grew my hair, applied black makeup and was a gothic boy. It was the closest thing to a woman I could be at that time.
"You may say that in that period, in between, I walked on a thin line so it could be easier for people to 'swallow'. I was not a boy, and I was not a girl. I began to explore my femininity and discover it. Femininity was always in me. When I was little, I would play, quietly, with my mother's clothes when she was not at home."
When did it start to change?
The first encounter with modeling gave me a lot of confidence, as a lost 15-year-old girl who didn't know what she was. It gave me a confidence boost. I felt like, wow, maybe there's a chance I have a place in this world, and it was a lot of fun. Today there's more talk about it than ever. That's why my coming out of the closet as a woman happened late. It was a process.
From the age of 22-23, it was already clear to everyone around me that I was a woman. That's how I lived while abroad. When you are abroad it is much easier, because you are addressed as 'you', which is the same for a man and a woman, and it was not an issue. In Israel, I have not yet asked to be addressed as a woman, even though externally all my clothes were completely women's clothes. The look was already there. The one thing I have not changed yet was the way people addressed me.
"After 'Big Brother,' I became a very famous figure as Stav the female-male model. Because Israel is in the Middle East, there is this macho thing. Men would come up to me, not with bad intentions, pat me on the shoulder and call me ' Hi Stav, bro'. Then I realized the mistake I had made, that I became known as someone who wasn't exactly me"
I entered the 'Big Brother' House as a female/male model. Before entering, I had many thoughts of presenting myself there as a female. This is something I really wanted to do. I was already 23 years old, but I still felt like a child. I still really cared about what people would say and how the family would react, because not everyone knew yet. In the end, I was afraid to come out of the closet in that way."
Did you regret it?
"Yes, to a certain extent. After 'Big Brother,' I became a very famous figure as Stav the female-male model. Because Israel is in the Middle East, there is this macho thing. Men would come up to me, not with bad intentions, pat me on the shoulder and call me ' Hi Stav, bro'. Then I realized the mistake I had made, that I became known as someone who wasn't exactly me.
I was still in the process of coming to terms with it. I finally said, 'no more'. I went to my mother and told her that I was going to make the change right now, because I couldn't hide myself anymore, because I'm famous and I want to make it right.
I made my official coming out in a short post on Facebook, in which I asked that from now on I will be addressed only as female. The post was short, without making a big deal out of it. There was extensive media coverage and that's when my personal process began.
I had a few years that were mentally complex because I had to re-educate an entire country on how to address and treat me. It wasn't easy, but now it's all behind me. It was the most liberating thing. I'm still going through a process with myself. But I could finally start building my life the way I really wanted. It was the best decision I could have made. Now I'm good.
I started the hormonal process four years ago. I'm 30 now. Only in the last two years, I know exactly how I want to look and how I want to be treated, and it's fun. Obviously, there's a lot of transphobia towards the LGBT community. But I feel that my process is easier. Maybe I'm privileged to a certain extent because I got such natural inherited characteristics. I started to be treated as a woman by people around me only after quieting my monkey mind."
What do you mean?
"I had a lot of negative thoughts about myself, whether I would be accepted as a woman or not. I would put myself down. As soon as I internalized this in my brain, and once I embraced myself and said to myself 'Stav, you are beautiful, you are good, and you are worth it' - they started to respect me and treat me as a woman. What you transmit is what you receive back from the world.
At first, I missed out a lot, because I was afraid to come out of the closet. Only in the last two years, I live my life without the psychological limitations I put on myself. I was always afraid of what people would say, so I prevented from myself so many things. For example, if I met a man that I liked in a bar, I chose to refrain from approaching him because I was afraid of what would happen if he found out that I was trans. It took me years to come to terms with myself.
If I had known from childhood that it exists and that everyone should be accepted, it would have cleared my mind at an earlier age. I am happy that it was not an obstacle for me. I do not know where these internal strengths came from. Today I am so grateful that this is how my life turned out. I was lucky at the age of 15 to meet the right people, who saw the beauty in me at a time when no one else did.
At the age of 19, I got my first campaign for Toyota and flew to Japan alone for the ad promotion. As a 19-year-old girl, who grew up where she did, it was an amazing thing. My entire career was full of great moments. To this day I look back and say to myself, how beautiful and how lucky I was that all these things happened to me.
Even when I arrived in New York for the first time, great things happened to me. I was marked as a discovery of the fashion week and was interviewed for Elle magazine. It was also a great honor to be the first transgender woman in Israel to be nominated for the Ophir Award. I was given the lead role in the movie 'Flawless', without having any educational background in acting."
How do you explain that?
"If you think about it well, it's natural for me to be an actress. It might sound like a cliché, but all my life until I came out as a woman, I had to act and be what I'm not. Acting was also always something I wanted to do. I enjoy both modeling and acting. Obviously, acting has something more complex and interesting. It's a process. I'm constantly working and trying to get submissions for acting roles, both abroad and in Israel. It takes time and it's not an easy field, especially when you come from the modeling world."
What have been your highlights or lowlights so far?
"My brain always erases the bad moments. I try to think only of the good moments. What was my highlight? I'm a Libra and it's hard for me to choose one moment, because there were many highlights.
I think it was my participation in Robert De Niro's Tribeca Film Festival in New York, within the framework of the film 'Flawless'. A year and a half after the film came out, I received a call from the directors who asked me to pack a bag, as I was nominated at the festival for the best actress award. I didn't win in the end, but the nomination itself was a great honor.
It was a very fun week in New York with lots of film screenings, red carpets, and interviews for the media. I met many interesting and creative people in the field and participated in panels with other actors. I am very proud of this film and its messages. It was very exciting for me."
What was the experience that shaped you?
"No doubt it was my last breakup, which happened during COVID. I faced major mental difficulties. But it also strengthened me a lot. Today I know what I want and what I don't want. This breakup also made me realize that in the next relationship I will have I would like to keep things to myself. I try to learn from every day and every situation. It's necessary. Every person should check himself at the end of the day, move on with it and improve."
Have you also learned to take care of yourself more?
"I can't remain indifferent when I see injustices happening around me. In the past, I used to get out of control and burst out in anger. I paid a price and got slammed because I dared to protect others. I got punched in the face right before 'Big Brother', and I entered the house with stitches. Today if I see that old women are hurt and cursed, I call security instead of interfering myself, so I won't get slammed. I learned to protect the environment as well as myself."
Are you satisfied with your looks?
"Today yes. It's something I worked on. Today I'm very much at peace with what I see in the mirror."
What do you think about injections and plastic surgeries, are you for or against?
"I think I'm for. Why not? If it makes you feel good, even if it's something only you see, then why not? Let everyone do what's best for them. If I ever feel like doing it - I'll do it. I'm thinking about implants and breast augmentation. My breasts are very small, because I'm very thin. When I lose weight, the first thing that comes off is the breast. But I have a hard time with the thought of having a foreign body inside my chest. I'm always asked if I've had my lips and nose done, but everything in me is natural. I received all the genes from my parents."
Have you ever had a skincare mishap?
"I used to have laser treatments, for months, and nothing worked. In the end, I asked for all the money back and canceled the membership at the laser clinic. I use a shaving razor blade, which is rapid and fast and that's the end of the story. I've never been hairy, and since I've been taking hormones, my body has become very smooth."
Do you have a winning skincare tip?
"Keep calm. Stress is the first thing that causes you to look tired and unwell. When you don't live in the present moment but are rather busy with disturbing thoughts, it affects how you look. Of course, you should drink a lot of water. It always helps. In Israel with all the dust, pollution and construction that's going on around us all the time, you should wash your face at least twice a day."
Tell me about your skincare routine
"I make sure to clean my face well and I've been using only Sothys products for many years. Sometimes I also go for facial treatments at their clinic. Regularly, I do everything myself. I use lots of masks and especially let the skin rest. Sothys have excellent eye cream and facial cream. On top, I love to apply some Nuxe shimmer oil. It gives the face a glow.
I don't always wear full make-up on a daily basis. Maybe it's because of the modeling work. I like to let the skin breathe. I also noticed that the more make-up I wore - the less I liked myself without make-up. I felt that it's better to wear as little make-up as possible. So during the day, I usually wear Sothys concealer, a bit of Il Makiage blush that I really like, Bobbi Brown liner and gloss.
And that's it. If I want to wear more make-up, I add Sothys' make-up, which looks very natural on the skin, Lancôme eyeshadows and mascara. Basically, everything comes from the inside. When you're in good shape, you see it on the skin too."
What about the body?
"I love Nuxe shimmer oil. In the summer I apply it all over my body. It has a very pleasant fragrance. I'm very pale and fair, so I'm happy to apply something golden on me. It's great. I really like saunas and try to do as much as possible. It's good both for the body and the face, it removes all the toxins. I try to use natural, non-drying soaps. My perfume has always been the classic Chloé. Recently I discovered Rose Milano by Armani Privé. It has pink glittering and it smells amazing."
How do you take care of your hair?
"My hair takes care of itself. I don't do too much. I cut the length, once in a while. Now I'm very careful to keep a certain length and in a straight line, because it looks more elegant. My color is naturally blonde, and when the hair is greasy, it doesn't look good. So I wash it every other day and sometimes every day, depending on work. I have good hair, but at work they use a lot of BaByliss, hair dryers and sprays, so I make sure to apply hair masks twice a week."
Do you have a diet and fitness routine?
"All my life I have always eaten everything, also junk food. I won't say that today I don't eat junk food, but I really try to include a lot of green vegetables and organic food in my meals. I still eat animal products, but I try to reduce the amount and eat what makes me feel good and not in large quantities. Sometimes in the middle of the night, I get hungry, and if I eat at night, I wake up in the morning with a stomach ache. I also make sure to drink a lot of water.
"Regarding fitness, as a child I was a dancer and a swimmer. So, fitness is something that has always been with me. In general, I was a very hyperactive girl, always moving and never standing still. Today I exercise, but I don't like going to the gym. I live by the sea, so I go jogging with my dog barefoot on the sand. At home, I like to dance for fun and I do stretching exercises. I would do anything that moves my body and makes me have fun in front of the mirror. I also like to swim in the sea and pool, and also climb. In the city, I always prefer to walk than take a taxi."
What advice would you give to your younger self?
"I could have given myself a lot of advice. I would probably have sat with her all day and say: 'Go straight to the Population Authority committee and change your gender to female.' I accept that my process happened the way it did. But maybe I would have said to myself: 'You don't have time to waste. Run, run.' This would have saved me a lot of headaches later on. But that's also what strengthens in the end."