If you enjoy raspberries, chances are you normally associate them with a warm breeze, the sun high up in the sky and the nearest beach beckoning you.
Now there's good news if you're adamant about getting your hands on some large, ripe raspberries in the middle of winter.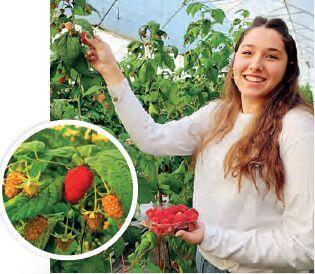 A harvest, accompanied by commercial marketing of winter raspberries is underway in Israel. Three farmers from Idan, a Moshav south of the Dead Sea, have started a company called "Kedma," which specializes in growing the fruit in cold weather using incubated greenhouses.
After a five-year study that looked into the special conditions needed for such an endeavor, they were now ready for market.
Ariel Kitron, Dubi Dagay and David Mizrachi were set to produce one-and-a-half tons of sweet summer raspberries, a quantity produced on the Golan Heights during the summer months only.
The company's R&D director said the accomplishment is in the ability to grow fruits and vegetable off-season, providing substantial economic potential for the farmers in the southern areas, which would open worldwide marketing opportunities.
The new winter raspberries, along with other innovative crops, will be unveiled in the Agricultural exhibit that is being held this week at the Research and Development Vidor Center in the Arava Desert.
Tickets available at 052-8666114.