Residents of Haifa complained that on Yom Kippur night, Arab drivers and motorcyclists went on a rampage in various parts of the city in defiance of Jews on the holiest day of the year, while endangering the lives of the children and their parents who were walking on the road and riding bicycles. Two of the drivers were arrested. The footage shows no less than 21 bikers riding in a line at high speed.
"They arrived at a crazy speed," Neve Sha'anan neighborhood resident Lian Cohen said, describing what happened around 10 in the evening, a few hours after the fast began. "A Jewish cyclist chased after them, and shouted to them, 'Why are you going so fast?' At one point he even managed to stop them. There was some kind of argument and suddenly they pressed on the gas. Then the driver did a U-turn in the traffic circle at a crazy speed. There were many children on the road. My daughter, who is 4 and a half years old, was also on the road with a bicycle. He hit a young cyclist.'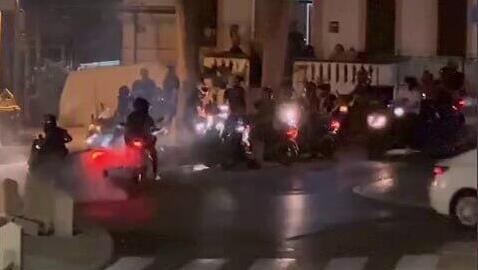 "We ran away because we were afraid they would come back and maybe pull out a weapon," she added. "We hid in the yard of a house. We were scared. It really looked like a car-ramming attack. My daughter screamed and cried, because she saw it. After a few minutes, an ambulance arrived and they treated him."
Cohen says that, minutes later, many motorcyclists arrived at the nearby Hanita Street. "They rode in pairs next to each other, clapped their hands and teased us. They also drove at a very high speed. I had seen them before, when I went out at half past six with my daughter, they came at a crazy speed. After 10 they returned. This shows that they were making the rounds in Haifa. We also saw them also in Ziv Square in Neve Sha'anan. It was very scary. After I got home, I saw that the police had come to Hanita Street."
Police said that two scooter riders were arrested and taken for questioning. According to the police, flammable materials were seized in their possession and they are suspected of intending to commit arson. Police know the identity of additional suspects, and said they will be arrested later.