New York City Mayor Eric Adams arrived for a three-day visit to Israel at the invitation of the Jewish Federation of New York.
The visit began on Monday with a meeting with Jerusalem Mayor Moshe Lion, dinner and a tour of the Mahane Yehuda market in Jerusalem, which ended with drinking beer in a Jerusalem pub. New York tourists recognized Adams and took a selfie with him.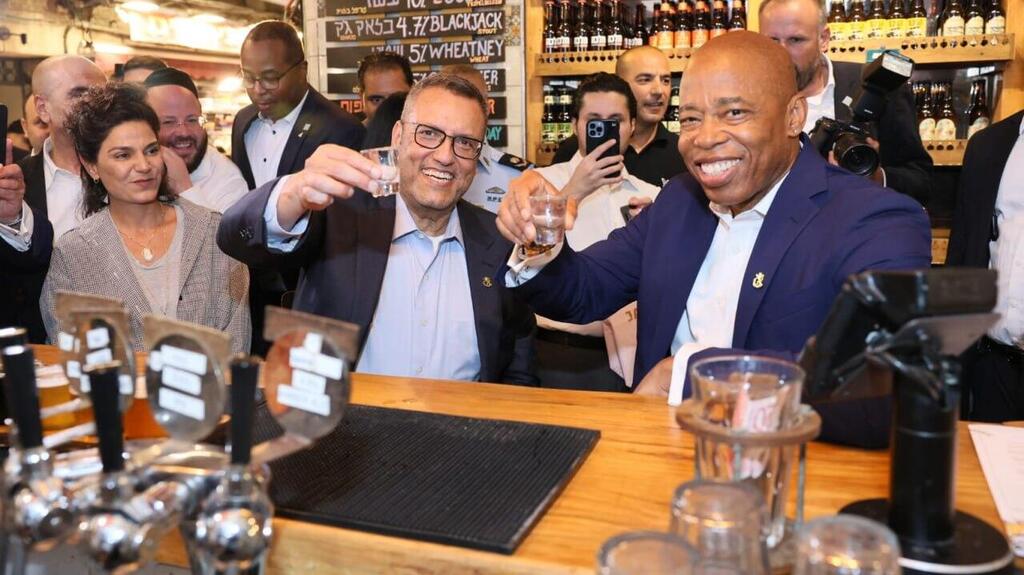 "Eric Adams, you are a true friend of Israel's capital, Jerusalem, and a personal friend of mine. The two cities share many different common themes, overlapping interests and occupations, and mainly a desire to cooperate and exchange information. We will continue to nurture and strengthen the ties between the two cities and municipalities for the benefit of their residents and visitors," Lion said.
On Tuesday, Adams met with leaders of the protest movement against the judicial overhaul. Later he visited Yad Vashem, toured the Old City and visited the Western Wall and the Church of the Holy Sepulchre. Adams also met with Prime Minister Netanyahu, Foreign Minister Eli Cohen and a delegation of businessmen headed by Bank of Israel Deputy Governor Andrew Abir.
This is Adams' first visit to Israel as mayor of New York City, the largest Jewish city in the world, and his third visit to Israel. "We have an inextricable bond and we will continue to build on that. I was blessed to strengthen that relationship as mayor of New York City," Adams said.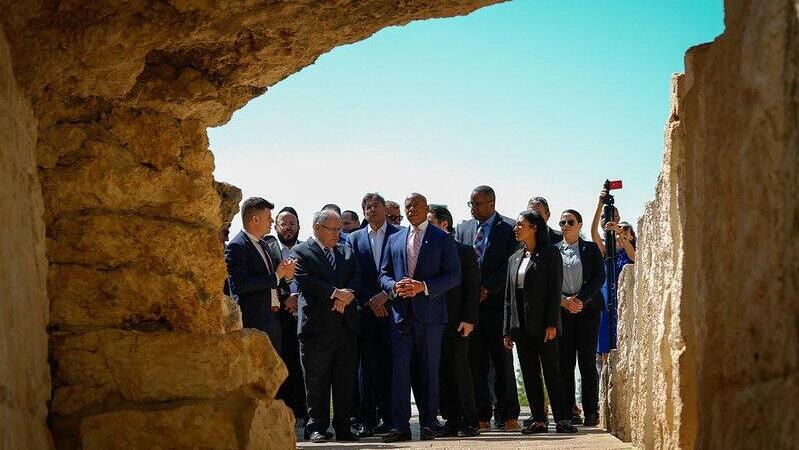 Adams said he was pleased to meet the leaders of the protest movement and hear their thoughts. "These are historic moments in Israel. I don't want to get involved, I just want to learn. I came here at a crucial moment and the citizens of Israel have decisions to make. We know that democracy is not easy," the mayor said. "This is one of the most important chapters of this great nation."
He said he felt it was important to meet with both the prime minister and the protest leaders, and said that he would share what he heard with the Jewish residents of his city.
Adams said his visit is not meant to take a side on the issues that are roiling Israeli society. "I came here to express support for the people of Israel," he said.
He also said that New York, a center for Israeli startups, has not seen the impact of the protests surrounding judicial reform.
During his visit to the Western Wall, Mayor Adams said: "We will continue to fight against antisemitism around the world. New York City has one of the largest Jewish populations outside of Israel. As mayor of New York City, I want to send from here, the home of the Jewish people, a clear message to strengthen our decision to fight antisemitism."
He added that touring the Old City and seeing the sites of the three major religions showed him that "we must find a way to live together side by side."
At the Prime Minister's Office, Adams was presented with a food and innovation exhibition called FoodTee, which is all about alternative proteins. Adams tasted cultured steak, hamburger and kebabs made in Israel and was very enthusiastic about them. Adams became vegan after being diagnosed with diabetes and follows a healthy diet.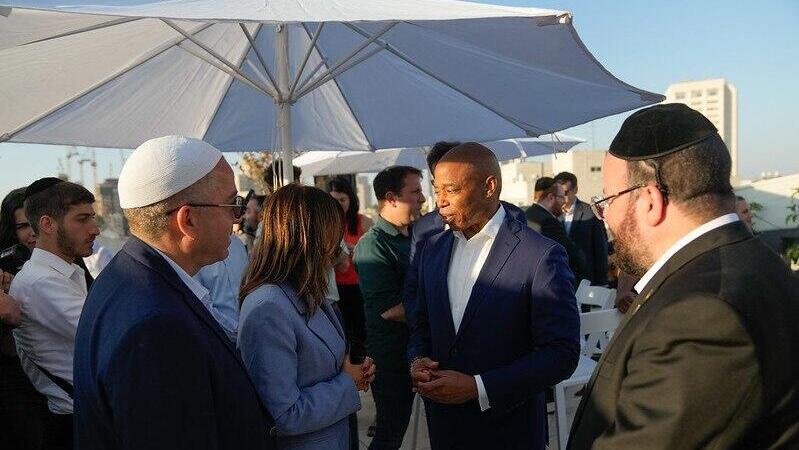 During his visit here, he wanted to learn about Israeli technology and how to learn from Israel's experience in strengthening public security without compromising the privacy of its citizens.
Adams said he was very impressed by the absorption of Ethiopian Jews into the country. "During my visit, I saw them in different places and in positions in the government. It's part of my philosophy in New York City to guarantee the right to work for immigrants and the right to contribute to society."
Eric Goldstein, executive director of the Jewish Federation of New York, said that hosting Adams in Israel is an "honor" and an important statement on behalf of the people of New York.
"We are moved by the mayor's commitment to fighting anti-Semitism. The Jewish community cannot do this alone," he added.
: "It is an honor to host Mayor Adams, the largest Jewish city outside of Israel, and to come here is an important statement to the understanding of the country – something important to the people of New York. The mayor visited Yad Vashem at a time of rising anti-Semitism all over the world, including in our backyard in New York. We need to work together to prevent and combat anti-Semitism and all forms of hatred. We are moved by the mayor's commitment to fighting anti-Semitism. The Jewish community cannot do this alone."
Foreign Minister Eli Cohen said: "We will work together to strengthen the economic ties between Israel and New York. Israel and New York are connected both because of the largest Jewish community in the world living in the city, and because of the significant presence of Israeli companies in New York. I told Mayor Adams that Israel greatly appreciates his work and efforts to combat anti-Semitism. We must continue to act in all ways to combat the phenomenon of the rise of antisemitism."