Tens of thousands of people participated in a very colorful Tel Aviv Pride Parade on Thursday afternoon, marching along the city's famous seaside promenade, with the festivities expected to continue into the night. The climax of Pride festivities will be on Friday with a large party at 12pm in Gan Meir.
For the first time in its history, the parade will also feature a float called the "Conversion Therapy Truck" with the aim of raising awareness of the issue.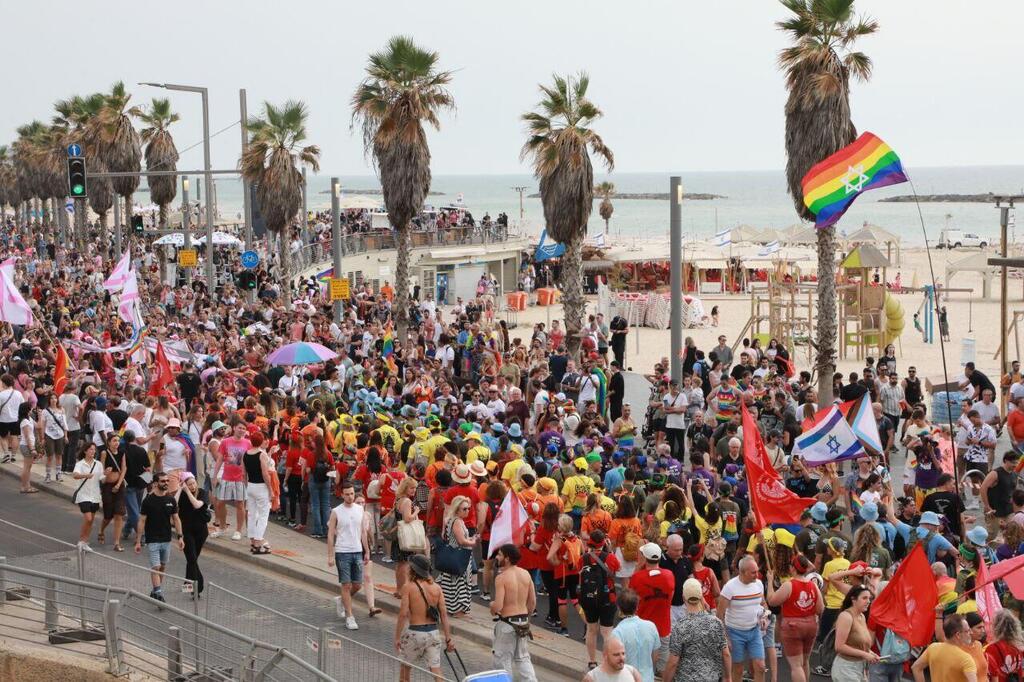 "The display, which will be an absolute contrast to the celebration and joy around it, will raise awareness of the danger of conversion therapy and its damage, which harms Israeli society in general and religious LGBT+ people in particular," said Havruta, the religious LGBT+ group behind the display.
"The conversion therapy center is at the forefront of the fight against these terrible practices which are useless, cause depression, despair, and self-hatred, and promote flawed and unethical methods, often resulting in financial and even sexual exploitation of vulnerable people.
"Israel is a global leader in conversion therapy, and in these days when conversion therapy supporters receive legitimacy, budgets, and enforcement power, there is a heavy concern for the well-being, prosperity, and lives of many LGBT+ people.
"In such an emergency situation, raising awareness of the danger, both among the general public and within the LGBT+ community, is crucial. Such an external explanation is exceptional in the actions of the Anti-Conversion Therapy Center, which usually provides quiet explanations within the community that is subject to conversion attempts."
Israel Police also published guidelines for participants in the event which strictly forbid tying bicycles or scooters to fences or entering with them or with electric bicycle or scooter batteries in the event area, entering with sharp objects, glass bottles, chairs, umbrellas and the use of drones or any type of flying vehicle is also prohibited.
In addition, the police recommend using public transportation and staying updated on the service centers and websites of public transport companies.
Prior to the start of the parade, a suspect was arrested for possessing an electric shocker, a knife, pepper spray and an unidentified chemical substance. The suspect, a 33-year-old Tel Aviv resident, was taken into police custody for questioning.
Tel Aviv's Pride Month events have been an annual tradition since 1998, attracting hundreds of thousands of participants from Israel and tens of thousands of tourists from around the world. The is expected to cause disruptions to traffic and road closures, and public transportation will significantly increase.