Davos, a Swiss alpine town in eastern Switzerland, is globally known as a tourism hub, mainly thanks to the annual World Economic Forum conference held there during the winter months, which attracts leaders and celebrities from around the world.
For many years, Davos has also become a popular destination for thousands of Orthodox Jewish tourists looking to unwind in August. However, tensions between locals and Jewish visitors have been escalating in recent years due to a growing number of complaints about behaviors that clash with local customs.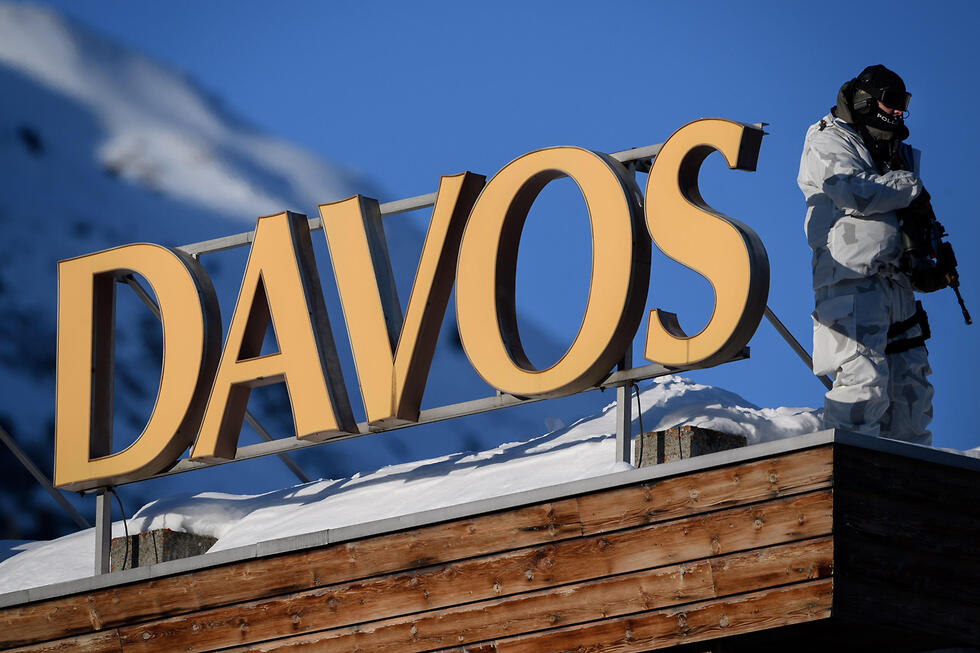 Last week, tensions came to a head following a wave of complaints from local residents and property owners about excessive littering by tourists and rude behavior in public spaces.
Reto Branschi, director of the local tourism office, also weighed in with strong criticism against the behavior of Jewish visitors in two interviews he gave to local media outlets. "Some of these visitor groups find it very difficult to respect local laws and the common ways of life here," he said in one of the interviews.
However, a recent stunt by one tourist proved a step too far for the local hospitality sector. Gipfel Zeitung, a small local newspaper, featured a front-page photo of feces left by Jewish guests on the balcony of a rental cabin, under the headline: Davos: A "shit stain" on the balcony.
The newspaper stated, "This undoubtedly comes from someone of Jewish descent." According to the newspaper, the property owner claimed that "he had never experienced anything like this in all his years and has decided not to rent apartments to these people anymore," expressing hope that the Davos tourism authorities would finally take action on the matter.
The increasing local outrage against Jewish tourists is deeply troubling for the Swiss Jewish community, especially for Jonathan Kreutner, the Secretary General of the Swiss Federation of Jewish Communities.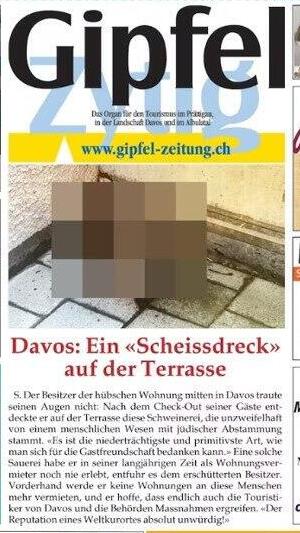 For years, Kreutner has led a project in Davos designed to cultivate positive relations and address behavioral and cultural gaps between tourists and residents. However, Davos authorities have decided to halt their collaboration with him due to the growing number of complaints.
"In my view, the situation in Davos is very uncomfortable. Taking the inappropriate behavior of a few individuals and generalizing it to many is simply racist, and they are doing this only in the case of Jews, which makes it antisemitic," Kreutner to Ynetnews' sister publication Yedioth Ahronoth this week.
Kreutner, who has also lodged a police complaint following the headline, which he said "crosses all red lines," added, "We don't understand why the Davos tourism office has decided to cut ties with us. This will only exacerbate the situation. It seems that Davos has decided they simply no longer want Jewish tourists. They've made crude generalizations about all Jews based on the behavior of a few."
Earlier this week, the canton of Graubünden, where Davos is located, reportedly opened an investigation into the newspaper headline, the behavior of the Jewish tourists and allegations of racism.
This issue has been covered extensively in Swiss mainstream media. According to a report in the Swiss newspaper Blick, the editor for Gipfel Zeitung refused to apologize for the picture and headline and denied accusations of racism. "I will only apologize if the person who did this comes to me and provides a reasonable explanation for their actions."