Israeli troops were attacked with anti-tank missiles and gunfire by a Hamas terrorist cell that embedded itself within a group of civilians at the entrance of a hospital in Gaza City, the IDF reported on Monday.
"During operations carried out by the 188th Brigade, RPG fire and small arms fire were directed at the soldiers from the direction of the Al-Quds Hospital in Gaza City," a statement read.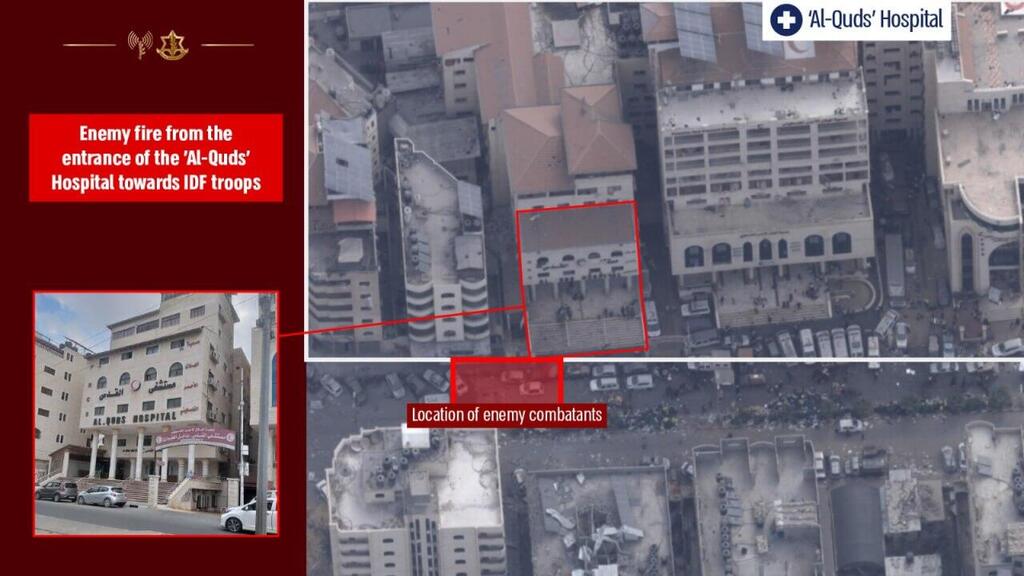 "The shooting was carried out by a terrorist squad that had embedded itself within a group of civilians at the entrance of the hospital. The soldiers identified a terrorist squad with two RPG launchers amongst the civilians. As a result of the shooting carried out by the terrorists, a tank was damaged."
According to the army, the soldiers engaged the terrorists and as the firefight ensued, civilians were seen stepping out of the hospital building. Meanwhile, other terrorists emerging from nearby buildings blended in with the civilians and participated in the attempted attack. After launching anti-tank missiles, the terrorists retreated back into the hospital for cover.
The 188th Brigade battlegroup, comprising armored, engineering and infantry units supported by air forces, retaliated with fire and shelled the sources of the attack. Some 20 terrorists were killed in the clashes while no Israeli soldiers were hurt.
The IDF Spokesperson's Unit said that the battle at the entrance to the civilian hospital was "another example of Hamas' continued abuse of civilian structures, including hospitals, to carry out attacks."
The Palestinians reported Monday morning that the situation at Gaza City's Al Shifa Hospital was worsening fast. Gaza health ministry spokesperson Ashraf Al-Qidra told Reuters that an Israeli tank was now stationed at the hospital gate.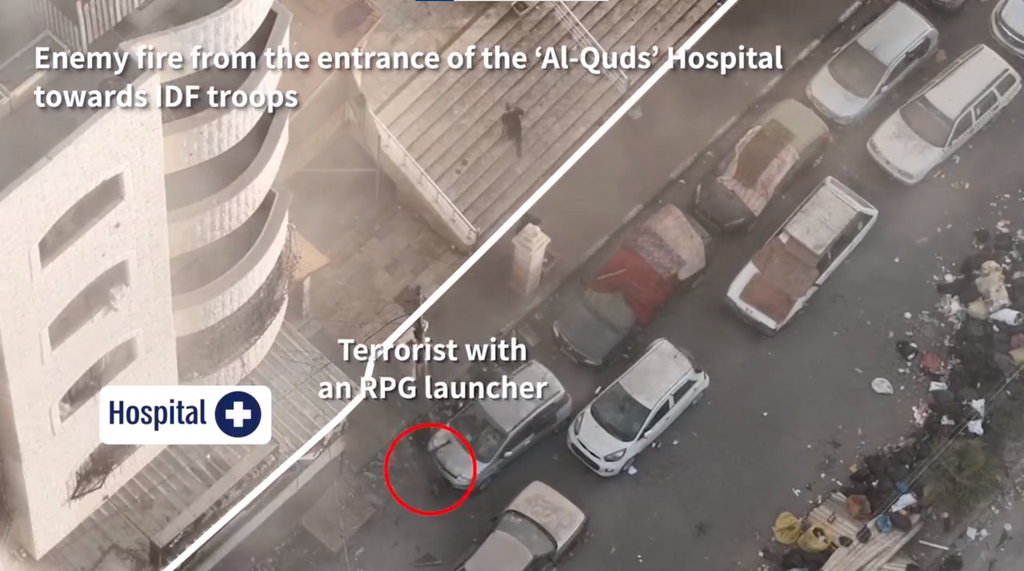 The IDF has marked Al Shifa as one of its main targets in Gaza City as Hamas's central headquarters is located beneath the hospital.
According to the army, several underground facilities under the hospital serve as Hamas' main command center, connected by a tunnel. Meanwhile, a hospital representative expressed their dire situation, noting the struggle to find basic necessities like food and the inability to bury the dead in the courtyard due to bombings.
Since the electricity was cut off to the Gaza Strip and especially since the start of the ground offensive in the area of the hospital, warnings have been repeatedly issued in Gaza that those hospitalized in Al Shifa and other hospitals in northern Gaza are in mortal danger.
Deputy Secretary of the Ministry of Health in Gaza, Youssef Abu Rish, announced that Israel "completely destroyed the cardiology department building in Shifa" and in the hospital, "650 patients are still trapped, including about 40 infants in incubators and 15,000 chronically ill patients, all of whom are threatened with death." Abu Rish further claimed that "5 infants and 7 critically ill patients" died due to "the power outage at the main hospital in Gaza."