Since the beginning of the war in the Gaza Strip, the Israeli Navy's Unit for Underwater Missions (Yaltam) has uncovered dozens of weapons and military devices in the waters of Gaza.
A massive cache of weapons was discovered in the waters off Gaza and Israel, used by Hamas in attempts to infiltrate Israeli territory, which the Israeli Navy has successfully thwarted. The seized weapons, found both above and below the water's surface, included explosive devices, explosive belts, ammunition and inflatable boats.
In collaboration with the special forces of the Yahalom Combat Engineering Unit, weapons suspected of containing explosives were safely neutralized.
Since the onset of fighting in the Gaza Strip, IDF Air Force and ground units have carried out 4,300 strikes, targeting hundreds of anti-tank missile launch points and around 300 offensive tunnel shafts.
Overall, around 3,000 terror-related infrastructures have been targeted, including over one hundred booby-trapped buildings and numerous Hamas command and control sites.
Meanwhile, IDF forces continue to scan buildings in the northern Gaza Strip, locating numerous munitions and combat equipment. A 401st Brigade battlegroup raided the outskirts of the Shati refugee camp, discovering weapons, combat gear and operational plans belonging to Hamas.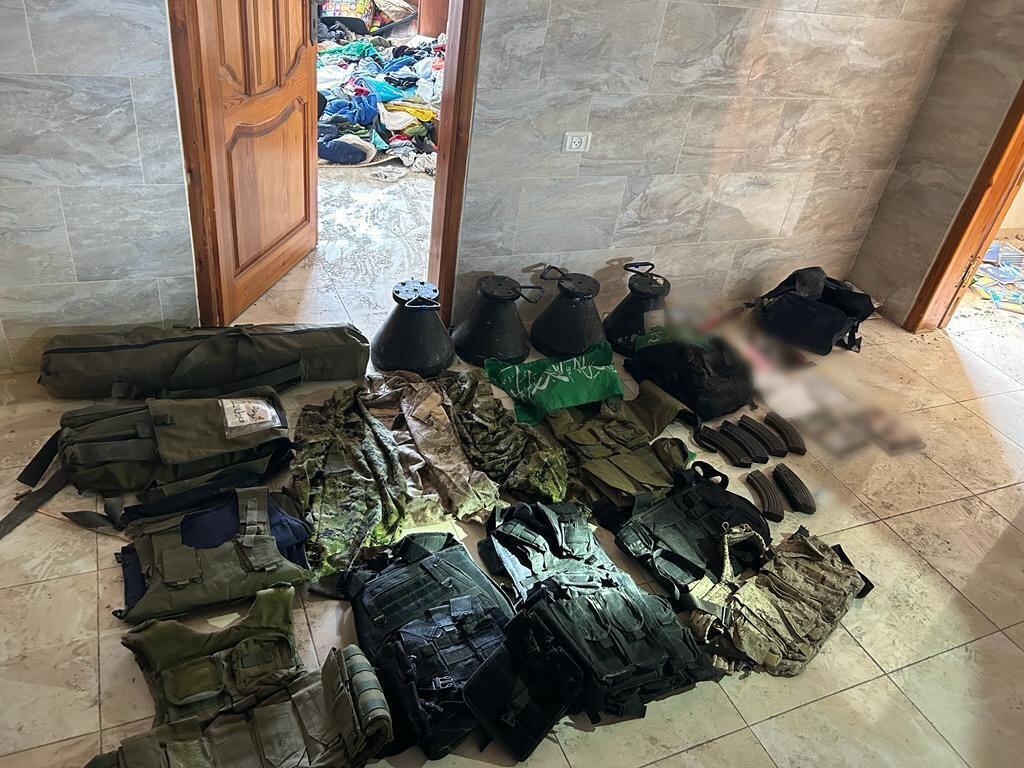 The soldiers focused on terror infrastructures located in key governmental institutions amidst civilian populations, including schools, universities, mosques and active homes.
According to the IDF Spokesperson's Unit, Hamas deliberately placed its military infrastructure within civilian buildings. This includes Al-Quds University and the central Abu Bakr Mosque in Gaza, where a storage area for arms was found, containing incendiary materials and multiple explosives.
Soldiers from the 551st Brigade conducted a raid on the house of a senior Palestinian Islamic Jihad (PIJ) operative and found weapons stored in the children's room. Additionally, pictures of Qasem Soleimani, former commander of Iran's Quds Force, Hezbollah leader Hassan Nasrallah and former senior PIJA operative Imad Mughniyeh were found alongside the weapons.
In a separate mission, the brigade identified a tunnel in the civilian sector of Beit Hanoun, uncovering intelligence documents and weapons belonging to terrorist groups.