Hundreds of Palestinians marched through the Shuafat refugee camp in East Jerusalem on Sunday in support of a
Hamas gunman
who shot and killed one Israeli and wounded four others in the capital's Old City.
The rally was initiated by the terrorist organization in an area that is under full Israeli control.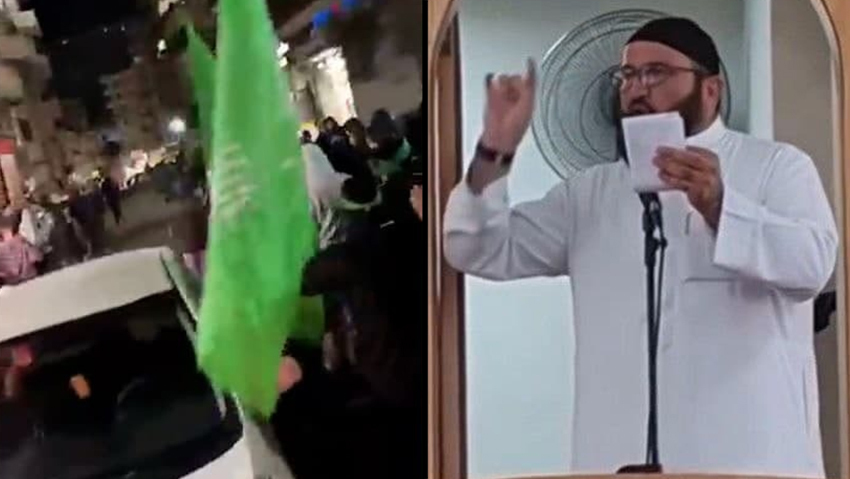 Demonstrators marched through the camp's main street towards the home of the attacker — a 42-year-old schoolteacher named Fadi Abu Shkhaydam, who died in a firefight with security forces in the attack.
The crowd set tires on fire and threw rocks at Border Police forces that arrived at the scene while chanting "the martyrs are going to Jerusalem in the millions" praising Hamas' military wing. Residents also called for a general strike in the neighborhood on Monday.
Israeli security forces knew that Abu Shkhaydam was a member of Hamas, but was never arrested by the Shin Bet domestic security agency.
He worked as a teacher and frequented the Al Aqsa Mosque, where he urged parishioners to not allow Israeli troops onto the mount and to resist them by force.
Abu Shkhaydam's wife and several of their children fled Jerusalem three days before the attack.
His son Aboud posted on social media a picture of his father with a weapon after the attack, writing that he is proud to be the son of a "martyr."
Hamas praised Abu Shkhaydam in an official statement, saying that "the Holy City continues to fight against the foreign occupier, and will not surrender to the occupation."
"The youth continues their legitimate fight until they achieve their freedom, free their land, and retrieve their holy places."
The terror organization didn't claim responsibility for the attack.
Around 9am on Sunday morning, Abu Shkhaydam opened fire at a group of Israeli men in Jerusalem's Old City, killing one of them, seriously injuring a second and moderately wounding a third.
The man who was killed, Eliyahu David Kay, 26, was a tour guide at the Western Wall Heritage Foundation and was on his way to the site when he was killed. The two other wounded were ultra-Orthodox men who were making their way back from the Western Wall after morning prayers.
Police officers at the scene opened fire at Abu Shkhaydam, killing him.