Following the resignation of Canadian House of Commons
speaker Anthony Rota
, which came a day after he invited and honored a Ukrainian who fought alongside the Nazis to the speech given by Ukraine President Volodymyr Zelensky, members of the Canadian Jewish community are calling for further action to be taken.
Meir Weinstein, CEO of "Israel Now," an organization dedicated to promoting Jewish values and seeking justice for Holocaust victims in Canada, said in an interview with Ynet Live that while the Speaker's resignation was a significant step, it was insufficient. and more must be done after what he described as the shocking incident.
The Canadian speaker of the House of Commons resigned after the tribute to a Nazi. Is it enough?
"No, no, it's not enough at all. Not only that but the speaker who I guess you could refer to right now as the former speaker of the House, personally invited this Nazi war criminal, SS collaborator from the Ukraine to the House of Commons to be given an honor. I sent a letter to the former Speaker of the House asking me if he would join me in a vigil in front of the home of this Nazi SS collaborator from the Ukraine. I haven't heard back from him or anything but there's a lot to be done. There's a lot to uncover here and unpack. It's horrific."
So if it's not enough, what do you expect?
"Well, we've sent out letters to the Canadian prime minister demanding that he be stripped of his citizenship and deported. He came into this country illegally. He lied and there's in fact a video going around of another person who served in the same unit boasting about murdering Jews. That's outrageous.
"The video is on YouTube. Easy to find. Also, this particular war criminal has been a contributor to a blog of former SS collaborators where he boasted and said that the years from 1943 to 1945 were the happiest of his life. So, he's not hiding anything. He tries to whitewash a little bit what he was doing in the Ukraine, but what they were doing, they were murdering Jews. "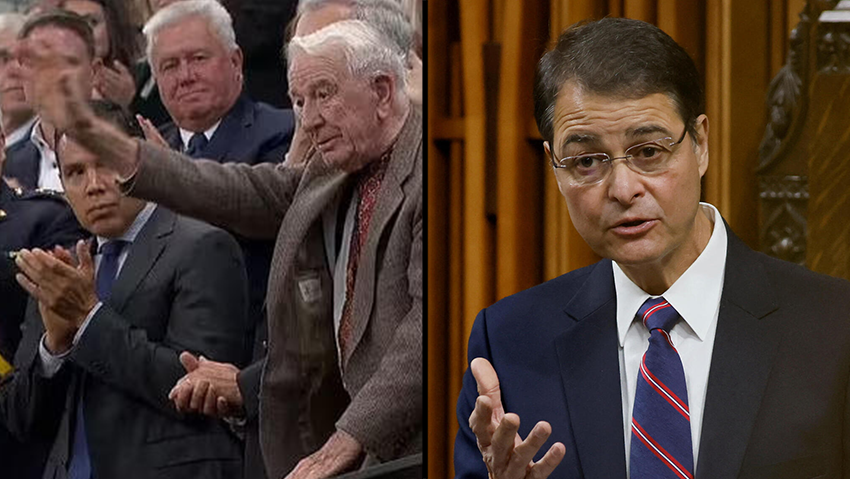 So did you get any official response from Trudeau?
"Didn't get anything yet. Listen, I have a background in hunting Nazi war criminals. I testified at the Duchenne Commission which was established to research and see exactly how many Nazi war criminals there are in Canada. That was in the 1980s. I testified, I gave evidence but quite a few and I worked with a lot of different Nazi hunters for years on this."
So from your point of view, is it a symptom of antisemitism or inattention?
"That's a good question, and here's the answer. In North Bay, there's been a lot of incidents of antisemitism in schools with kids. There was a Catholic school where kids on the soccer field, were making 'Heil Hitler' salutes and chanting Heil Hitler. There are other incidents of antisemitism in North Bay as well and that's where he's from. So there's a serious problem of antisemitism and these Nazi war criminals, they still believe that ideology and they teach it."