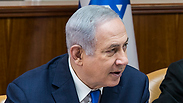 PM Netanyahu
Photo: Olivier Fitoussi
Netanyahu to be questioned for fifth time
Israeli premier will be questioned by police at his residence Thursday in two separate cases involving illicit gifts he allegedly accepted from mogul Arnon Milchan and his collusion with Yedioth publisher Arnon Mozes to sway media coverage; questioning marks 5th time Netanyahu will be grilled, first since March.
Prime Minister Benjamin Netanyahu is expected to be questioned Thursday at his residence on a corruption case known in Israel as Case 1,000, involving illicit gifts Netanyahu allegedly received from businessman Arnon Milchan—and Case 2,000—concerning backroom deals supposedly reached between Netanyahu and Yedioth Ahronoth publisher and owner Arnon Mozes.

It will mark the fifth time Netanyahu will be questioned, and the first since March.

In addition, it will also be the prime minister's first inquest since his former chief of staff Ari Harow signed a state witness agreement. Netanyahu will also likely be questioned on the Submarine Affair, albeit not as a suspect but merely to provide testimony.

The Submarine Affair alleges that senior Israeli military and government officials received illegal payments from the German ThyssenKrupp company, which supplied all six of the IDF's submarines, intended to sway tenders to build surface vessels and submarines for the Israeli Navy in the company's favor.

Police have grumbled recently about the difficulty in coordinating a time and place for questioning the prime minister, and have gone so far as to claim he was "playing for time."

"It appears someone on the other side is fine with the investigation lagging," police sources said privately.

Netanyahu and his associates, on the other hand, maintained their refrain of "There won't be anything, because there wasn't anything."

Israeli Ambassador to the United States Ron Dermer was summoned by the police recently to testify in the illicit gifts investigation against Netanyahu, Channel 2 News reported Tuesday.

Dermer, who is considered a close associate of Netanyahu's, was asked about alleged attempts he made, at the prime minister's request, to get then-US Secretary of State John Kerry to help organize a US visa for billionaire Arnon Milchan, who allegedly supplied Netanyahu and his wife, Sara, with gifts worth hundreds of thousands of shekels for years.

Commenting on the visa allegation, the prime minister's associates said, "The recent spate of tendentious and illegal leaks continues, this time attempting to besmirch the prime minister solely for carrying out his duty to conserve Israel's security."

"Milchan was denied a visa due to media articles regarding his contribution to the country's security. It's inconceivable someone who has done so much for Israel will be penalized for these contribution and that an Israeli prime minister will remain apathetic to that. The prime minister contacted foreign governments on behalf of (former Mossad chief) Meir Dagan as well, and others who have done much for Israel's security," sources close to Netanyahu claimed.

Another person to provide police with testimony was Indian billionaire Ratan Tata. Milchan allegedly contacted Netanyahu nine years ago with an idea to create a free trade zone on the Jordanian border, an initiative on which Rata served as his partner but the idea never came to fruition.

Arnon Mozes is the publisher and owner of Yedioth Ahronoth Group, which includes Ynet.