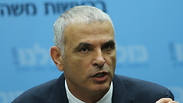 Finance Minister Kahlon
Photo: Alex Kolomoisky
Finance Minister and Kulanu Chairperson Moshe Kahlon said Thursday that if an indictment is filed against Prime Minister Benjamin Netanyahu, he will not be able to continue serving in office.

In an interview on Channel 2 News, which was broadcast Thursday night, Kahlon said that "if a trial against the prime minister begins, he will not be able to serve."

Kahlon asked what would happen if an indictment was filed against Netanyahu, to which he responded, "There is a law that says that the attorney general decides whether an indictment will be filed," adding that, should Attorney General Avichai Mandelblit decide to file an indictment against the prime minister, "the prime minister will not be able to continue serving while indicted."

"That's my answer," he said resolutely, noting that, should that happen, he believes Netanyahu will step down of his own volition. Either that, "or everyone else will," he stressed, concluding that he and his party will surely not stay in a coalition under an indicted premier.

In February, the Israel Police announced there is sufficient evidence to indict Netanyahu for bribery, fraud and breach of trust in two cases against him, Case 1000 and Case 2000.

Case 1000 concerns illicit gifts Netanyahu allegedly received from business moguls Arnon Milchan and James Packer, whereas Case 2000 concerns talks the premier had with Yedioth Ahronoth owner and publisher Arnon Mozes regarding the Israel Hayom daily.

The recommendations are now in the hands of Attorney General Mandelblit, who will review the material before deciding whether to file charges. Netanyahu can remain in office during that process, which could drag on for months.