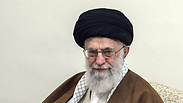 Iranian Supreme Leader Khamenei
Photo: EPA
Iran leader: US will be 'hit multiple times' if it enters conflict with Iran
Ayatollah Ali Khamenei calls on US to 'leave' Middle East, says any power challenging Islamic republic will be defeated; US 'provoking region's inexperienced rulers to create further regional crisis'; in meeting with Iranian lawmaker, Syrian President Assad says region's maps being redrawn, 'hostile countries now trying direct aggression after proxies failed.'
Iran's Supreme Leader Ayatollah Ali Khamenei said Monday the time when Iran's enemies can "hit and run" is over.

"They know if they enter military conflict with Iran, they will be hit multiple times," he said in comments during a meeting with workers, according to his website. He did not specifically refer to the latest attack in Syria, which claimed the lives of at least 26 people—most of whom were Iranians.

Khamenei also hit out at the United States a day after new Secretary of State Mike Pompeo visited Riyadh, accusing Washington of trying to stoke a "regional crisis" by provoking its ally Saudi Arabia to confront Tehran.

In remarks broadcast on state television, Ayatollah Khamenei reiterated longstanding calls for the United States to "leave" the Middle East, which he called Iran's home, and said any power seeking to challenge Iran would be defeated.

"One of the ways to confront Iran is to provoke inexperienced rulers of the region," he said, in an apparent reference to Saudi Arabia's 32-year-old Crown Prince Mohammed bin Salman.

"Americans are trying to provoke Saudi Arabia against Tehran ... Their aim is to create more regional crisis ... to push Muslims to fight against Muslims."

"If these governments gain more wisdom, they will not confront Iran. If they confront Iran, they will be defeated."

Khamenei's remarks were aired a day after Pompeo met Saudi King Salman in Riyadh on a flying visit to the region.

Pompeo said on Sunday during his visit to Israel that the United States was deeply concerned by Iran's "destabilizing and malign activities" in the Middle East.

Appearing to address those remarks, Khamenei said Iran had no intention of limiting its influence in the Middle East.

"Americans are the ones who should leave ... The Middle East, the west of Asia and the Persian Gulf is our home," Khamenei said.

Tehran and Riyadh have long been locked in a proxy war, competing for regional supremacy from Iraq to Syria and Lebanon to Yemen. US President Donald Trump has strongly backed Saudi Arabia in its efforts to counter Iran's influence.
President Assad, Iranian lawmaker assert bilateral bond
Syrian President Bashar Assad met the chairman of Iranian parliament's Committee for Foreign Policy and National Security Alaeddin Boroujerdi in Damascus Monday to discuss recent developments in Syria and the two countries' mutual desire to strengthen their strategic relations.

President Assad noted to the Iranian lawmaker that the Middle East was "in the process of redrawing international maps," and that "hostile countries have changed course to direct aggression after the failure of their proxies in the region."

These aggressive intentions, however, will only increase "Syrians' determination to eliminate terrorism in all its forms and to uphold their sovereignty," the beleaguered president claimed.

Boroujerdi, for his part, stressed that while the objective of the United States and its allies in the region was to "defeat Syria," Iran and its people will remain by Syria's side and will continue efforts to reach a political settlement to the country's years' long civil war.

The Iranian delegation to Syria also included three members of the Shura Council, Qasim Jassmi, Karen Khanlari, Syamk Marzadeq and Secretary of the National Security and Foreign Policy Committee of the Shura Council Fadlullah Baghstan.
Sanctions relief
Echoing Assad and Boroujerdi's remarks, Iranian state TV quoted Iran's Foreign Ministry spokesman Bahram Qasemi as saying Tehran would keep on backing its friends in the region despite US pressure to curb its influence.

"The cooperation between America and Saudi Arabia will further destabilize the Middle East and will lead to more crisis in the region," Qasemi said. "Pompeo's remarks about Iran are baseless and repetitive ... As long as the legitimate governments of the regional countries need our help, Iran will remain in those countries."

In Riyadh, Pompeo reassured Saudi Arabia that the United States would exit Iran's 2015 multinational nuclear deal, unless European signatories of the accord "fix" it.

Trump has given the European signatories a May 12 deadline to "fix the terrible flaws" of the 2015 nuclear deal, or he will refuse to extend US sanctions relief on Iran.

President Obama speaks about the Iran nuclear deal

Under Iran's settlement with the United States, France, Germany, Britain, Russia and China, Tehran agreed to curb its nuclear program to satisfy the powers that it could not be put to developing atomic bombs. In exchange, Iran received relief from sanctions, most of which were lifted in January 2016.

Khamenei has warned that Tehran would stick to the accord as long as the other signatories respected it, but would "shred" the deal if Washington pulled out.

Britain, France, Germany, Russia, China and the European Union say Washington cannot unilaterally cancel an accord enshrined by a UN resolution. But they have called on Iran to curb its regional influence and ballistic missile program.

Trump accuses Iran of supporting terrorism and says the 2015 deal does not do enough to block its path to acquiring nuclear weapons. Iran says it does not seek nuclear arms, and blames Washington and its allies for stirring Middle East tension.

Iranian officials on Monday reiterated that Tehran had no intention of suspending its defensive missile capability.

"By accusing Iran, Americans want to justify their presence in Iran and to sell weapons to the regional countries," Tasnim news agency quoted deputy head of Iran's elite Revolutionary Guards Hossein Salami as saying.