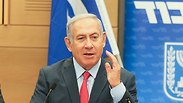 PM Netanyahu
Photo: Amit Shabi
PM says 'nothing new presented' in 5-hour grilling
After facing another round of interrogation in Bezeq-Walla Affair involving alleged illicit quid pro quo deals, statement on Netanyahu's behalf rebuffs all suspicions against him, denies he made deals in exchange for favorable news coverage and dismisses entire probe as 'unfounded.'
A statement on behalf of Prime Minister Benjamin Netanyahu said Tuesday afternoon that "nothing new was presented" during another extensive round of interrogation at the Lahav 433 anti-corruption unit in Lod that lasted for five hours in a corruption investigation known as the Bezeq-Walla Affair.

"Nothing new was presented before the prime minister. Prime Minister Netanyahu never did a deal with Shaul Elovitch in return for favorable coverage," the statement said in a concise denial of the main suspicion against the Israeli premier in the case.

The investigation, also known as Case 4000, involves suspicions that Bezeq majority shareholder Shaul Elovitch and Netanyahu had a quid pro quo relationship in which Bezeq enjoyed regulatory benefits in return for favorable coverage of the Netanyahu family on Walla! News, which is owned by the telecommunications giant.

"That is why throughout the years Prime Minister Netanyahu has consistently been covered in a hostile manner on Walla. Negative coverage reached its peak with a flood of toxic articles on the eve of the elections in 2015, in an attempt to convince the public to vote against him," the statement continued. "This is the exact period of time during which he is being accused of making the alleged deal."

The statement went on to deny the existence of any special relationship between the prime minister and Elovitch.

"The claim of a special relationship with Elovitch in the Bezeq-Yes deal is also unfounded. The prime minister signed a merger transaction deal after a number of decisions taken by professional committees … after explicit guidelines were given by the legal advisor in the Communications Ministry," the statement claims.

Not a single incident was put before the prime minister, it goes on, "in which as minister of communications he failed to sign off on the recommendations of professional officials, and this is what he did in this case too. He provided no special service to Elovitch. Case 4000 absolutely never happened," it concluded.

Netanyahu's lawyers and relatives David Shimron and Yitzhak Molcho also provided open testimony in the affair.

In February, the Israel Police announced there is sufficient evidence to indict Netanyahu for bribery, fraud and breach of trust in two other cases underway against him, Case 1000 and Case 2000.

Case 1000 concerns illicit gifts Netanyahu allegedly received from business moguls Arnon Milchan and James Packer, whereas Case 2000 concerns talks the premier had with Yedioth Ahronoth owner and publisher Arnon Mozes regarding the Israel Hayom daily.

The final decision about whether to prosecute Netanyahu rests with Attorney General Avichai Mandelblit. His decision could be months away.