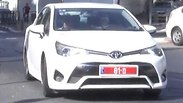 Police arriving at Prime Minister's Residence
Police investigators questioned Prime Minister Benjamin Netanyahu for 4.5 hours on Friday as part of their investigations into corruption allegations. This was the 12th time Netanyahu was questioned by police.

The Prime Minister's Office downplayed the investigations in a statement released following the questioning, saying, "Now, after the 12th round of questioning, it has been made absolutely clear that not only is there is no meat in the prime minister's investigations, there isn't even a bone."

"This time, too, the prime minister answered the questions he was asked with complete confidence, out of the clear knowledge that there was nothing and therefore there will be nothing," the PMO added.




Investigators from the Lahav 433 anti-fraud unit arrived at Netanyahu's official residence in Jerusalem as protesters gathered outside with a large banner bearing Netanyahu's face and the words "crime minister" and chanting slogans calling for justice.

The investigators were expected to complete the questioning in Case 1000 (the "gifts affair") and in Case 2000 (the "Netanyahu-Moses affair"), in both of which police have already recommended to indict the prime minister for bribery.

Case 1000 concerns illicit gifts Netanyahu allegedly received from business moguls Arnon Milchan and James Packer, whereas Case 2000 concerns talks the premier had with Yedioth Ahronoth owner and publisher Arnon Mozes regarding the Israel Hayom daily.

Netanyahu was last questioned by police on August 17 in Case 4000, a corruption case involving Israel's telecom giant Bezeq.

The questioning lasted for four hours and Bezeq majority shareholder Shaul Elovitch—who is accused of having a quid pro quo relationship with Netanyahu in which Bezeq enjoyed regulatory benefits in return for favorable coverage of the Netanyahu family on Walla! News, was also questioned.

In June, Attorney General Avichai Mandelblit addressed Netanyahu's ongoing investigations, saying during the Knesset's Constitution, Law, and Justice Committee meeting that the police's recommendations do not always lead to an indictment.

"A misconception exists about how things work—recommendations don't necessarily mean an indictment has to be filed," he stated, stressing that "The main and only principle leading the State Attorney's Office is revealing the truth."

The prime minister has repeatedly denied any wrongdoing, dismissing the accusations as a media "witch hunt."

The Associated Press contributed to this story.