Toyota has unveiled a new Land Cruiser model (dubbed '250'), which replaces its predecessor (150) that has been marketed worldwide with few significant changes for no less than 14 years. This also marks Toyota's return to the off-road vehicle market in the United States, which it abandoned two years ago with the discontinuation of the larger Land Cruiser 200.
In our region, it is expected to compete next year against rivals such as the Jeep Wrangler, Ford Bronco, and Land Rover Defender when it arrives here in the second half of 2024. Unlike its competitors and its predecessor, it will no longer be offered in a short three-door version, but only in a long five-door model.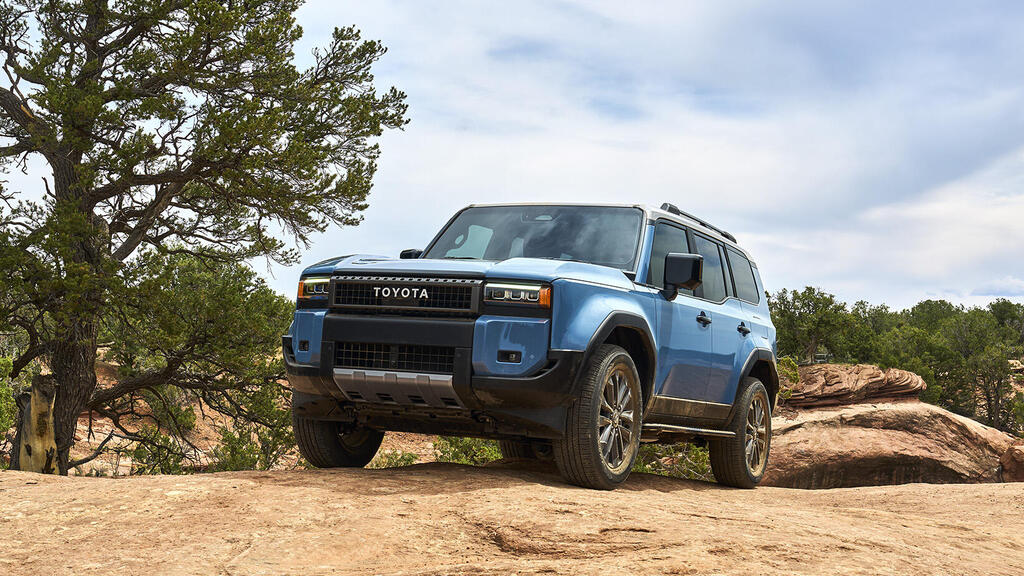 Like its luxurious sibling, the Lexus GX, it will utilize a new ladder frame (TNGA-F), which Toyota claims increases vehicle rigidity by 30%. The suspension system combines, as before, a live axle in the rear and independent suspension in the front, but both have been redesigned to improve ride comfort and road handling.
The introduction of electric power steering instead of hydraulic allows the integration of advanced safety systems, including lane-keeping (alert and correction previously accomplished through braking) and adaptive cruise control that works up to a full stop.
Available in diesel, petrol and hybrid versions, the Land Cruiser is offered with several drive systems tailored to the intended market. For the Middle East and Eastern Europe, it's available with an upgraded 2.4-liter, four-cylinder petrol engine (281 horsepower), or in a hybrid version of this engine (330 horsepower) for North America and China.
The European market, including our region, will get the familiar turbo-diesel engine from the outgoing model, with a 2.8-liter, four-cylinder unit (204 horsepower). Next year, it will also get a mild hybrid system (48V) to reduce diesel consumption and emissions.
All engines are paired with an eight-speed automatic transmission (previously six-speed) and feature permanent four-wheel drive with low-range gearing. The off-road package includes a rear differential lock, a disconnection of the front stabilizer bar for extended suspension travel, a terrain selection mode that now also works in 4H, and a new dedicated towing mode with a half-ton higher towing capacity than before (3.5 tons).
The exterior design returns to a rugged, boxy look, inspired by the renowned 60 and 80 series, with a choice between round or square front lighting units depending on the finish level. However, the approach and departure angles (22-31 degrees) and the ground clearance (21 cm) remain similar. Compared to the outgoing 150 model, it is 8 cm longer (492 cm), 9.5 cm wider (198 cm), 3.5 cm taller (187 cm), and has a wheelbase extended by 6 cm (285 cm). These dimensions should significantly improve passenger space, including a third row of seats, accommodating up to seven individuals.
The driver's environment has undergone a significant modernization thanks to a digital dashboard and a considerably larger touch screen (12.3" compared to the previous 9") that supports over-the-air (OTA) software updates, while still retaining physical buttons on the central console.
According to the manufacturer, the windows and A-pillars have been designed to maximize the driver's field of vision, and the sunroof has been significantly enlarged. As before, there is a separate air conditioning unit for rear passengers, but added features include a wireless charging pad, USB ports (three in the front, two in the back), a cooled compartment under the armrest, and an option for an upgraded JBL sound system with 14 speakers.
Our thoughts: With 11.3 million units manufactured for 170 markets worldwide, the Toyota Land Cruiser is one of the most common off-road vehicles on the globe. It has been the best-selling vehicle of its kind in Israel for over two decades, despite not undergoing dramatic changes during this time. The reason is that Toyota's formula is seen as just the right combination of family usability, good (relative) on-road driving qualities, decent off-road capability, structural durability, and exceptional reliability reputation.
With the new Land Cruiser, it seems that Toyota has wisely maintained the proven formula and even improved it with promises of higher off-road capabilities, better on-road qualities, and a combination of more advanced safety systems than before. Especially, a significantly modernized driver environment and a design that returns to its roots will make it much more desirable than before. We are eagerly awaiting the opportunity to get behind the wheel.