Traditionally, family cars have held the largest share of the Israeli automotive market. Small sedans, which attempted to offer a cheaper alternative to the market leaders, failed to gain their market share and eventually faded from the spotlight.
But with family car models becoming more expensive on one hand and an economic crisis on the other, Dacia presented an intriguing alternative, priced 50,000 shekels lower than bestsellers like the Toyota Corolla, Hyundai Elantra, and Skoda Octavia. It's even 15,000 shekels cheaper than direct competitors such as the Hyundai Accent and Skoda Scala.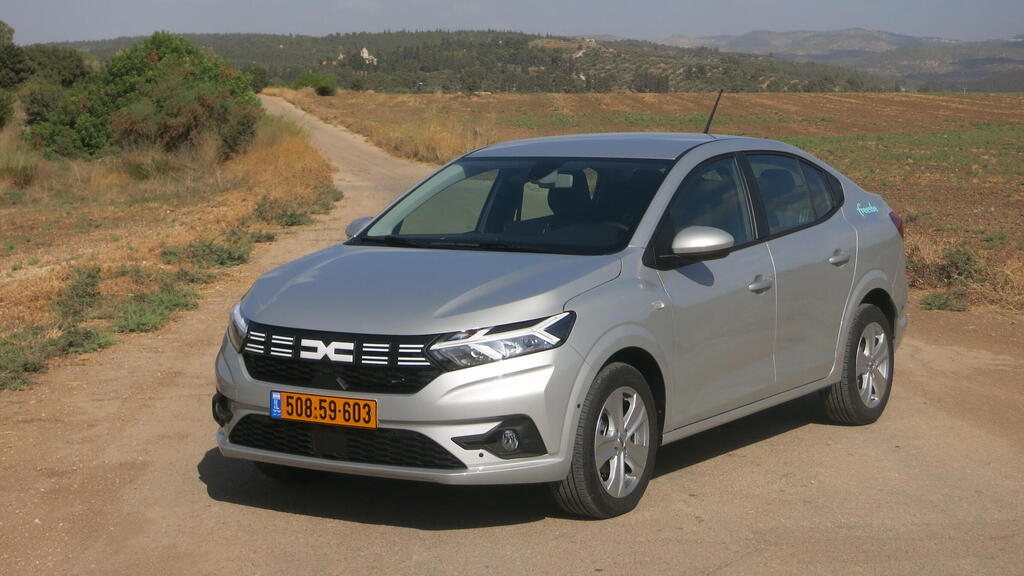 This is the second generation of the Logan, returning to the market five years after its predecessor was discontinued and three years after its global launch. It also promises upgrades in every aspect, including the propulsion system and safety features.
In summary, on paper, the Logan embodies Dacia's well-known "Low Cost" approach, offering a lower price tag while satisfying basic needs, without going above and beyond. With generous interior space and a large cargo area, its family utility surpasses that of subcompact models in the same price range. However, it does come with some compromises.
Competitors:
Hyundai Accent, Skoda Scala
Good:
Interior spaciousness, cargo space
Decent:
Gearbox, fuel consumption
Needs Improvement:
Material quality, performance
Starting with the interior showing its relatively low cost, lackluster performance, and below-average driving experience outside the city. The inclusion of active safety systems is a welcome addition rarely seen in the Romanian brands but they still fall short of what is expected. It's worth noting that it received a meager 2-star rating in the European crash test.
There's another issue to consider. While the Logan is significantly cheaper than regular family cars, comparing it to versatile utility models raises doubts. For instance, the Seat Arona or Hyundai Bayon, priced just slightly higher (between 6,000 to 8,000 shekels more), offer more in various aspects.
Therefore, similar to previous models that attempted to become an alternative to traditional family cars, it seems that here, too, we have an attractive proposition on paper but one that will struggle to compete on the road.
As far as its appearance, the updated Logan looks much more modern than its predecessor, especially at the front with Dacia's contemporary grille design seamlessly integrated with LED lighting units. However, the rear is somewhat less successful and appears bulky. Interestingly, the parking sensors are painted black and look as if they were added as an afterthought, but they weren't.
The driver's environment is basic, with low-quality materials mostly consisting of hard and cheap plastic. There's an attempt to compensate for this with a thin fabric covering on the center console and armrests, but it falls short. The 8-inch touchscreen responds slowly, and the Hebrew translation isn't always accurate. There's only a single USB port for the driver.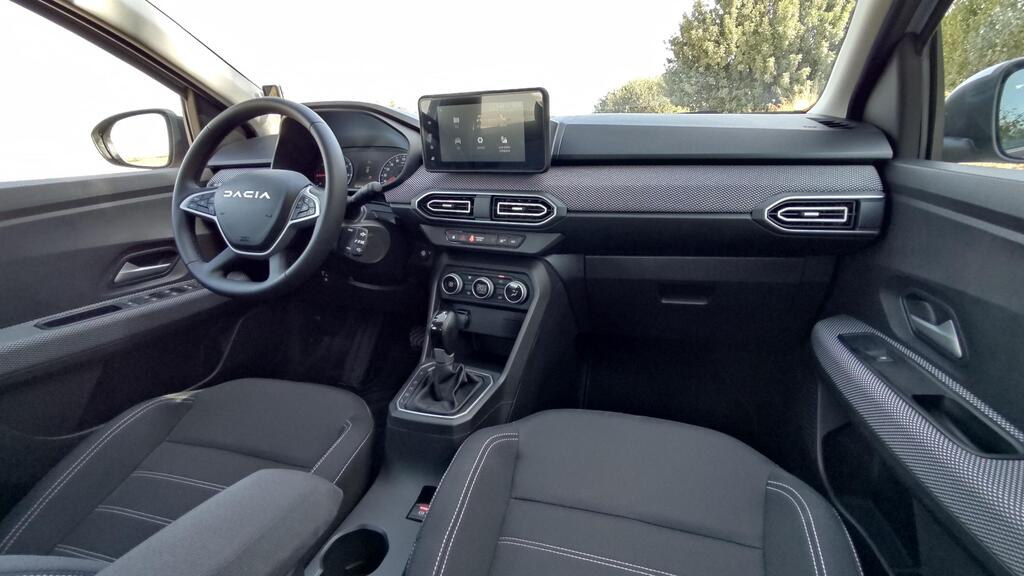 The limited adjustment range makes it difficult to find a comfortable driving position, and the basic seats offer minimal back support with no option for lumbar adjustment. The lack of height adjustment for seatbelts and passenger seat height adjustment is also a hindrance.
The new Logan is larger than its predecessor, with an extra 5 cm in length (439.5 cm), 11.5 cm in width (185 cm), and a longer wheelbase by 1.5 cm (265 cm). Consequently, the rear passenger space is significantly better for both legroom and headroom, surpassing subcompact models in a similar price range and coming close to regular family cars. Notable is the absence of rear air vents.
The cargo area is enormous, measuring 528 liters, which is roughly 60 liters more than the Corolla and Elantra and only slightly smaller (by 35 liters) than the Octavia. It even includes a full-size spare wheel. However, the key is narrow, the loading sill is high, and curiously, the wheel-changing tools are stored beneath the cargo floor instead of the conventional location, potentially scratching the equipment inside.
The equipment listed in the tested top-tier version includes climate control, a smart key, and 16-inch lightweight alloy wheels, which are not present in the base version and only feature a rearview camera. The basic safety system includes autonomous emergency braking, while the top-tier version adds blind-spot warning. A locally installed system provides lane departure warning, but its operation can be distracting.
Performance: The drive system is a known entity from the Renault Clio - a 1.0-liter, 3-cylinder gasoline engine with 90 horsepower and a continuously variable transmission. Performance is underwhelming, bordering on sluggish, with a 0-100 km/h acceleration time of 13.8 seconds (slower in its category), making it one of the slower cars on the road. The lack of power becomes evident not only when climbing hills and with a full passenger load but also during regular highway driving, where maintaining speed requires a heavy foot on the throttle.
The engine's performance is far from impressive; it idles with a noticeable shake and generates considerable noise at higher speeds. The continuous transmission is smoother and better than the previous Logan's robotic one but still falls short of the best in its class. Fuel consumption is unimpressive, averaging 12 km per liter in the test.
The Logan is based on Renault's modern CMF-B platform, which allows for a high-quality ride, as seen in Renault's French models like the Clio and Captur. However, the tuning here is a bit too soft. The result is a comfortable ride at low speeds but a lack of sufficient damping. Consequently, highway driving produces significant pitch and roll on uneven surfaces. Noise insulation is also subpar, with a high presence of road and wind noise.
Its dynamic capabilities are reasonable, with a noticeable body roll and an extended steering ratio (over 3 turns lock-to-lock) that lacks feedback. Braking performance is only adequate, partly due to the use of older drum brakes at the rear.
Engine: 3 cylinders, 1.0-liter, turbocharged gasoline

Power: 90 hp at 4,500 rpm

Torque: 14.5 kg-m at 1,750 rpm

Transmission: Continuous, front-wheel drive

0-100 km/h acceleration, top speed: 13.8 seconds, 172 km/h

Fuel consumption, emissions: 17.2 km per liter, 128 g CO2 per km

Safety rating (Euro NCAP): Two stars