A visit to the expansive manufacturing floor of Israel Weapon Industries (IWI,) a gun and rifle producer in Ramat Hasharon, unveils an unparalleled hive of activity and mounting pressure from all quarters. The production machinery has been churning tirelessly, 24/7, for over a month now, even covering weekends.
They're producing hundreds of Tavor rifles each day for IDF units stationed at the front lines, for equipping reserve units, and also personal firearms for the domestic market, which has seen an alarm-driven surge in demand following the horrifying carnage in the south.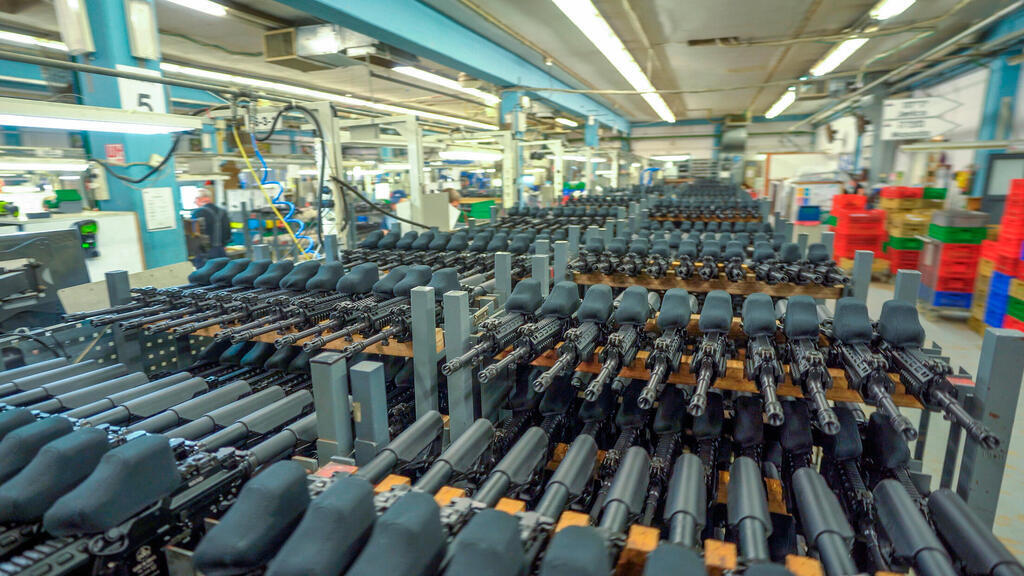 These are unquestionably challenging times in the industry, particularly for firearms factories that are in high demand at the front line during this demanding and intricate period. A significant number of workers have been drafted for reserve duty, even as the demand from the battleground intensifies. Approximately 40% of the workforce at Emtan, the Karmiel-based arms manufacturer owned by Reuven Moshe Zada, and about 20% of IWI employees, under the proprietorship of industry veteran Sami Katzav, have been called up for reserve duty over the past month.
Both firms are striving to onboard scores of replacement workers to maintain the production and assembly lines' momentum, keeping pace with the accelerating tempo of Israel's battle efforts.
In the absence of this war, the personnel at IWI would currently be preoccupied with relocating their factory from the Elbit Systems compound in Ramat Hasharon to the industrial zone in Kiryat Gat. The construction of their new expansive complex, spanning roughly 23,000 square meters, was recently finished, and the workforce adjustments due to this significant shift have also been finalized.
Scores of employees from Netanya and northern communities have concluded their tenure at the company over recent months, and approximately 200 have been recruited to replace them - workers hailing from Kiryat Gat and the southern regions. However, in times of escalating daily demand for weaponry, it's not the ideal moment for a move. Hence, workers from the Kiryat Gat vicinity are being shuttled daily to Ramat Hasharon.
Across the nation, a growing number of individuals are equipping themselves with an array of armaments: handguns, long guns, compact firearms, precision-enhancing scopes. "This surge in demand indicates a significant void in the field, stemming from past government decisions," remarks Ron Pollack, Vice President of Marketing at Emtan, residing in a kibbutz a mere seven kilometers from the Lebanese border. "In recent times, we've hit rock bottom, practically zero. Currently, there's widespread panic, and everyone's rushing to replenish their stock and fill their warehouses."
Since the war's onset, the Ministry of National Defense has received over 190,000 requests for firearm permits, and in the initial ten months of 2023 alone, application numbers have exceeded 210,000—with the year not yet concluded. As of now, around 31,000 licenses have been granted. To provide a comparison, in 2022, there were 42,000 applications, out of which approximately 13,000 licenses were issued.
In 2021, the figures stood at 20,000 applications with roughly 10,000 licenses granted. This escalating trend in armament is worrisome for a multitude of reasons, yet gun manufacturers and dealers counter with ready responses like, "It's not the firearm that's deadly, but the individual pulling the trigger," and "Licenses are granted on a selective basis, following a professional and conscientious process."
Emtan's top-selling pistol, christened "Ramon" in honor of Israeli astronaut Ilan Ramon, has made waves in the market. Approximately two years ago, Emtan inked a deal with the Spanish Federal Police to supply around 10,000 of these firearms. It vies for market share in the same arenas where IWI's best-seller, the Masada - a recent development and significantly lighter than the time-honored and famed Jericho pistol - is promoted. For both, one can expect to pay between $790 and $1050 per firearm. It's worth noting that both companies have stated they did not seize the opportunity to inflate prices amidst the situation.
Domestic weapons shine, but importing still reigns supreme
While homegrown pistols play a minor role in the Israeli pistol market, the majority is dominated by imported brands such as Glock, Sig Sauer, CZ, Beretta, Smith & Wesson amongst others. As Amos Golan, Chairman of the Firearms Division at the Chambers of Commerce, puts it, "98% of the pistols in Israel are imported." Previously a commander of the anti-terrorism school and the Duvdevan unit, Golan now owns Silver Shadow, a manufacturer of M4 rifles and firearm accessories. The preference for imported pistols is primarily due to their global reputation, personal preference, and user comfort, despite their price range being closely matched with that of the local firearms.
We began receiving urgent calls and orders from the field at noon on Saturday, October 7. We immediately ceased export operations and redirected all efforts to Israel, without waiting for instructions to do so
Several weeks ago, Yossi Dagan, the head of the Samaria Council, visited Katsav's manufacturing facility and placed an order for 200 Arad-style assault rifles. The Arad, a derivative of the M4, made its market debut last year and was promptly embraced by the Navy, becoming the primary service weapon for special unit operatives. With the defense system's budgetary constraints now eased, demand for the Arad is also escalating among Ministry of Defense units and standby unit members, who see it as the new standard for a typical infantry soldier in the IDF.
Katsav views the current buying frenzy, aware that this is merely the tip of the iceberg, and recalls the aftermath of the Yom Kippur War. At 77, Katsav is a seasoned stalwart of Israel's defense industry. He established the SK group, a conglomerate of arms companies which, in addition to IWI, includes Meprolite—a developer and manufacturer of electro-optical sights for firearms—and Camero, a company involved in radar technology capable of detecting and discerning activities behind walls. Additionally, he co-owns Israel Shipyards with Shlomi Fogel and Assi Schmelzer.
He is deeply affected by the carnage in the south. "What they've done to us here is beyond anything we experienced even in the Yom Kippur War," he asserts, "These tales echo the ones my mother-in-law, may she rest in peace and an Auschwitz survivor, told of the Holocaust. How can this be? Why is the world blind to our plight and unable to comprehend us?"
Necessity of war turns production on its head
The Israeli arms industry, including IWI and Emtan, found itself in the midst of a production surge amidst the Gaza war, fueled by the global arms race triggered by the Russia-Ukraine conflict. On the war's first day, they promptly adjusted to the Ministry of Defense's expectations, pivoting all production towards the IDF's needs and putting a halt to exports.
"We began receiving urgent calls and orders from the field at noon on Saturday, October 7. We immediately ceased export operations and redirected all efforts to Israel, without waiting for instructions to do so. The very next day, we dispatched the first truck, and within the war's first week, we supplied approximately 12,000 rifles to standby units and the army, along with thousands of pistols to stores," Pollack recounts.
Katsav was quick to grasp the enormity of the disaster: "Israel comes first. The priority is undoubtedly the IDF, the police, and our security forces. The needs of the Israeli security forces are our primary concern, with exports only considered thereafter."
War or not, overseas clients still await their deals
SK's Vice President of Marketing and Sales, Ronan Hamudot, mentions that while many international clients empathize with Israel's situation, others exhibit less patience, insisting on the agreed-upon delivery dates. "We're making every effort to delay international delivery dates.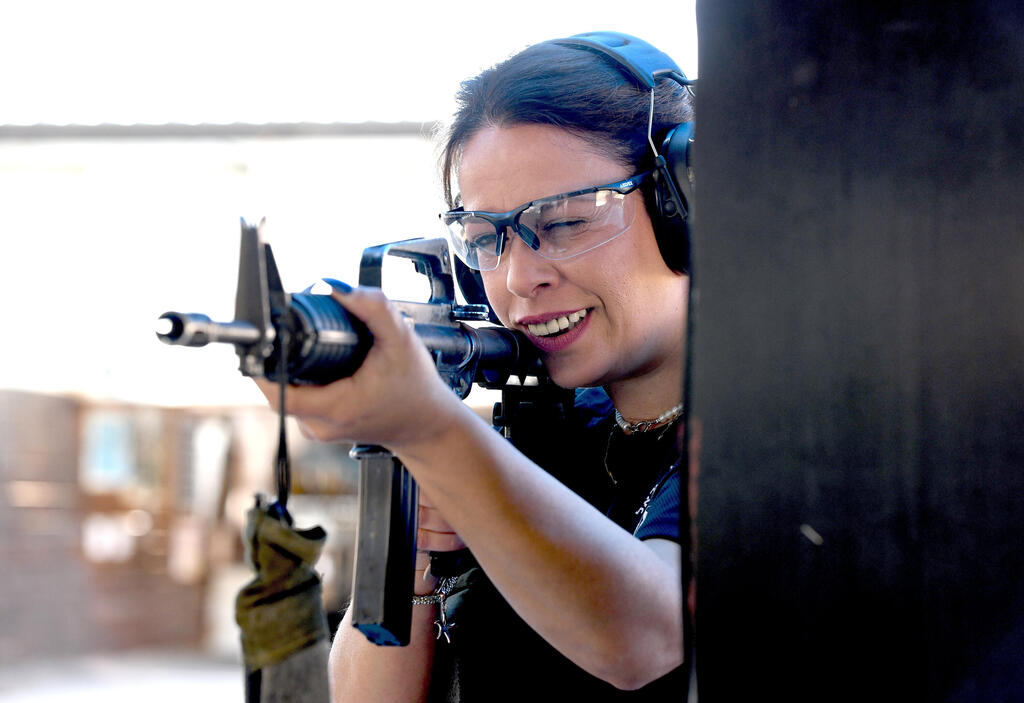 "While the majority of our customers are understanding, some demand adherence to the original timetable. We recognize that a purchase implies a need, and the current circumstances necessitate extraordinary efforts on our part, as our nation also grapples with a type of encirclement. Importing raw materials is a significant challenge, prices have skyrocketed, and we're perpetually on the hunt for innovative solutions."
Typically, around 90% of their output is slated for export. However, in response to the global surge of anti-Semitism, IWI withdrew from three security expos in Thailand, France, and Colombia to minimize visibility. This decision was also influenced by advice from security entities, according to Hamudot. "Given the limited number of flights and our primary focus already being on the IDF, it was a logical step," Pollack explains.
The arms manufacturers aren't lamenting the lost opportunities overseas during this period. They're aware that the ongoing conflicts make it relatively easy to market weapons used by the IDF's special units in the Gaza war to the rest of the world. "Selling to the IDF and Israeli security forces serves as a seal of quality for any weapon-related product," Hamudot states. "Often, the first question a potential client asks us is whether the IDF and police are using our weapons. Saying yes goes a long way toward sealing the deal."