The background to the defamation lawsuit filed by Einat Guez, co-founder and CEO of the high-tech company Papaya Global, issued against Dovi Frances, an investor in the company, was revealed on Tuesday. On July 28, Frances, the founder of the Group 11 investment fund, sent a letter to all Papaya shareholders, proposing to sell his shares in the company at a significant 90% discount compared to the value of the last funding round.
This proposition would effectively value the human resource systems management company at a modest $444 million, a stark contrast to its valuation of $3.7 billion during its most recent fundraising round in September 2021.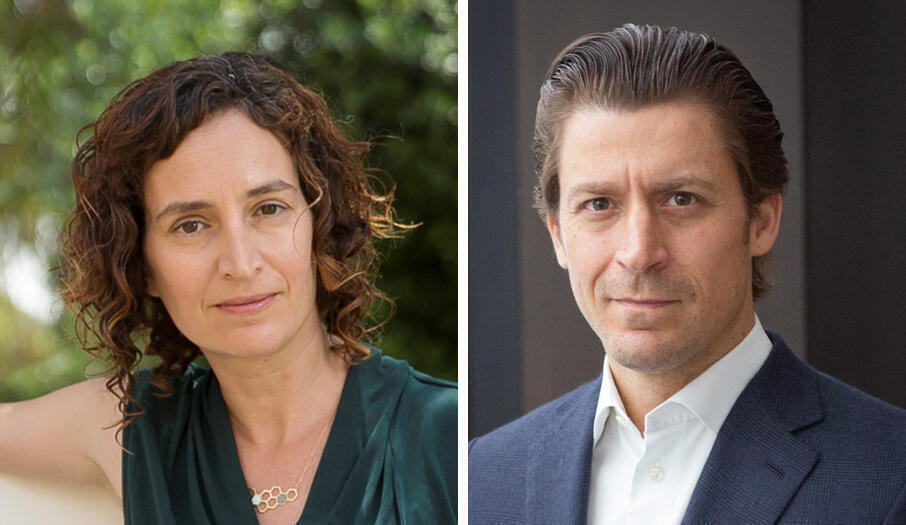 This development arises in the midst of a dispute between Guez, a prominent figure in the high-tech sector and an advocate against the judicial overhaul, who initially announced the withdrawal of company funds from Israel. In contrast, Frances has close ties to Prime Minister Benjamin Netanyahu and has held several meetings with him in recent months.
"During January 2023, in a public statement while standing on the podium in a demonstration against the judicial reform – a matter of intense public controversy with political implications – the company's CEO (Guez) declared her decision to withdraw the company's funds from Israel. Group 11 received no advance notice of this decision. I also responded publicly, not on the general issue, but regarding the specific action related to the company's funds. I urged Guez not to proceed with this decision," Frances wrote in his letter to Papaya shareholders.
"To my surprise and disappointment, my expression of a differing opinion from the CEO resulted in an extreme and harsh reaction from her. She apparently chose to wage a war against Group 11 and me personally," Frances added.
Frances added that due to the "lack of communication" with the company's management and the inability to obtain information about its activities, he is offering to sell his entire holding in the company – 10.6 million shares - for $12.5 million. "The final straw was the CEO of Papaya sabotaging and continuing to sabotage our efforts to sell our holdings in the company," Frances argues.
In response to Frances' letter, Papaya issued a statement: "Papaya Global is a world leader in Payroll and Payments that shows continuous high growth rate year after year. Papaya Global approached Group 11 months ago with an offer to buy its holdings. Eynat Guez was personally leading a group of investors to acquire all shares. All attempts by Dovi Frances to tarnish Eynat following his recent remarks are simply ridiculous. The announcement was shared with the media before it was received by Papaya Global and demonstrates Mr. Frances's conduct, and his choice to pursue personal battles over the benefit of his investors. A group of investors led by Eynat Guez is happy to purchase the shares at bargain prices. As the saying goes, the end of an act is measured by forethought."
Frances initially acquired his shares through a secondary transaction in May 2020. Subsequently, Group 11 gradually increased its holdings in Papaya during subsequent fundraising rounds, injecting an additional $8.2 million into the company. This accumulation has resulted in Group 11 now holding a 2.8% stake in the company.
Frances has also indicated that if the current major shareholders opt not to accept his offer to purchase the shares, he will extend the same offer to other significant players in the company. These include Alan Feld of Vintage Investment Partners, Erez Shachar, Sivan Shamri Dahan from the Qumra fund, and Rona Segev and Eitan Bek from TLV Partners.
This list of names is not coincidental and is closely tied to their political positions against the judicial coup, in contrast to Frances himself. "These parties have expressed their trust and support for the CEO, her actions, and her leadership of the company in recent months. Consequently, we assume they will eagerly seize the opportunity to acquire our holdings at a 90% discount," Frances wrote.
Frances has set a deadline for this offer, which is valid until Monday, September 4.
Just three days after the recent revelation of the letter, Guez, Papaya Global's CEO, responded with a warning letter directed at Frances. In this letter, she threatened legal action for defamation and demanded a public apology and clarification from Frances. Her demands center on his claims that she had jeopardized the company's funds by transferring them to the now-defunct Silicon Valley Bank. Guez's letter also emphasized that any funds obtained through legal action would be channeled into the protest against the judicial overhaul and in support of democracy.
This warning letter specifically addressed a series of statements made by Frances targeting Guez. In January, Guez had tweeted from her personal account, stating that Papaya Global would withdraw its funds from Israel if the judicial overhaul proceeded as planned. About a month and a half later, following SVB's collapse, Frances posted a statement in which he suggested that certain Israeli unicorn leaders had moved significant sums of money to SVB as part of an effort to withdraw funds from Israel to make a statement and oppose the reform. Guez asserted that Frances linked her decisions to the bank's collapse and even implied that she encouraged others to deposit their funds in SVB.
During a subsequent interview, Frances referred to Guez's statement as "unfortunate" and stated that she hadn't consulted with anyone before making her decision. Guez's letter also alleged that Frances had misrepresented himself as a member of Papaya's management, which he is not, and had wrongfully attributed investor losses to Guez's decisions. However, in reality, Frances's fund had already realized significant profits from its investment in Papaya and had even sold some holdings at a substantial gain.