While Netflix appears to enjoy immense success in Israel, it has not stopped one of the streaming giant's senior executives from going on an anti-Israel and anti-Zionist tirade on social media, labeling the Jewish state as "violent, racist, colonial and apartheid".
In her latest post aimed at the Jewish state, Production Finance Executive at Netflix, Hala Gabriel, talks about the "dangers" of supporting Israel, which she says was founded "under the auspice and claim that Russians and Europeans may have had some presence in Palestine thousands of years ago".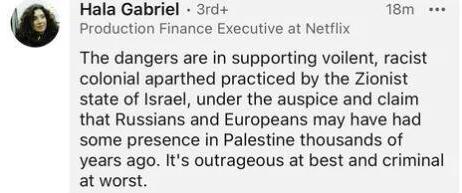 In addition to her prominent position at Netflix, Gabriel - herself is a Palestinian who grew up in Syria and later in America - is also credited as a production supervisor and production accountant for several major studios in Los Angeles, California.
She is also the director and producer of an indie documentary called, "One Night in Tantura," a film about the Palestinian village of Tantura and the alleged massacre that took place there during Israel's War of Independence in 1948 - the Twitter account of which she also runs and operates.
Gabriel, for her part, wrote: "Are you condemning 'Israeli' aggression and attacks on Palestinians? Or are you condemning Palestinians trapped in Gaza for fighting back against endless Zionist land theft and brutalization of the Palestinian population?"
In another post written under her "Tantura" Twitter account, Gabriel said: "'Israel' was founded on committing genocides and covering them up and twisting the facts. They continue the violation of Palestinian human rights in many forms until today. Amnesty defines Israel as practicing apartheid."
Among Gabriel's other ventures, was also an unfunded documentary film about "Orthodox rabbis who support Palestinian liberation and resist Israeli violence," which she dubbed "The Rabbis' Intifada" - a clear reference to the first and second violent uprising in Israel, in which some 1,000 Israelis were murdered in terror attacks perpetrated by Palestinians.
Netflix has previously purchased several Israeli television shows for international broadcast,
including crime-drama series "Blackspace"
, as well as hit television series
"Fauda,"
- which is now being streamed to 190 countries under the "Netflix Original" label, and follows undercover commandos serving undercover as Palestinians to pursue terrorists in the West Bank and the Gaza Strip.