Jewish adult film star Malka Vixel announced to her fans her intention to donate her earnings to support the communities in the Gaza border region. She expressed her commitment to Israel, calling it her second home, and pledged to contribute all her revenue from videos, merchandise and tips to the emergency fund that aids the kibbutzim near Gaza. This fund is managed by the Kibbutz Movement, representing almost all the kibbutzim in Israel.
"As many of you know, on October 7 there was a terrorist attack against the citizens of Israel, which is my second home, where most of my family lives," Vixel said in the video, draped in an Israeli flag. "Until the end of November, all profits from my channel will be donated to the emergency appeal for the kibbutzim near Gaza. The kibbutz movement has opened an emergency fundraising drive to bring urgent recovery support to the 23 kibbutzim along the border with Gaza."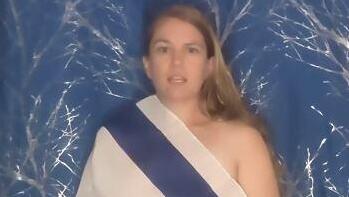 Vixel mentioned that the donations will include "everything on my channel, my videos, my costumes, my items for sale and anything that's earned on live streaming as well. I really hope that I can get support during this time for myself, my family, and the people that were directly affected."
Vixel's initiative comes two weeks after another adult film star, Mia Khalifa, who holds a somewhat larger audience, shared content expressing support for Hamas on her Playboy channel. She claimed that "the Zionist apartheid is being crushed by guerrilla fighters in fake Gucci shirts" and shared images from terrorist events. She encouraged the terrorists to continue capturing and even provided tips for proper photography, saying, "Can someone tell the freedom fighters in Palestine to turn their phones sideways and film horizontally?"
The
Playboy channel decided to remove her content from the platform
and announced the termination of their collaboration with her. "Dear Creator Community, we are writing to let you know of our decision to terminate Playboy's relationship with Mia Khalifa, including deleting Mia's Playboy channel on our creator platform," the company's statement began.
"Over the past few days, Mia has made disgusting and reprehensible comments celebrating Hamas' attacks on Israel and the murder of innocent men, women, and children. At Playboy, we encourage free expression and constructive political debate, but we have a zero-tolerance policy for hate speech. We expect Mia to understand that her words and actions have consequences."