Playboy magazine took a clear stance on Hamas' offensive against Israel on Tuesday after it cut ties with one of its models, Lebanese-American adult film actress Mia Khalifa, 30, after she expressed support for Hamas and mocked Israeli victims.
"I can't believe the Zionist apartheid regime is being brought down by guerrilla fighters in fake Gucci shirts," Khalifa posted on the X social media platform (formerly Twitter) and shared shocking footage from the attack while encouraging the terrorists to continue filming while giving them tips: "Can someone please tell the freedom fighters in Palestine to flip their phones and film horizontal."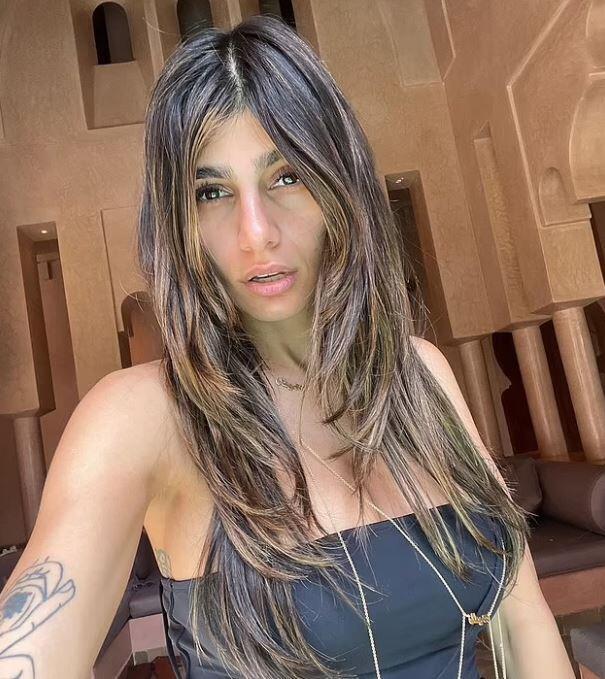 Her comments sparked backlash from online users, after which she attempted to clarify her intentions. "I just want to make it clear that this statement in no way shape, or form is [inciting] spread of violence," she said. "I specifically said freedom fighters because that's what the Palestinian citizens are fighting for freedom every day."
Playboy, however, was not impressed with her words, and the men's lifestyle and entertainment magazine removed her content from their platforms and announced that were cutting ties with her. "We are writing today to let you know of our decision to terminate Playboy's relationship with Mia Khalifa, including deleting Mia's Playboy channel on our creator platform. Over the past few days, Mia has made disgusting and reprehensible comments celebrating Hamas' attacks on Israel and the murder of innocent men, women, and children," the magazine said in a statement.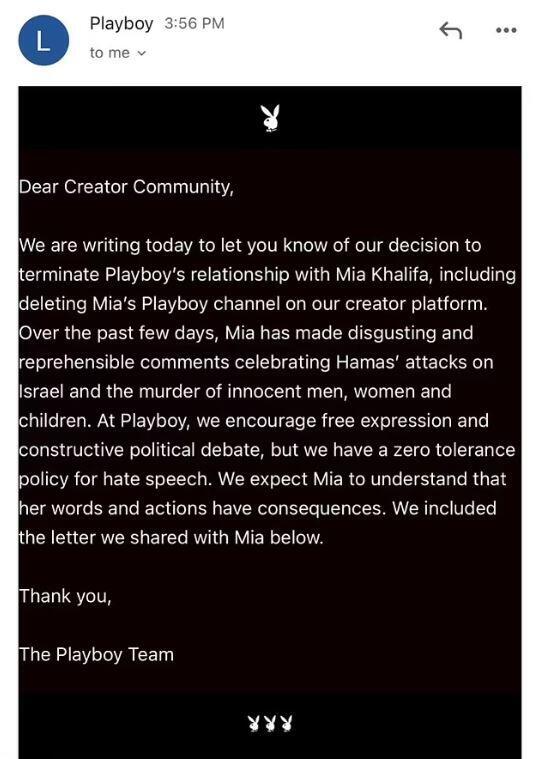 The magazine added, "At Playboy, we encourage free expression and constructive political debate, but we have a zero-tolerance policy for hate speech. We expect Mia to understand that her words and actions have consequences."
Playboy was not the only magazine to condemn Khalifa's actions. Red Light Holland, a company Khalifa represented, also informed her that "Consider yourself fired effective immediately." Khalifa, however, remained unfazed writing, "Please worry about your sad little company lacking direction and purpose before you utter my name again," Khalifa wrote.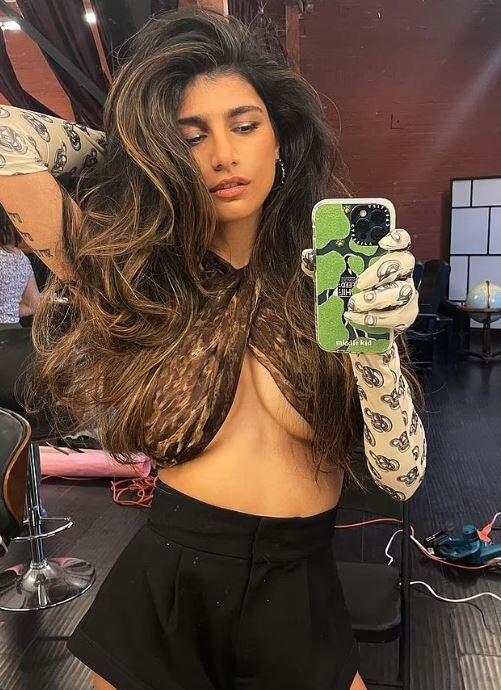 "I stand with all people fighting oppression, now and always, do your research before begging for my investment in your little project, I'm from LEBANON, are you insane for expecting me to be on the side of colonialism you fucking weirdo," she added.
Khalifa then continued her online tirade, sharing a post claiming, "The United States of America is also a terrorist state," and criticizing Kylie Jenner for sharing a post in support of Israel, saying, "If true journalism exists, the next person to talk to Kylie Jenner will ask for her opinion on geopolitical tensions in the Middle East and not break eye contact until she can string one coherent sentence together since she wants to take a stance to her 400M followers so badly." Jenner later removed her post.