Honoring the four-legged heroes: A memorial spot was unveiled on Tuesday at the National Police College to pay tribute to Bonita, a retired police dog, who tragically lost her life to terrorists during an infiltration at Kibbutz Sufa.
Bonita was adopted by the Cohen family in the kibbutz after her retirement from service. Aviad, the head of the family, is an EOD specialist in the police force, and it was during his service that he came to know Bonita and decided to adopt her.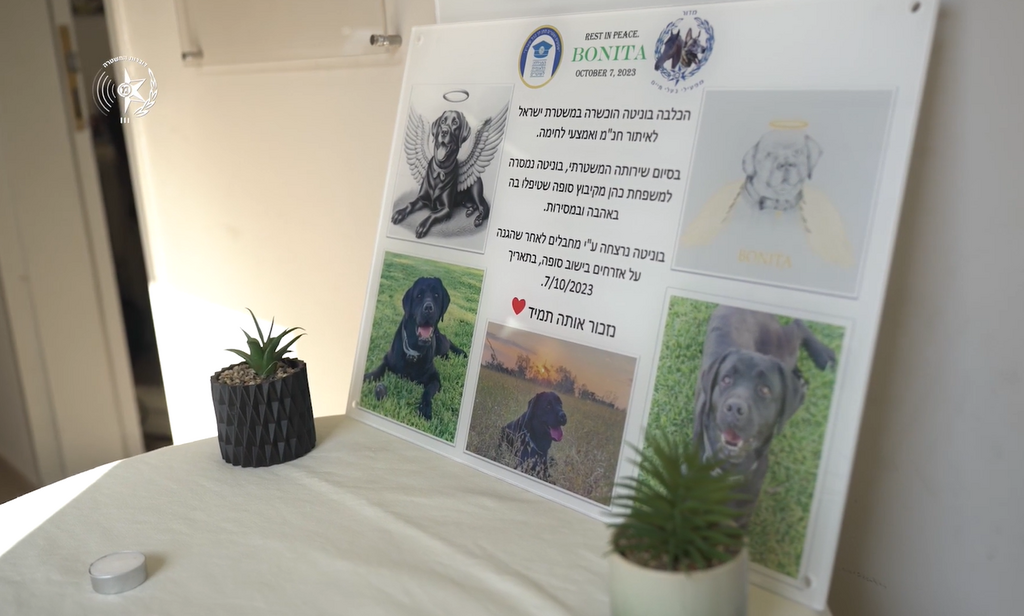 When terrorists neared the family's home, Bonita left the house and ran towards them, likely anticipating play as was her nature. The terrorists responded by shooting and killing her. Following this, they turned their attention to the house from which Bonita had emerged, which inadvertently diverted their attention away from the family members, potentially saving their lives.
At the emotional event, Sergeant Major Aviad Cohen simply said, "I met Bonita during my service, and it was like love at first sight. I knew I wanted to bring her home once she retired. After four years when Bonita retired, I told my wife, 'It's time for us to take her in.'"
Regarding the day when the terrorists from Hamas infiltrated the kibbutz, Sgt. Major Cohen described, "On October 7, when the fight started and the terrorists broke into my kibbutz, Kibbutz Sufa, Bonita was home. She could hear the commotion, the blasts, the gunfire. She ran towards the terrorists who were trying to break into a house. She just wanted to play, to be petted. That's when one of the terrorists shot and killed her. In a way, this stopped him from getting into our friends' homes, and in doing so, she saved a life."