Lions in Africa are considered an iconic animal in the African savanna, but in reality they are becoming a dwindling population. Their population decrease is so drastic that there are many countries in Africa today where you can no longer find lions. A study suggests reasons for the lions' population problem in an effort to preserve the reign of the king of the animal kingdom before it's too late.
The new study, published in the journal Communications Earth & Environment, exposes troublesome data concerning the decreasing population of lions in Africa but also provides insight on preservation strategies. Oxford University WildCRU's Professor Amy Dickman and EWT's Samantha Nicholson led the research with 32 international peers in an effort to save the lions of Africa.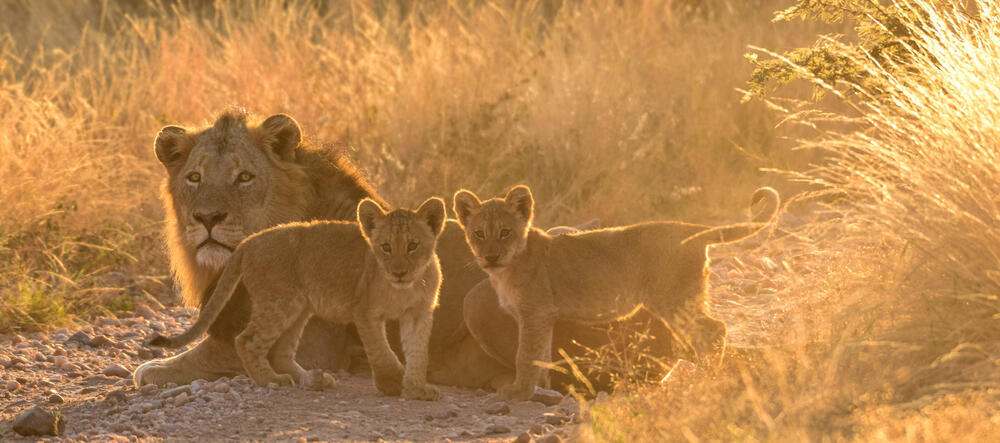 According to data, today's lion population is 20,000-25,000, compared to 100 years ago when the lion population was estimated to be approximately 200,000 lions. Since then, 90% of the lions' natural habitat in Africa has been damaged or taken for other uses to such a drastic extent that you can no longer find lions in most African countries.
The researchers divided the damage done to the lion population into two main categories: ecological harm and socio-political harm. The data showed that humans were the biggest 'contributor' in ecological damage against lions, and low GDP as well as corruption are the biggest socio-political factor that led to negligence in preserving the African lion population.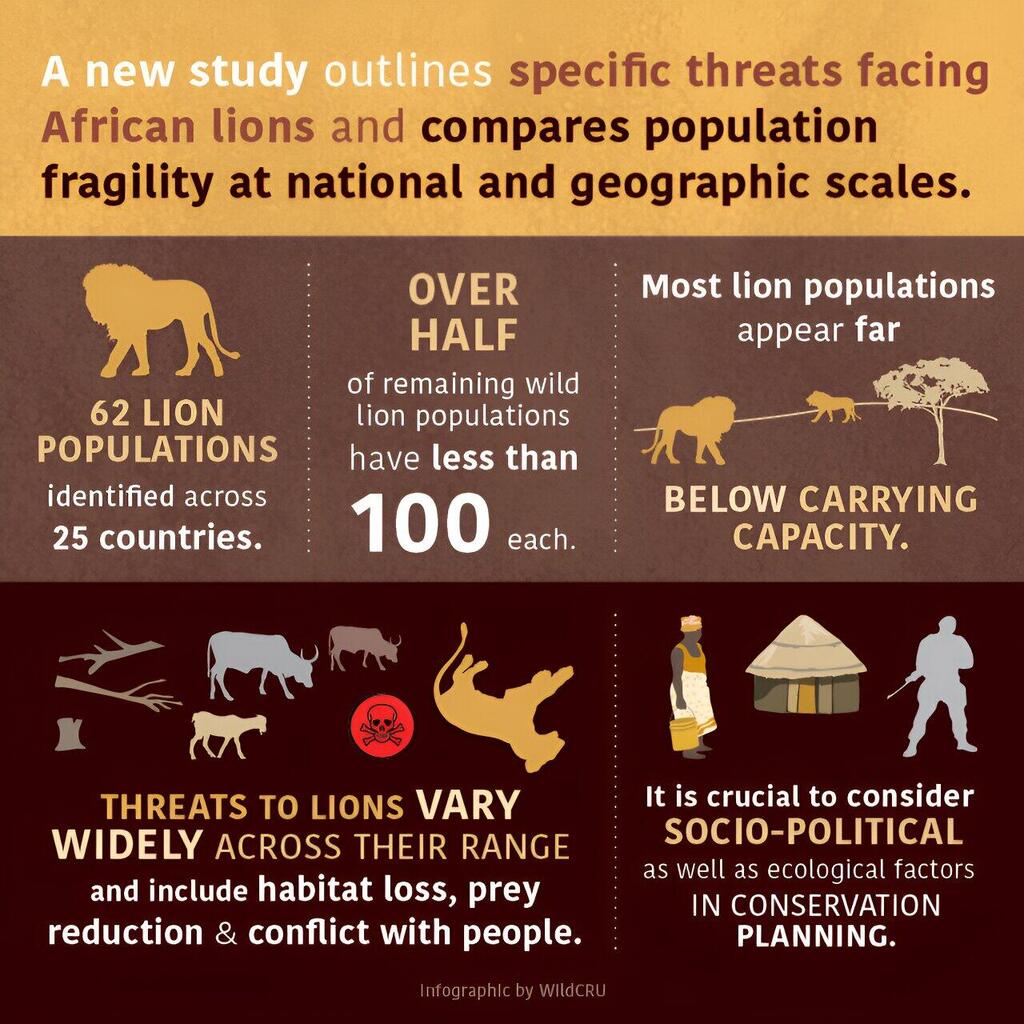 Across 62 lion populations in 25 African countries overall, around 58% of lion populations have 100 lions or less, whereas lion populations can potentially hold 100,000 specimen depending on ecological characteristics.
The study shows that any given lion population is more fragile the higher the cattle and human densities, such as the case in Ethiopia's Maze National Park. However, populations are the least fragile in large areas with a relatively large lion body count, as seen in Selous-Niassa (Tanzania and Mozambique).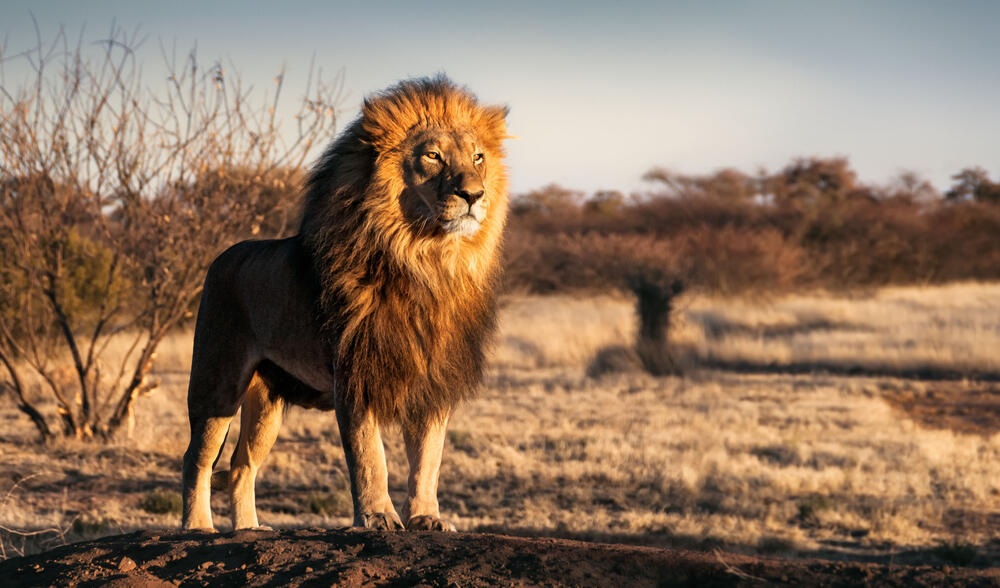 "Some populations may ultimately have similar fragility scores, but they are driven by different threats. Thus, while on the surface the lone lion populations in Sudan and Benin may appear similar, they likely require different levels of investment and perhaps even different types of intervention for conservation to succeed. Pouring money into conserving Sudan's lions may be relatively ineffective unless the socio-political factors such as the civil war are dealt with first," according to Dickman.
"Protected areas are vital strongholds for lions, but are not always effective in conserving them. For example, bushmeat poaching with snares most likely led to local extinctions of lions in Nsumbu National Park in Zambia, while populations in Limpopo National Park in Mozambique have been driven to near extinction by increasing poaching for lion parts. A substantial portion of lion range also falls outside of protected areas, exposing lions to higher risks of conflict, habitat loss, prey loss and other threats," the researchers wrote in their study.
Without such efforts, lion populations will increase in fragility (some possibly beyond recovery)
"Ultimately, these results make clear that, given the importance of factors such as governance and economics on the fragility of wildlife populations, effective lion conservation cannot be achieved by conservationists alone. It requires the engagement of many diverse stakeholders, including policymakers, development experts, economists, land-use planners, local communities, local traditional leadership and all levels of government," Dickman said.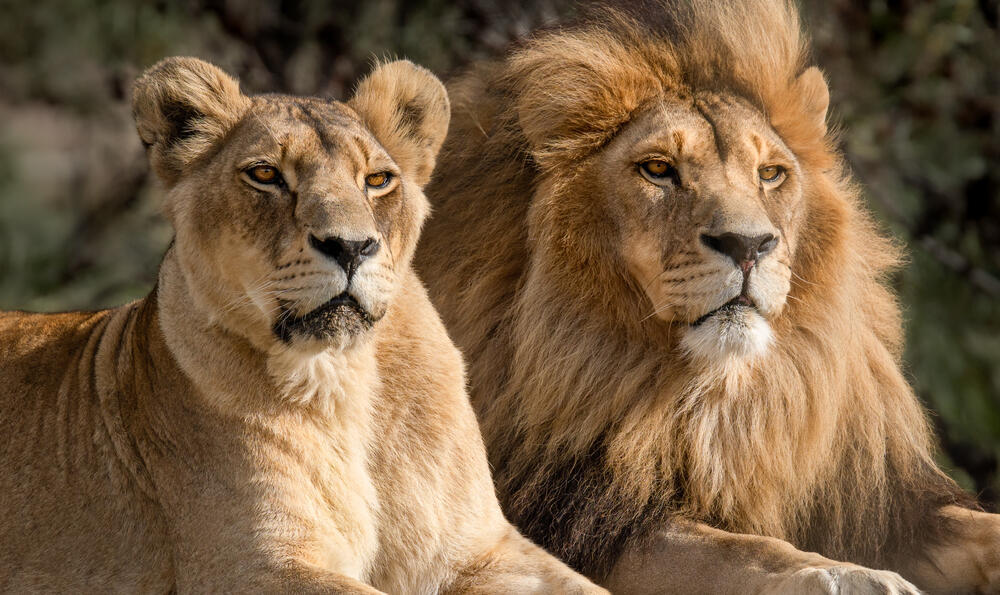 "Maintaining wild lion populations – whichever ones may be prioritized - will require sustained effort and significant levels of international investment and sustainable funding mechanisms, particularly as many of the key challenges identified here, such as human population and livestock density, are likely to rapidly increase in key lion areas over the coming years. Without such efforts, lion populations will increase in fragility (some possibly beyond recovery), and we will come substantially closer to losing ecologically meaningful populations of this most iconic African predator," Dickman concluded.