An Israeli citizen was arrested at the international airport in Madagascar on suspicion of smuggling 59 rare tortoises, each valued between 9,000 to 30,000 NIS ($2,500 to $8,000.) The tortoises were found among his personal belongings in his suitcase, by local customs officials.
The mam was booked on an Ethiopian Airlines flight from Madagascar to Bangkok in Thailand with a connection in Addis Ababa. His final destination was Israel.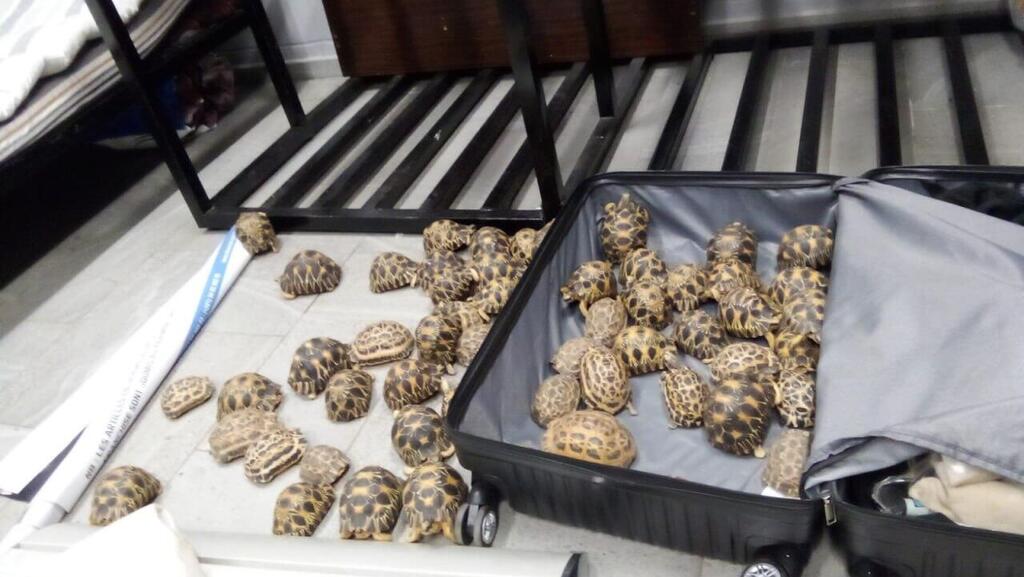 The Israeli, who claimed to be a plumber, said in his interrogation that he thought it was permissible to take tortoises from Madagascar to Thailand. According to the Madagascan customs authorities, the tortoises were wrapped in cloth, but he did not provide them with food or water. They were transferred to the care of a local waterland and forestry service officer at the airport, who described them as young. They were then handed over to a tortoises rescue center for further treatment.
The smuggling of tortoises is part of a growing phenomenon in Israel and Europe, for collectors willing to pay tens of thousands of dollars for them. Smuggling rare tortoises is considered a serious offense in Madagascar.
Attorney Mordechai Tzivin, who specializes in representing detained Israelis abroad in Interpol-related matters, said that his client was a law-abiding citizen who was misled by a local Madagascan who told him that taking tortoises to Thailand was legal. "My client did not attempt to smuggle the tortoises, he did not even hide the contents of his suitcase. I hope and believe that the authorities in Madagascar will come to the conclusion that he is innocent," he said.