The world's most sizable rodent, the capybara, was until recently mostly known as the Anaconda's favorite meal. But in a world of instant social media superstars, he has now garnered quite a following. In the past year, Google searches for the word capybara have nearly doubled.
So what is a capybara, exactly? We went to the Jerusalem Biblical Zoo to learn more.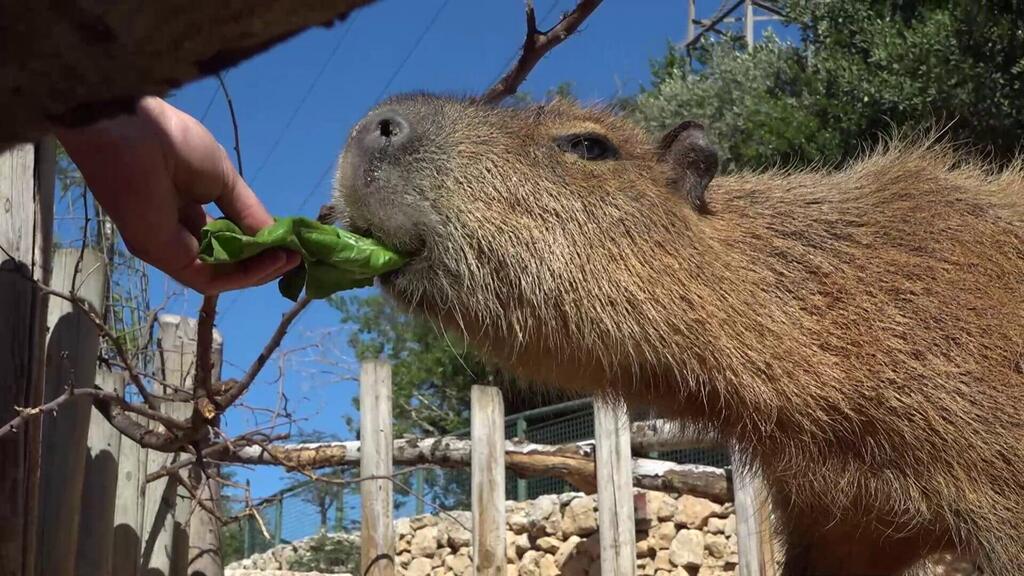 Designated as South American wildlife, they share their enclosure with many animals, some bigger and stronger than they are, including the Tapir, but the capybara is the one stealing the limelight. Gilad Moshe, who is in charge of herbivore management in the zoo, says: "They weigh up to 110 lbs. and reach a body length of almost 4 feet. They can mostly be found in swamps and lakes. They feel safe lounging in the water, even though that's where Anacondas also live.
"They procreate rather easily, and love gnawing on plant roots to strengthen their large teeth. They're mostly nocturnal and we try to facilitate the most nurturing habitat conditions for them."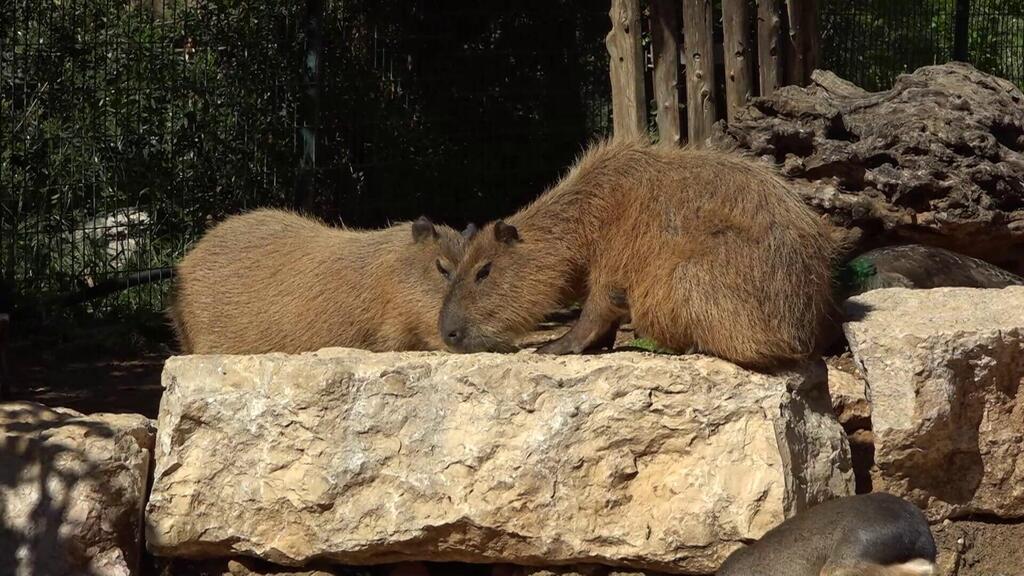 Not necessarily known for their industrious nature, they can live for up to a dozen years in captivity, but life expectancy in the wild is harder to determine, as it varies based on environmental conditions and the availability of quality nourishment. The females can give birth to four or five cubs in each litter.
While thankfully they're not listed as an endangered species, their South American habitat is being compromised by human activity. In recent years, people in Argentina have been surprised to find them hanging around in their gardens, and while that did result in the occasional family pet being severely bitten, it also catapulted them to new-found recognition on social media.
Seemingly harmless, it's important to remember the capybara packs a mean bite and does not always welcome humans as company.
The Jerusalem zoo has a pair of capybaras that were born in the Holy Land. They are currently nameless, and the public is more than welcome to provide their name suggestions. They're both just shy of ten years old, and sustain a mostly lazy-yet-adorable existence.
"They don't move around a lot and don't generate much excitement like a Giraffe or Rhino," said Moshe. "So their recent surge in popularity is something I'm having a hard time explaining."
When the zoo's management staff woke up one day to find out their most popular page was about the capybara, as opposed to Lions, leopards or Zebras, they were shocked. "This is very odd," says Maya Zherman, the zoo's marketing coordinator. "I have an 11-year-old daughter and I asked her about it and she referred me to a TikTok clip called 'capybara, capybara' and then it all made sense."
Additionally, she says that not a week goes by without people calling ahead to make sure the capybara is there to have their pictures taken with them. But that, as mentioned, is a bad idea that is strictly forbidden.
"We live separately from wildlife for a reason," emphasizes Gilad Moshe. "They're unpredictable and you can't foresee their mood or inclination to either bite or be more welcoming whenever you encounter them. The capybara's bite is fearsome, and we must respect their space."