In recent days, reservists of the IDF's Harel Brigade raided the Al Karama neighborhood, situated between Beit Hanoun and Jabalia, eliminating Hamas terrorists and dismantling terror infrastructure.
Soldiers found long-range rocket launchers aimed at Israel, anti-tank missile launching points, tunnel shafts and Hamas observation posts. Then, as the troops were taking the munitions apart, a little puppy ran up to them for shelter.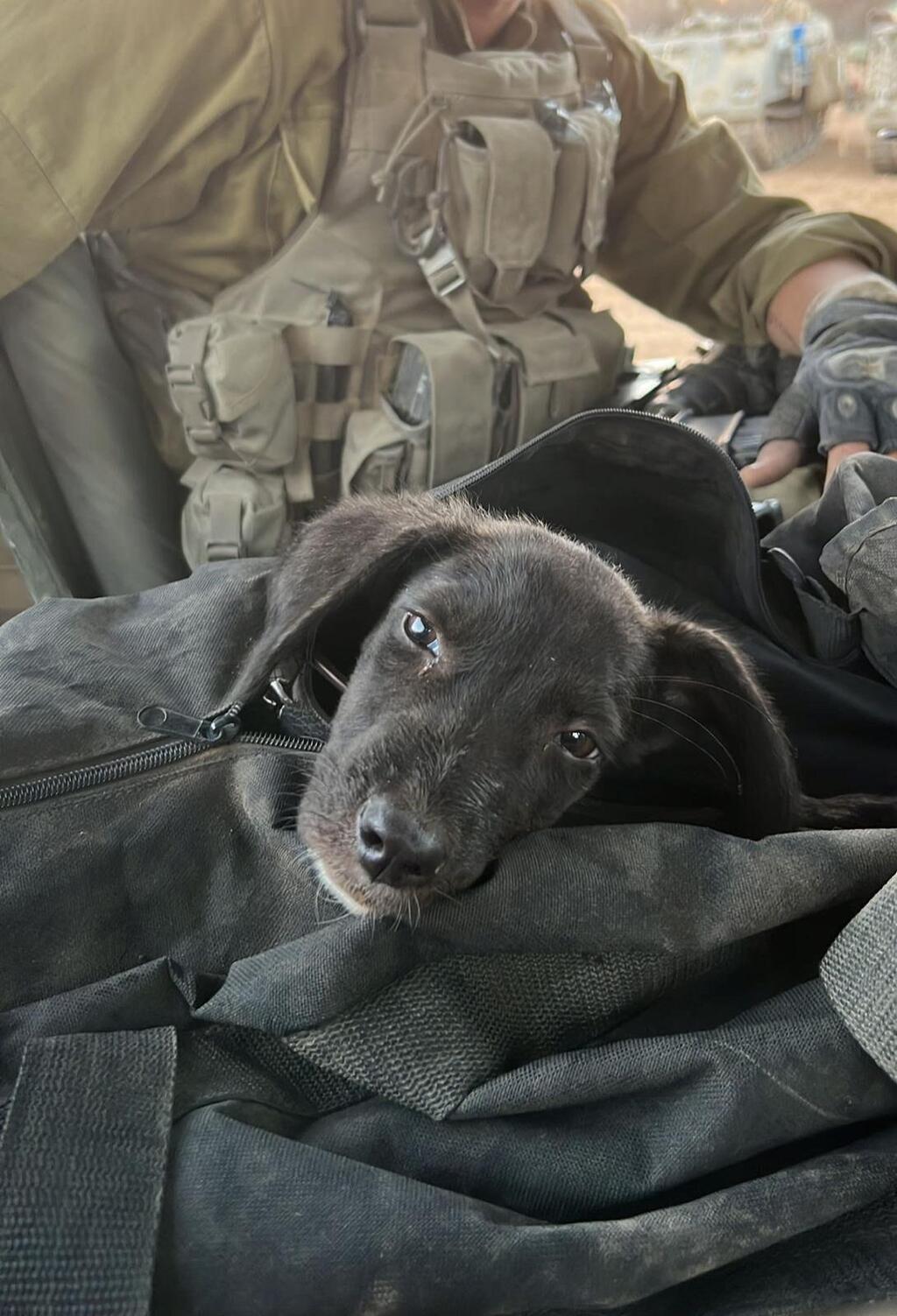 "When the soldiers came out of a building, the dog ran to them," said Master Sergeant Yuval, a paramedic in the brigade. "This is uncommon in Gaza. In general, there are almost no animals there. We saw cats here and there, but no dogs. He was really thin and weak and looked in bad shape. We let him drink and rest, and in the same place we decided to give him a name: Beber."
After giving him initial treatment, the fighters had to decide what to do with Beber. "The sector was secure and we couldn't leave him there," said Master Sergeant Yuval. "At first, we wanted to take him with us, the medics, because we were in a more protected place. When we thought about what to do with him later, we realized that it was impossible to leave him there.
At one point, during the evacuation of a soldier, we seized the chance to also take the dog out of Gaza. When a tank arrived for the evacuation, we requested to include the dog. We arranged a travel bag for him, placed the dog inside with his head sticking out, and transported him to Israel."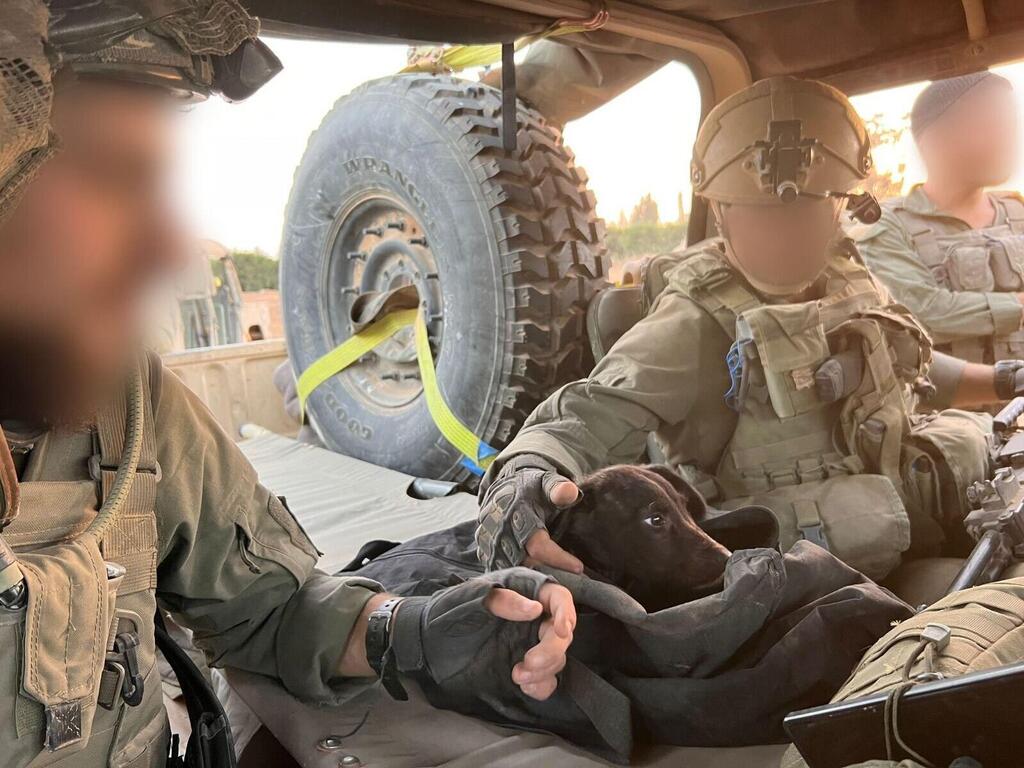 But now what? Yuval informed his parents that they were receiving a gift from him. "They wanted a dog anyway and it really moved them," he said. "They can also give him a very good home. Anyway, I was a paramedic in the K9 Unit, so it makes sense and I can help them when needed. He received veterinary treatments, vaccinations and food and is now in quarantine to make sure everything is fine. If everything ends well, my parents will adopt Beber soon."
Meanwhile, somewhere else in Gaza, an IDF battlegroup entered an abandoned building and found a beautiful but neglected white cat. It was somehow not frightened by the roaring of explosions and gunfire and sat there peacefully.
The force checked to see if it was hostile, however, the cat was incredibly friendly and bonded with them immediately. Maybe the fact that they had meat helped them form a bond. When it was time to say goodbye, the cat began to follow the force. One of the soldiers, a resident of the central city of Rishon Lezion, decided that no one is left behind, either man or feline, and took it back with him to Israel.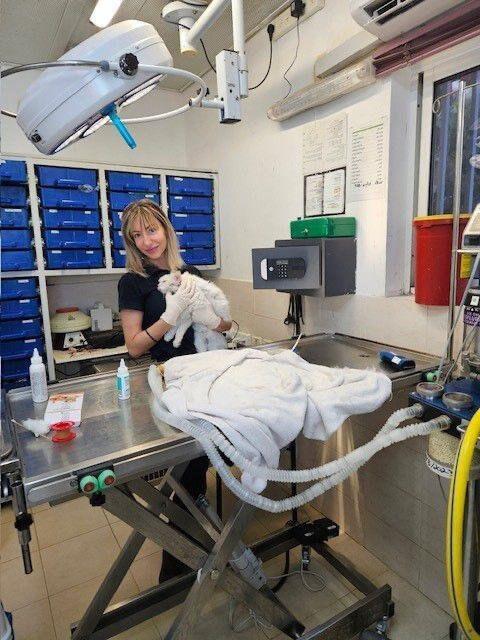 The soldier's partner posted about the Gazan cat a few days ago: "My partner found him sitting on the sofa in the building where they were staying," she wrote, "as soon as the team started moving toward Israel, the cat jumped up and started walking on its own in the direction of the troops. My partner put him on his carrier and took him home."
In Israel, the cat received a new name: Abu Borsht. "He came with the team to freshen up and my mother kidnapped him to our house," said the girlfriend. "Our Gazan refugee must undergo tests and thorough treatment for the knots in his hair. And now seriously, does anyone know where we can send him for tests? We have another cat in the apartment that we don't want to risk and right now my partner is still on duty."
After consultations, the enthusiastic mother took her new furry friend for an examination at the municipal veterinary service of Rishon Lezion. Dr. Yelena Ginsburg took care of the cat with dedication. He was neutered, vaccinated, received treatment for an ear infection he was suffering from, removed thorns that stuck to his body and gave him a haircut to remove the knots that had formed in his fur. After the treatment, the cat was returned to the girlfriend's mother, who decided to adopt him and give him a loving home.