Dr. Eliad Peretz, an Israeli researcher who has been holding senior positions at NASA for over a decade, received NASA's prestigious Exceptional Achievement Medal on Tuesday, recognizing his remarkable progress and contributions. He is the Technology Program Manager and Lead Researcher for new space missions at the Goddard Space Flight Center.
"As for me, receiving this award marks a significant milestone in my extraordinary life journey," Peretz shared with the website of the Davidson Institute for Science Education.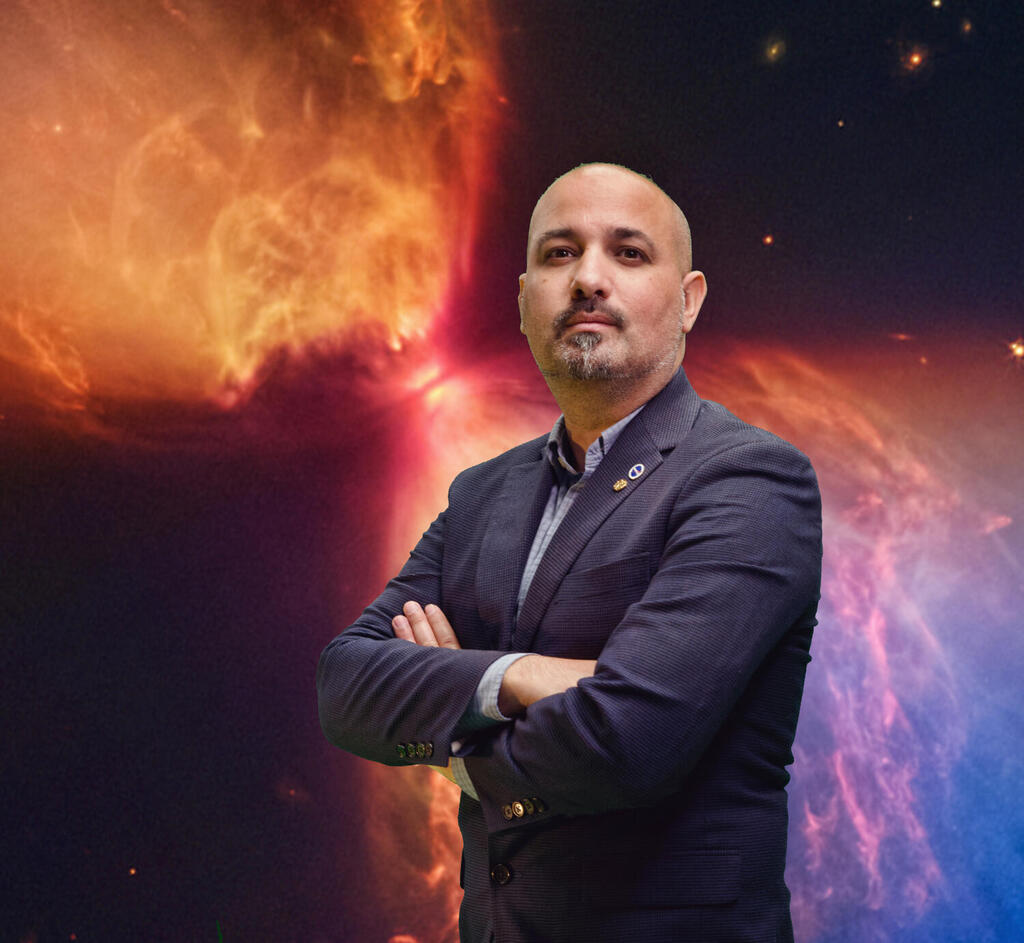 "It serves as a substantial indication of the importance and quality of the space missions and scientific research that I currently lead. It also acts as a compass pointing towards future opportunities in my professional career and an important moment to pause, evaluate, and take stock. On a personal level, this is an exciting and personal moment that I am thrilled to share with my family and close friends."
Dr. Eliad Peretz was awarded one of NASA's most esteemed decorations, the Exceptional Achievement Medal, at a ceremony in Washington. This highly-regarded award is presented annually to a select group of employees who make significant contributions to the advancement of the agency's missions, through scientific, technological or organizational improvements.
The list of illustrious past recipients of this prestigious medal includes legendary astrophysicists such as Carl Sagan and Nancy Roman, for whom the next-generation space telescope will be named, as well as renowned astronauts like Alan Shepard and John Young.
At the ceremony, which was organized by the Technion, Peretz received the medal from NASA representative John Mather, who previously served as Peretz's boss when he was Chief Mission Scientist for the James Webb Space Telescope project.
Peretz is no stranger to recognition at NASA, having received the NASA Early Career Achievement Medal earlier for his exceptional work in the first decade of his career.
In fact, his journey to NASA began as a research student at Cornell University, where he was awarded a prestigious scholarship from the space agency, paving the way for his future work there.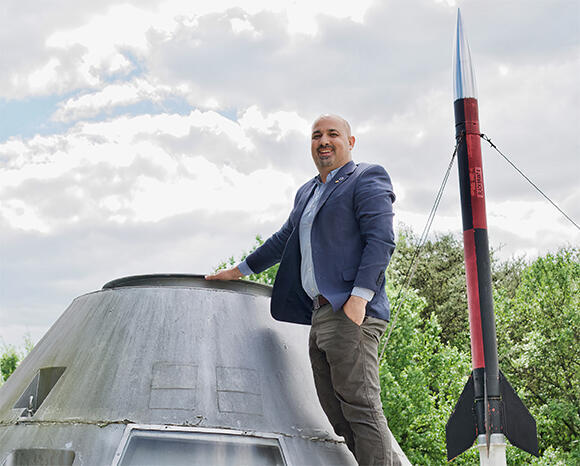 Peretz, born and raised in Afula as the eldest of six siblings in a family of Moroccan immigrants, chose to forego his studies at the Chabad elementary school to work with his grandfather in the olive vineyard in Moshav Gadish.
This experience taught him the values of hard work, perseverance, and patience. At the age of ten, his family moved to Eilat, where he realized he could excel in his studies without the help of traditional schooling.
"I enrolled in an external high school and completed my matriculation exams with five units in mathematics, physics, and English at the age of 16," he said.
Peretz later enrolled in a pilot course but dropped out after a year to serve in the armor and intelligence units. After completing his service, he pursued a degree in aeronautics and space engineering at the Technion.
Peretz obtained his master's degree from Cornell University, where he was involved in developing sensors for ultraviolet radiation. These sensors were meant to be used in studying the atmospheres of planets beyond our solar system.
"My work wasn't just about developing the sensors themselves but also about planning the tasks that would use them," Peretz explains. His research earned him a scholarship from NASA, which he used to finance his studies until he completed his doctorate.
"This scholarship also allowed me to choose where I wanted to work at NASA. I started with sensor development, progressed to designing entire satellites, and eventually worked on designing and promoting space missions. Today, at the age of 40, I'm at the level of a division commander, managing an annual budget of $120 million."
Peretz is currently at the forefront of NASA's space research, leading the development of several cutting-edge instruments and missions that will shape the agency's work for years to come.
One of his key responsibilities is overseeing the development of laser radar (LiDAR) for spacecraft that will be landing on the moon. Additionally, he is leading the Dragonfly mission, which is slated to land on Titan, one of the most intriguing places in our solar system, in about a decade.
Another project that Peretz is spearheading is the launch of small satellites into a unique orbit (GTO) to study the Van Allen belts, which are created by the Earth's magnetic field and protect us from deep-space radiation.
His team is mapping the belts with high resolution to better understand their behavior. Furthermore, Peretz is also leading the development of an ultraviolet telescope to characterize the activity of other solar systems with adjoining planets.
Peretz's notable accomplishment is the development of a technology that enhances the resolution of ground-based telescopes by using a space-based satellite to precisely calibrate them.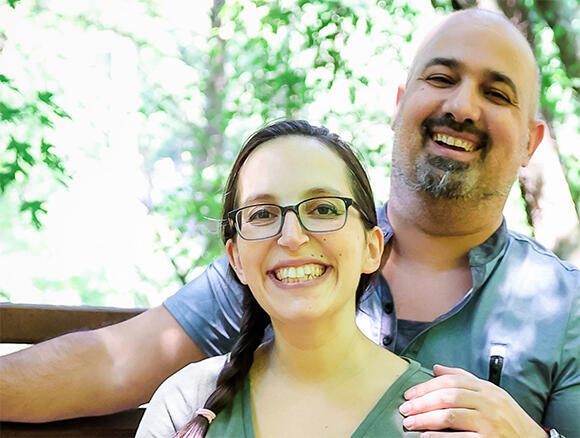 This neutralizes the distortion that the atmosphere causes during observation. Peretz takes great pride in this achievement, which is currently implemented at the Keck Telescope in Hawaii.
He states that this system allows for a resolution of 15 thousandths of a second of an arc, equivalent to a space telescope with a 10-meter diameter mirror. To put this into perspective, the main mirror of the James and Webb Giant Space Telescope is only 6.5 meters in diameter.
During the first observation with Keck using this technique, researchers observed the galaxy UGC 4729, discovering that it was not a single galaxy, as previously believed, but at least two galaxies that were previously invisible to the naked eye. This method is highly applicable to numerous telescopes.
While studying at the Technion, Peretz crossed paths with Abbey Goldman, an American scholar who had received a prestigious scholarship to study in Israel. The two continued their education in the United States, eventually tying the knot and raising three daughters aged five, three, and eight months.
Both juggle highly demanding careers, with Abbey serving as a science and technology policy advisor to the White House while Peretz works 70-80 hour workweeks. With their busy schedules, they find little time for anything else, including sleep.
His lack of sleep notwithstanding, Peretz manages to find time to dream, and one of his greatest aspirations is to transition from planning and developing space missions to actively participating in them.
"I applied for the NASA astronaut screenings in the past and though I did not make it, I made it to a good place. I have another opportunity to try again. If it doesn't work out, I envision myself continuing to advance within the space agency, into more leadership roles.
"But first, I want to witness the fruition of the projects I'm working on: the laser radars operating on the moon and Titan, as well as the measurements of activity on other solar systems with planets."